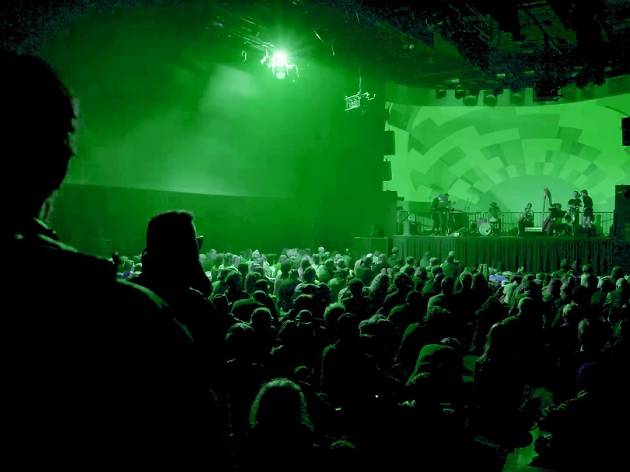 Time Out says
A three-day 'festival of the ecstatic' is taking over every nook and cranny of Arts Centre Melbourne
Most arts festivals come with a pretty specific theme, whether they're celebrating a particular art form, genre or culture. But Arts Centre Melbourne and Sophia Brous's three-day festival of music, performance and multisensory art projects is a little bit different.
Supersense (Aug 23-25) is dubbed a "festival of ecstatic", which might sound a little vague, but it allows Brous to bring together an eclectic range of performance that'll set your heart racing. The festival is back for its third iteration, and its most distinctive feature is how it takes over every space in Arts Centre Melbourne, with performances happening on stage, in smaller rooms and in backstage spaces. The idea is that you'll be free to roam, subverting the traditional strictures of arts centres, and might even find yourself on stage at some point.
There are some big hitters in this year's program, including New Zealand musician Aldous Harding, theatrical legend Robert Wilson, a performance of dance works by choreographer Merce Cunningham, and Marlon Williams in concert with a live orchestra. But according to Brous, who was formerly the artistic director of the Melbourne International Jazz Festival and a curator at Adelaide Festival, it's the lesser-known parts of the program that'll surprise you and might just give you that transformative art experience you're hoping for.
There are different ways to experience the program, and even an epic free event on the final night, coinciding with White Night Melbourne. You can either buy tickets to the Maximal or Minimal program for $49 or single tickets to some of the festival's most high-profile events. Here's what's on offer:
Maximal (Friday night): The Maximal program is all about big, overwhelming works that combine visceral expression, pulse, meter and, movement, and are packed with energy. Maximal includes Afrofuturist poet and musician Moor Mother, Mohammad Reza Mortazavi's solo percussion performance, American synth pop musician John Maus and a performance featuring two Indonesian percussionists pushing their bodies to the limit.
Minimal (Saturday afternoon): The Minimal program is a counterpoint to Maximal, all about more meditative, contemplative performance works. Highlights include a performance of Merce Cunningham dance works, English artist Graham Lambkin and American jazz pioneer Roscoe Mitchell.
Single ticketed events: These performances take place across the weekend, and you have to buy tickets to specific events. They include a performance of John Cage's A Lecture on Nothing by bona fide theatre legend Robert Wilson, a concert by Aldous Harding, a 50th-anniversary gig from the boundary-smashing Art Ensemble of Chicago, and Marlon Williams' debut Australian concert with a live orchestra.
Superdrone (Saturday night): To coincide with White Night, a secret line-up of artists will perform a free immersive concert/installation celebrating drone music, which stretches all the way back to the world's earliest musical expression and has endured to the present day. Explore the labyrinth of Arts Centre Melbourne's backstage spaces while hearing the ecstatic drone sounds.
Details
Best selling Time Out Offers