1/8
2/8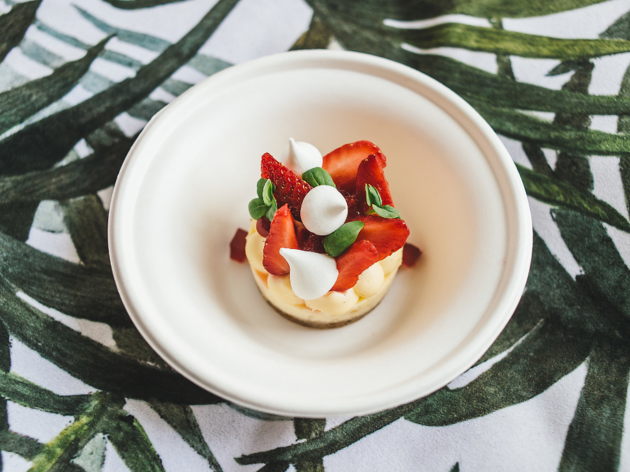 3/8
4/8
5/8
6/8
7/8
8/8
Melbourne's hottest restaurants gather in Albert Park in November
Taste of Melbourne heats up again at Albert Park's Pelican Lawn in November, when Melbourne's hottest restaurants will be temporarily popping up alongside masterclasses from top chefs, pop-up bars, cooking demonstrations, and market stalls from artisans providores. This year's four-day festival includes some new names, so we've made things easier for you with our top five picks on what to see, eat, and drink at Taste of Melbourne this year.
1. Say hello to Pickett's Deli and Rotisserie and Hotel Jesus

There are a few exciting Taste debuts this year, none more so than Pickett's Deli & Rotisserie and Hotel Jesus, which both opened in September. Pickett's Deli, Scott Pickett's new deli and eatery, opened at Queen Victoria Market recently to serve market-goers their morning breakfast and take-home meals. Northcote's Estelle Bistro will also be making its first Taste debut. Meanwhile, Hotel Jesus comes from the team behind Mamasita to serve up casual Mexican fare and mezcal tastings.
2. Revisit old favourites
Taste of Melbourne repeat offenders MoVida, Cumulus Inc and Supernormal are returning to bring foodies delicious Spanish tapas and contemporary takes on Asian food respectively. Our tip: make room for both MoVida's fish tacos and Andrew McConnell's famous lobster rolls and twice-cooked duck bao from Supernormal.
3. Check out one of Victoria's best regional restaurants
We get it, we can't all drive to the Grampians for a long lunch at Royal Mail Hotel, which is why we're going to make the most of the regional restaurant's trip to the big smoke. They'll be bringing along their kitchen garden to Taste, so you'll get to experience the Royal Mail Hotel's patch-to-plate treatment.
4. Learn from the best
Sign up to the Lurpak Cookery School to learn new kitchen tricks and cook with top Melbourne chefs at the first-ever Electrolux Chefs' Secrets, where you'll get to cook the chefs' own signature recipes and enjoy your well-earned feed together over a glass of wine.
5. Sit back and sip on something delicious
Nothing goes better with delicious food than a good drop. Visit the Cider Lab for a refreshing apple cider and stop by Yarra Valley Regional Showcase to taste the region's best wines. Settle into the festival's music hub after a session cheese and wine matching session with Milk the Cow and learn all about mezcal at the Mamasita Mezcaleria.
Taste of Melbourne is giving Time Out readers a 20 per cent saving on general admission tickets and a complimentary glass of wine. Book general entry tickets through Ticketek and enter TIMEOUT in the promotional code box to for your discounted tickets.