The Church of Bang Bang Boogaloo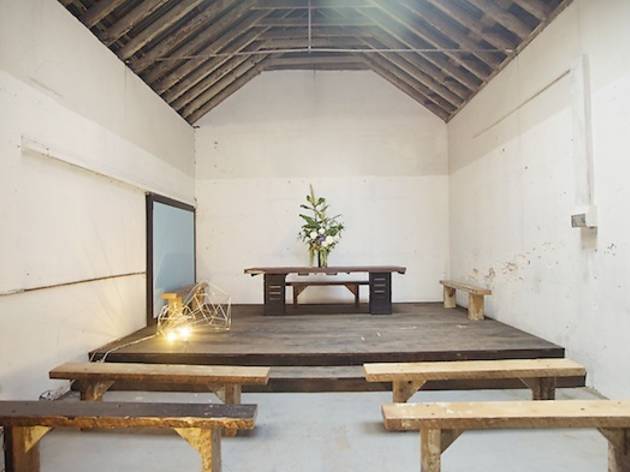 Time Out says
Melbourne's patron saint of good times is on mission to get you hitched
Jerome Borzario (co-founder of St Jerome's Laneway Festival and proprietor of 1000 Pound Bend and Ponyfish Island) admits he's "no relationship expert". That said, over the years he's hosted a fair whack of weddings in his venues, and reckons he's hooked up about 20 couples – some of whom have ended up wed. "I just like to see people have a good time," Borzario explains, trying to downplay the matchmaker mantle. But there's no denying that Borzario has an eye for the romantic, and the proof is in his latest venture: the Church of Bang Bang Boogaloo.
The much-loved Melburnian is a natural when it comes to reclaiming distressed spaces. Once a farrier's (horse hoof specialist's) premises and later a storage space, the Church has been boarded up and derelict for years. All it took was Borzario to peel back the boards, and it was obvious he had a (rather grubby) gem on his hands.
The renovation is glorious. Some of the ceiling beams have been converted into pews and the altar is a giant polished metal door reclaimed from the bikie's skip next door. He may be plugging it as a Vegas style chapel, but there's a definite rustic charm here.
So, we know Borzario's a romantic at heart, but why now? "Tradition is still important but it also needs to be relevant," he explains. "Basically, I support the changes and advances in relationships. Things are not what they used to be. Opening this place up to commitment ceremonies shows that I support that. There's room in Australia for us to be more compassionate towards those who want to make a commitment to each other. Why should we let some process get in the way of that?" Hear, hear.
Plus, it's nice to have an affordable alternative to the usual wedding venues, which can cost an arm and a leg. "I've seen some amazing weddings done with no budget whatsoever and vice versa. Some of the most expensive weddings in the world I've thought, 'Really? This is horrible'. It's also about how you treat the people you invite and setting the tone for how you want your friends to perceive or treat your relationship."
The location is a secret. Contact the Church via its website for further info and bookings.
For more tips on weddings that are more heart, less fluff, check out our interview with Triple R presenter and marriage celebrant Jon von Goes.
Details
Best selling Time Out Offers