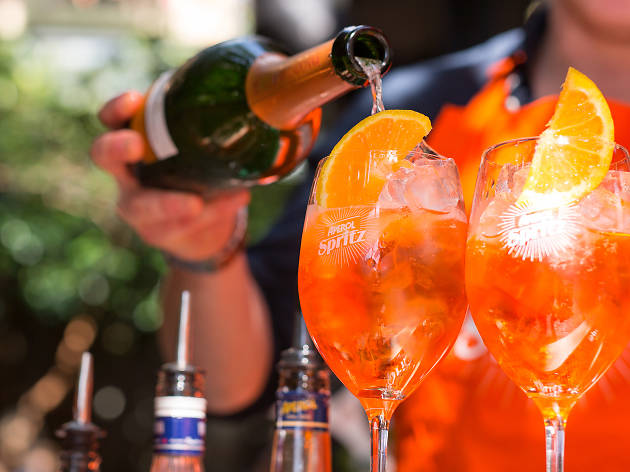 Head to the Royal Saxon on Sundays for sun, seafood and spritzes
Sundays: on one hand it's still the weekend, on the other hand it's nearly not the weekend. It's traditional to extend your last few hours of freedom with a good old fashioned Sunday session, and this summer the Royal Saxon is joining in with the Saxon Social.
Every Sunday from December 17 the Royal Saxon's courtyard will come alive with funk, disco and house music from local DJs like Rob Anthony and friends. You're here to relax with a drink though, and the Saxon doesn't disappoint. Their oh-so bright and bubbly summer spritzes start at just $10 and come in four flavours. There's the Corsica L'Apero which is like drinking a field of fresh, juicy strawberries; the punchier Palamo de Spritz where Tromba tequila and Rosata vermouth shine with the addition of grapefruit; the elegant Bittersweet Spritz featuring London Dry gin, bianco vermouth and elderflower; and the simple Sicilian Sunset where aperol is combined with vanilla and aromatic wine.
The Saxon Social will keep you fed as well as watered. They'll be firing up their barbecue and grilling a selection of seafood for hungry mouths to feed on. Of the opinion that fish are friends, not food? You've also got lots of antipasti to choose from.
The Saxon Social is on every Sunday from December 17. Doors open noon and entry is free.