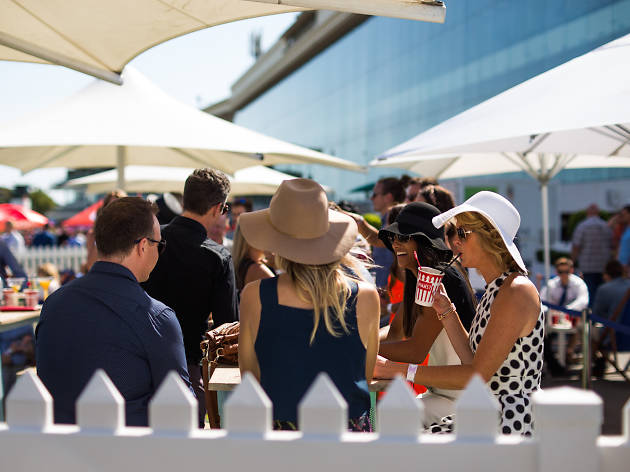 Try these Relaxed Racing food experiences
While horse racing is still the focus, there's so much more to this seven-week showcase. From gourmet picnic hampers to fine dining restaurants, these are our top picks of the food and drink offerings at Relaxed Racing
Love the buzz of a raceday, but feel you could do without the dress codes and the crowds? We feel you, which is why we're saddling up for Relaxed Racing: a seven-week run of racedays across Victoria's best tracks, where you're encouraged to embrace the relaxed dress code, bring the family, and enjoy a gourmet picnic on the Summer Lawn.
V.I.Picnic and Summer Lawn at Caulfield
The sun is shining, the sky is clear and you're dressed in your best relaxed racing threads – why spend time packing your own picnic? Caulfield's V.I.Picnic has you sorted with your choice of three gourmet hampers, filled with goodies like mini wheels of brie with quince paste and lavosh, poached chicken, spring onion and mayonnaise finger sandwiches and mini cupcakes. Enjoy a V.I.Picnic with the family at Easter Cup Day (Sat Mar 26), where you'll find heaps of kids activities including a jumping castle and face painting – not to mention the chance to win one of five Darrell Lea Easter gift boxes at the World's Best Easter Egg Hunt. You can choose between the Family Hamper or Adult Hamper ($75). Alternatively, if you're feeling decadent, why not splash out on the Deluxe Adult Hamper ($95), which includes freshly shucked oysters and king prawns?
Black Caviar Restaurant at Caulfield
For a fine dining experience, don't go past the Black Caviar Restaurant, where chef Ian Curley from The European has been creating specialised dishes at Caulfield since 2013. Enjoy matchless views of the racecourse while you embark on a six-course luncheon. Booking ahead is recommended.
Final Furlong Public Dining Room at Mornington
Excited about the prospect of taking a road trip down the coast to the Mornington Racing Club? You'll have yet another reason to get moving once you've booked a table in the Final Furlong Dining Room – a restaurant which offers delicious two-course luncheons and unsurpassed views of the home turn.
There are more fantastic foodie race days across Victoria during Relaxed Racing, so visit the calendar of events for the full list. Learn more about why Relaxed Racing – the most chilled-out part of the racing season – is also our favourite, and check out our not-to-miss race days.
Best selling Time Out Offers