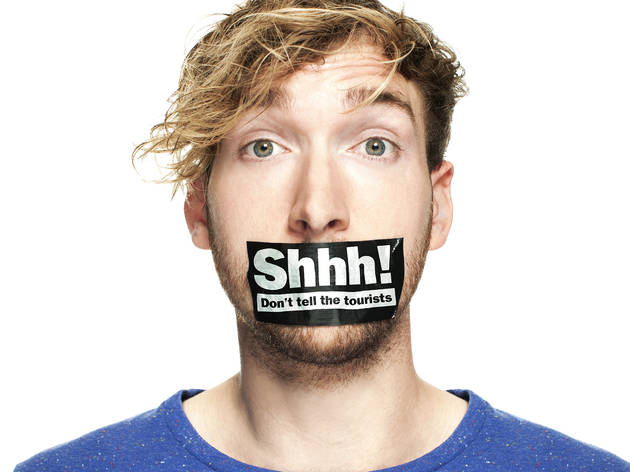 11 underground things to do in Melbourne
We had to torture all our top sources to find out these lucky 11 underground things to do in Melbourne. Try them before they get discovered/closed down/slapped with a massive fine…
Dress in golfing attire, whack tennis balls down laneways. That's the basis for urban golf, a game played in cities worldwide. Why tennis balls? They're easier to find and don't do as much damage in case of an errant swing. It was brought to Melbourne in 2009 by Toronto Urban Golf founder Steph Selig. While golfing attire is required, golf clubs are not – use anything from a broom to a plank of wood. Spend an afternoon putting around, stoppsing by pubs every few 'holes' to keep hydrated.
---
Master all the skills to make an Elven longbow at this full-day workshop: select the timber, make Flemish bowstrings, cut and tiller your own Mollegabet longbow, and learn how to oil and care for it (plus what all of that terminology means). Your instructor, David Ibbetson, is the mastermind behind the Yomenie (Elvish for 'a meeting'). He organises Elven weekend festivals full of music, Elvish language workshops – and archery competitions. You know where to bring your new longbow.
---
The Lyon Housemuseum is housed within the abode of couple Corbett Lyon and Yueji Lyon. Two-storey 'cubes' showcase paintings, sculptures and video art by the likes of Rosemary Laing and Brook Andrew. One of Australia's largest private collections of modern art intermingles with the family's living space – think a sofa next to a Howard Arkley piece.
---
Anyone who's ever played with a fire engine will get a kick out of this. The old head office of the Melbourne Fire Brigade showcases the largest collection of memorabilia in Australia. Dress up and climb on the vintage trucks. The current station is next door, so you may get to see a few trucks race off during your visit. Many of the museum volunteers are retired firefighters; we reckon they'll have a good story or two.
---
The Melbourne Expat American Meetup Group has brought kickball to Australia. This sport, commonly played in US primary schools, is a combination of baseball (four bases on a grassy field) and dodgeball (large, bouncy rubber ball). A pitcher throws the ball and you kick it and run around the bases, avoiding being hit with the ball by the other team.
---
They give bugger-all warning, but once in a while, Manu Potoi and Casey Wall open up the rear alley behind the Rockwell and Sons bar and have a knees-up in the cobblestone alley. That's a party worth stalking them on Twitter (or better yet, in person) to get an invite to, primarily because it involves Wall's Southern fried chicken in copious amounts along with kegs from local brewers like Moon Dog and Two Birds.
---
Wunderkammers were all the rage during the Renaissance – curious objects of natural history kept in display cases for awestruck viewers. Melbourne's Wunderkammer store builds on this history – it's like walking into one of the world's first museums. Stuffed inside is everything from a taxidermied raven to scrimshaw, globes, sextants, and phrenology models. Purchase a fossil, beetle or a stuffed puffer fish and start your own Wunderkammer.
---
It opened in 2010, but you'd be forgiven for failing to notice this Sydney Road boutique from the street. Mr Kitly is the creation of Melburnian Bree Claffey, who wanted to reflect the Japanese sensibility of simple beauty and functional design in her own homewares and gift shop. Once you've found the narrow staircase nestled between $2 shops, you'll step into a room filled with plants. In the room facing the street, you'll find a carefully curated selection of ceramics, utensils and artworks.
---
If you know your Futura from your Helvetica, or if poor kerning makes your eye twitch, then you're Michael Isaachsen's kind of typography nerd. He's the collector of the largest number of hot metal typesetters, letterpresses and typewriters in Australia. You'll find (working) machines dating back to the 19th century, right up to a fridge-sized 'mini' computer from the mid-'80s. Isaachsen also runs one-day traditional graphic design workshops, where you can typeset a page from your favourite book by hand.
---
Need more parties in your life? Add 'Deano Good Brew' as a friend on Facebook. He'll invite you – and his other closest 1,000 pals – to a slew of underground, counter-cultural events and protests. Some he organises himself, and feature his Good Brew Co's solar-brewed beer and kombucha. Many of the other out-there activities are organised by others (like the time someone planned to drop acid on the steps of Parliament to protest drug laws).
---
On a Saturday morning at PepperTree Place – Coburg's community nursery – apples could buy you a recipe, or gardening tips could earn you some basil. This sustainable swap meet has turned neighbours into friends. Locals love PepperTree because the plants are affordable, diverse and often indigenous, and you'll love it because it has all the charm of a country market in the heart of the inner north.
Find (if you can) our best secret bars
Impress friends and out-of-towners with your knowledge of the tucked-away gems of the drinking scene. Consider this list a scavenger hunt of Melbourne's most interesting tucked away bars, and remember where they are for next time.
Best selling Time Out Offers