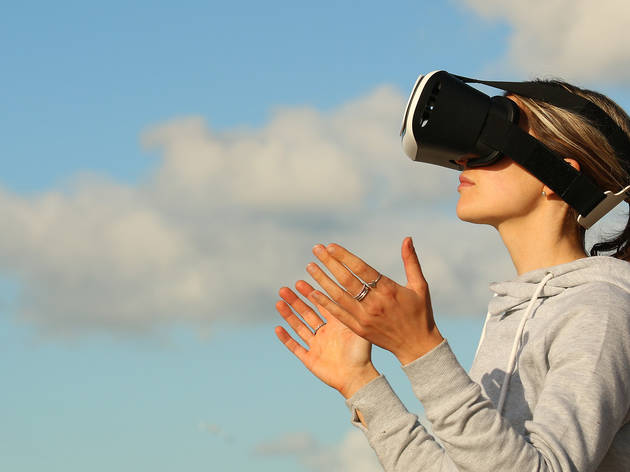 Time Out says
Leap off tall buildings, live inside cartoon worlds and solve puzzles in Fitzroy's virtual reality arcade
If you've never strapped on a VR headset and entered the virtual reality world, then what I'm about to tell you might sound pretty farfetched. Ridiculous, even. I'm standing on the tip of a wooden plank, which is jutting off a skyscraper 80 storeys above a city. I look down at the rooftops, streets and cars, and my hands begin to sweat. I can almost feel the wind swirling around me, and I can definitely feel a rising sense of vertigo. Then, I hear a voice telling me to jump off the plank. At first, the idea of doing this is unthinkable. But then, I close my eyes for a second, brace myself, and take a leap – screaming as the ground rushes up to meet me.
Of course, none of this is actually happening. In the real world, I'm standing in a small room above a bookshop in Fitzroy, walking on a real wooden plank on the ground. And until this moment, I never would have expected virtual reality to feel so incredibly real.
vArcade is the brainchild of Owen Spear – who is also the man behind Melbourne's first-ever escape room – and Daniel Duckworth. Given that escape rooms are all about thrilling, immersive experiences, it's no surprise that he decided to branch out into VR.
If the first thing that comes to mind with VR is hardcore gaming, then it's time to shift your perception. vArcade is all about giving everyone (regardless of whether they're into gaming or not) a chance to enter new worlds. Participants get to choose between one of three packages for a 45-minute session. In each of these, you're wearing a set of VR goggles, headphones and carrying one controller in each hand (which, in the virtual world, become your arms). You have room to move in a space that takes up a few square metres.
The Variety Package is a gentle introduction into VR, where explorers of the virtual world dive with whales, visit Tatooine to repair the Millennium Falcon, and shoot arrows atop a medieval castle. The Thrill Seeker Package gets a little more intense, kicking off with the plank scenario, then moving onto a rollercoaster ride that sees me screaming with my hands in the air. Full disclosure: there is a zombie game, but I couldn't bring myself to play it (I have no regrets).
The final VR package drops participants smack bang into the middle of the world of sci-fi animated comedy Rick and Morty. Being inside an animated world where anything is possible is surreal and exciting – and this sense of adventure only increases when I discover that I'm a clone of Morty, tasked with helping Rick with his zany experiments.
Once my 45-minute session is up, I remove my goggles, and take a moment to adjust to reality. Looking around the bare room, I can't quite wrap my head around the worlds I've just visited. Not long ago, VR of this quality was a fantasy. Now, the future is here, and it's waiting in Fitzroy.
Details
Address:
Level 2
305 Brunswick Street
Fitzroy
Melbourne
3065

Price:
$28pp
Contact:
Opening hours:
Mon & Wed by appointment only; Thu-Sun 1-9pm
Best selling Time Out Offers