Vikings: Beyond the Legend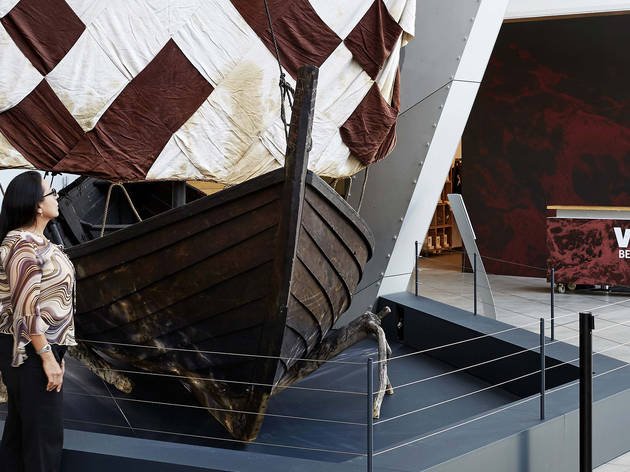 1/11
Photograph: Caitlin Mills
2/11
Photograph: Melbourne Museum
3/11
Photograph: Caitlin Mills
4/11
Photograph: Gabriel Hildebrandt /The Swedish History Museum
5/11
Photograph: Rodney Start
6/11
Photograph: Caitlin Mills
7/11
Photograph: Gabriel Hildebrandt /The Swedish History Museum
8/11
Photograph: Gabriel Hildebrandt /The Swedish History Museum
9/11
Photograph: Caitlin Mills
10/11
Photograph: Caitlin Mills
11/11
Photograph: Gabriel Hildebrandt /The Swedish History Museum
The world's biggest collection of Viking artefacts has dropped anchor in Melbourne
The vikings have dropped anchor at Melbourne Museum. The museum's major new exhibition, Vikings: Beyond the Legend, is the largest collection of viking artefacts ever in Australia, and it's the furthest the norse men have ever traveled from their hearths.
This international blockbuster (nearly two million people have visited the exhibition worldwide) features more than 400 artefacts from one of history's most fascinating civilisations, as well as 40 replicas (including a huge replica viking longship). If you've seen an episode of the History Channel's Vikings program (highly recommended for those who have a Game of Thrones shaped hole in their bingeing schedules) you'll know that viking culture is one that's quite misunderstood, having raided and traded themselves across Northern Europe from the 8th to the 11th century. Vikings isn't even the correct name for the group of people – vikings was a something people did, like farming or fishing, rather than the name for everyone who lived in Scandinavia at the time.
In addition to the viking weapons, jewellery and tools the exhibition has some hands-on activities too. Live out your archaeologist dreams and try to excavate a virtual viking ship, or challenge your mates to a viking board game. You can even see what it felt like to wield a viking sword. Make sure you also check out the skeletal remains of a viking ship, and some of the intricate viking metalwork (like Thor's hammer pendants).
Vikings: Beyond the Legend is on at the Melbourne Museum from March 23 to August 26 2018.