Why you should take your work outside for Work With Nature Week
Ditch the table for the park bench and connect with nature while you work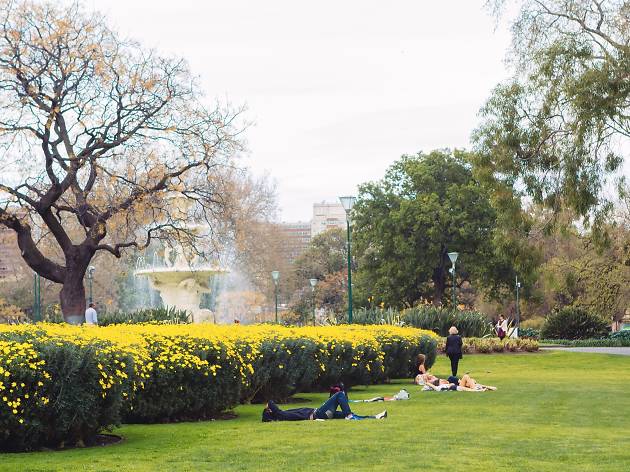 These days, a wi-fi connection is crucial to most workplaces, but what about our connection to nature? For Work With Nature Week (April 18-24), conservation organisation The Nature Conservancy Australia (TNC) is calling on Australians to step away from their workstations for at least an hour during the week and take their work outside to help better appreciate the environment and the great outdoors.
Here are four reasons why taking your work outside is a great idea for Work With Nature Week and beyond.
1. It gets the brain juices flowing. Just some time outside, at a park, reserve or any outdoor space, has been proven to improve creativity and reduce stress. So if you're hitting the wall in the afternoon, head out for a stroll to restore mental energy.
2. It makes you appreciate the great outdoors. It's easy to forget there's a whole world out there when you spend eight hours or more a day, five days a week in the office. But going outside is a good way to not only enjoy the outdoors but also be more aware of the effects of climate change affecting our planet.
3. It gives you a nice break from office drudgery. Got a call to make? Do it outside by going for a walk. Need to brainstorm for a project? Find a grassy patch at the local park and you might hit the jackpot.
4. It's good for your health. Just an hour a day outdoors adds up, especially if you're taking those walking meetings. Even a short while outside is great for your mental health. Who needs a coffee when you've got fresh air for a pick-me-up?
Work With Nature Week will take place through April 18-24. To get involved, pick your favourite outdoor spot and register your green-desk on workwithnature.org.au. TNC will also be hosting a pop-up green-desk at City Square in Melbourne CBD on Thursday 21 April. Head down from 9am to 6pm to work on the outdoor desks for a while, and check out extra activities at the pop-up office including a chill-out zone, table tennis and more.