Best Food Truck: Time Out Food Awards 2016
Celebrating the best kitchens on four wheels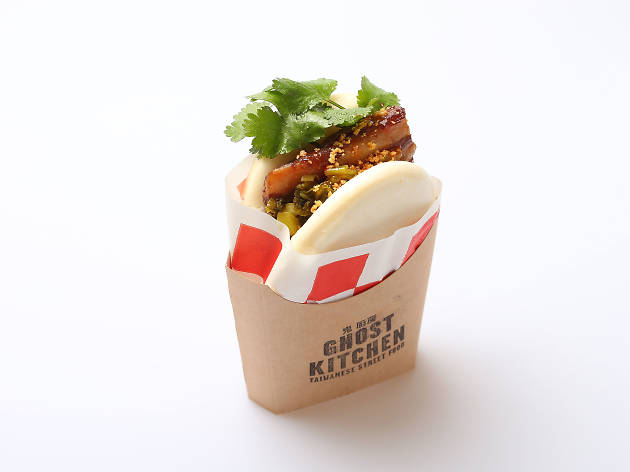 Ghost Kitchen's Taiwanese street-food menu makes it hard not to feel like you've been missing out on something delicious your entire life. Their take on the Taiwanese breakfast street food dan bing is best described as a flaky roti topped with an egg and fragrant chopped scallions that's cooked on top while it's still hot on the griddle. You can leave it at that, but you'd be a fool to not opt for the 'the lot' option, where your eggy pancake is wrapped around a crisp fried Chinese doughnut and a generous sprinkling of savoury sweet pork floss.
Pro tip: get extra serves of the chilli sauce. Reminiscent of a fragrant Malaysian sambal, it usually comes with the lightly battered salt and pepper popcorn chicken bites, but you can dab it all over anything for some kick. The braised pork belly gua bao is both rich and light at the same time; the steamed bun a suitably fluffy receptacle that soaks up the pork juices, though it's balanced out with the sprinkling of fresh coriander and pickles. Thank Jenny Chen for bringing Taiwan's delicious snacks to our streets.
We also love...
They don't play 'Greensleeves', but we'll forgive that for a luscious scoop of Billy's handmade gelato. Look out for seasonal flavours and the sensational expresso gelato.
It's all about brisket cooked low, slow and smoky, baby. Jim White's fall-apart pulled pork and beef brisket are a dream on a fluffy hotdog bun and cheesy nachos.
Raph Rashid's taco operation is a pioneer that paved the way for other trucks, and his beautifully simple battered fish taco still reigns supreme on the street taco game.
See all the winners
The Time Out Food Awards lets us celebrate Melbourne's champions of the restaurant scene – and throw a party to remember. Here is all the winners from the hospitality scene's night of nights.