A Dubai stopover guide for the solo traveller
Spend three remarkable days experiencing Arab culture, futuristic architecture and adrenaline-charged adventure
There's been a lot of talk about Dubai around the world for good reason – it's become, thanks to Emirates' global network, which includes 150 destinations in 80 countries, the ultimate stopover destination between Australia and Europe.
Home to over 20,000 Aussie expats, it's clear Dubai is a city that has a lot to offer whether you're stopping over for a day or three, Dubai offers a mix of experiences and will surprise and thrill you. If you're travelling solo, here's Time Out's guide to what Australian's simply can't miss, from essential attractions to off-the-beaten-track adventures.
Morning
Land in Dubai
If you're flying from Sydney on Emirates, you'll get in at 5.20am, 6.05am or 1.20pm. However, don't just head to your hotel and go to sleep: get out and enjoy the vibrancy of Dubai from the moment you step off the jet.
Breakfast at Baker and Spice
If you're on one of the earlier landing flights, make the most of your morning and beat the jetlag by heading toBaker and Spice (+971 4 425 2240) in Souk Al Bahar for home-style, organic cuisine and cosy decor. Expect café breakfast standards, coffee, smoothies, pasta and housemade cakes.
Learn about the local culture at the Sheikh Mohammed bin Rashid Centre for Cultural Understanding (SMCCU)
Following breakfast, increase your cultural understanding and do something different by checking out the SMCCU (+971 4 353 6666). Operating under the banner "Open Doors. Open Minds," the centre strives to remove barriers between people of different nationalities and raise awareness of the local culture, customs and religion of the United Arab Emirates. If you've never been to Dubai it's a fantastic place to learn about the local Emirati culture with a friendly team happy to answer any questions you may have about the culture. Visitors can join guided tours; take part in a traditional Emirati breakfast or lunch; visit the Jumeirah Mosque; take a class in Arabic; and much more.
Lunch at Yalumba
Named after the Australian winery, Yalumba (+971 4 702 2455) features modern eclectic cuisine with a unique blend of flavours from the East and West. The small and cosy indoor restaurant comes highly recommended by Australian expats and boasts a DJ who has punters on the dancefloor by 15:00m on rowdier days.
Zipline down the Burj Khalifa
The Burj Khalifa (+971 4 366 1655) is the tallest building in the world, standing at 829 metres tall, and no stopover in Dubai is complete without a visit to the observation deck, known as At the Top. You'll get amazing views of Dubai and across the Arabian Gulf, spotting Emirates' A380 superjumbos taking off at Dubai International Airport. But for those who want something a bit different, the thrill-seeking way to experience the Burj is on the XDubai zipline, which takes the fearless on a 40-second descent from an apartment to the top of the Dubai Mall at a speed of up to 80kph. Only 30 people per week selected from social media are chosen for this heart-in-mouth ride – see XDubai for details.
Dinner at Iris
This lush rooftop indoor-outdoor restaurant and late-night bar sits on Level 25 of the Oberoi Dubai (+971 4 444 1 444) and in the early evening affords a regal view of downtown and the Burj Khalifa. The menu offers pub classics with a twist, such as Angus mini truffle burgers and aubergine tartine. Other options include seared bluefin tuna and salads featuring ingredients such as lentils, crab and quinoa.
Drinks at Cirque Le Soir
A night in Cirque Le Soir is like no other in Dubai. The club is kitted out like a circus, with podiums for dancers scattered around the venue. Performers such as fire-eaters, stilt walkers, sword swallowers and magicians give world-class performances all night.
Breakfast at the Majilis Dubai
Yep: in Dubai, camel milk cafés are a thing. The Majlis Dubai next to Jumeirah Mosque is the second, swankier branch of the Majilis where you can sample the 'camelatte' and the 'camelccino' and a range of dishes made with camel milk: muffins, croissants, pastries, ice cream and camel milk chocolate.
Visit Dubai Mall
Dubai Mall is the world's largest shopping centre. The size of 50 football fields, the mall features an astounding 1,200 shops. With so much to see, a few things to look out for include the Emirates A380 experience, which is a must for aviation nuts and gives you the chance to sit in the pilot's seat on the world's largest aircraft on a 30-minute adventure in a simulator. There's also an ice rink and Sega Republic – an indoor theme park dedicated to Sonic the Hedgehog with 150 amusement games.
Lunch at Moylo's
This tiny indie burger joint in Jumeirah is decorated in an edgy, raw style. Condiment bottles hang from the ceiling by chains and the counter is covered in padlocks, customised by patrons (including one signed by His Highness Sheikh Hamdan Bin Mohammed Bin Rashid Al Maktoum, Crown Prince of Dubai). The menu includes just five burger varieties, two side dishes (parmesan truffle fries and onion rings) and one milkshake (salted caramel) (+971 04 388 3140).
Book a sundowner dune dinner safari with Arabian Adventures (+971 4 303 4888), where trained safari guides driving 4x4 vehicles lead the thrilling journey – over the sand dunes, and through the Dubai Desert Conservation Reserve – deep into the heart of the desert. Then it's a feast under the stars including a Middle Eastern selection of grilled meats, fresh salads, delectable sweets and hand-picked beverages at a traditional Bedouin-style camp.

Drinks at Stereo Arcade
Twelve arcade machines line the perimeter of this space showcasing retro games such as Pac-Man, Mario Bros and Streetfighter II. Rock bands perform here at the weekend. Industrial features pervade the bar – exposed brick walls, filament light bulbs screwed into the piping overhead, and mounted wooden crates acting as shelves for bottles.
If you're not on an early flight to your next destination make the most of your final day by squeezing in these few last stops.
Breakfast at Book Munch
Book Munch is a small café in Al Wasl Square combining food with a love of literature. Comfort-food offerings include blueberry pancakes and the grilled cheese tower, and there are sandwiches and salads as well. Books line the walls for browsing while you eat or sip on coffee; book launches, signings and readings are held here frequently.
Go flyboarding at SeaRide Dubai
Flyboarding is a new extreme water sport – a kind of water jetpacking. Riders stand on a board connected by two pipes to a jet turbine that shoots them up to ten metres in the air. SeaRide Dubai's expert trainers can get you flying above Al Souq Harbour in no time.
Lunch at Park House
Park House is a café at Kite Beach opened by the brains behind Taqado Mexican Kitchen. The focus is on simple, delicious café food: omelettes, sandwiches, burgers and salads.
Shop at Shindagha Markets
One of the city's oldest and busiest markets is a merry meeting of freshly caught fish, ripe fruit and vegetables and all manner of pots, pans and baskets for cooking and transporting them. Amid the almighty racket of traders hollering at customers about their best prices, haggling over weights and hacking off tails and heads, restaurant staff and houseboys stagger around with heaving carrier bags, while tourists snap pictures of the action and load up on plump, sweet dates.
Snack at LakeView
The restaurant and bar at the Dubai Creek Golf and Yacht Club features a terrace with impressive views. There are themed buffet menus throughout the week and it's the ideal place to unwind before returning to the airport for your connecting flight.
Explore the airport
Dubai International Airport isn't just the place to go before and after your Emirates flight. It's an airport that offers epic facilities including a swimming pool, the huge Dubai Duty Free offering, world-class lounges, a five-star hotel and 'Snoozecubes'. Those flying in Business or First Class on Emirates also have something very cool: from the lounges in the A gates, you can board directly to the upper deck of the A380 from the lounge after finishing a glass of world-class Champagne and acclaimed food before your flight back to Australia or onto Europe.
With 77 flights a week from Australia to Dubai, Emirates connects you to the world via its world-class hub in the UAE. On Emirates, expect world-class service, food, wine, seats, entertainment and amenities right across all three cabins.
In Business Class on the A380s, guests have access to the Onboard Lounge, which serves up Martinis, Espresso Martinis, Rob Roys, Mojitos, Manhattans in a lounge complete with couches and snacks, such as shepherds pies, on demand. There's thousands of hours' entertainment at the touch of a button with over 2,000 channels on Emirates' award winning ice inflight entertainment system.
Heading to Europe? Dubai is an ideal stopover destination and Emirates flies to 38 destinations across the European continent and after the 14-hour hop from the East Coast of Australia, it's only a short flight onwards to London, Bologna, Milan, Stockholm, Zurich and many more cities. For flight information and bookings, call 1300 303 777, visit your local travel agent or go to the Emirates website.
Top five Aussie expat suggestions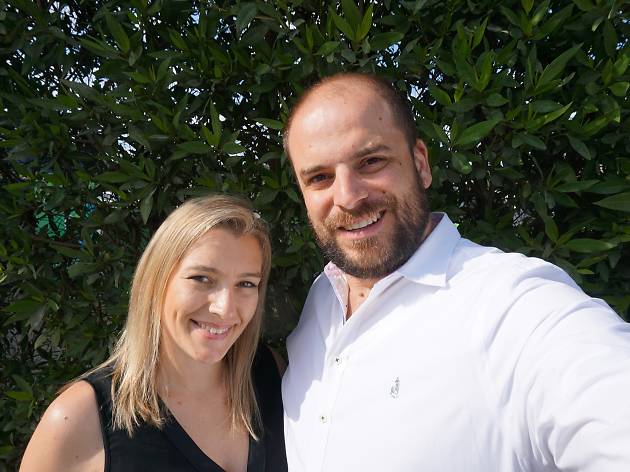 Aussie couple, Michael and Jessica Noble, have lived in Dubai for almost two years and plan on spending the next few years in this incredible city. Here are their recommendations of who to see and do in Dubai
1. Head for some hidden food
Go to Bu Qtair Restaurant at Jumeirah… seating can be an issue so need to arrive early, but everything is caught and cooked fresh!
2. Go horse riding
If you are an animal lover and want to experience riding the famous Arabian horses. One great recommendation is the Emirates Equestrian Centre.
3. Hit the beach
Kite Beach is a great public beach where you will find cafes and great food trucks lining the beach front that overlooks the Palm.
4. Brunching is a must
Dubai-style brunches are a fairly foreign concept to most Australians, but is definitely a favourite past-time once you get here. If you happen to be in Dubai on a Friday, definitely book in to go to one of the following best brunches in Dubai. Endless food and drink in beautiful 5-star international hotels for three-to-four hours on average. Our favourites are Bubbalicious at the Westin Dubai Mina Seyahi, Latitude' at the Jumeirah Beach Hotel and Saffron at Atlantis, The Palm.
5. Visit the Souks
Just a short 30-minute trip out of the centre of Dubai you will find the Gold and Spice souks. The souks are inside/outside marketplace stalls and shops selling an abundance of gold, silver and precious stones as well as spices, materials and bits and bobs that make perfect souvenirs. The souks are situated alongside the Dubai Creek, where traditionally, traders would enter the old part of the city with tea, gold and other commodities for trading. It's definitely worth checking out.