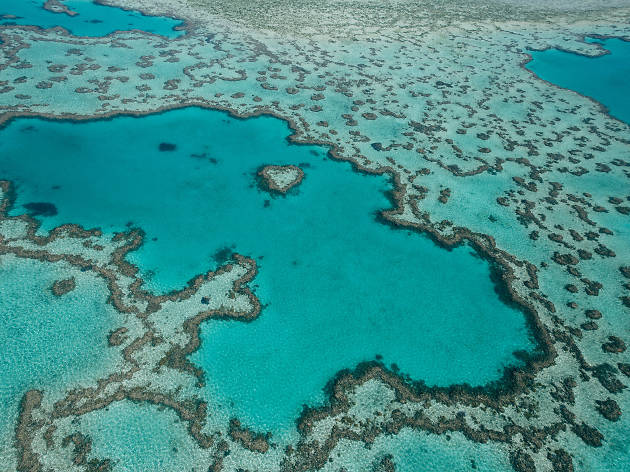 A weekend in the Whitsundays
See the world-famous Heart Reef, swim with turtles and cruise over coral in a sea kayak
Did you know there are 1,000 weddings a year on Hamilton Island? It's easy to see why: Instagram-worthy landmarks like Heart Reef and secluded, long white stretches are very romantic. But you don't need to fork out for honeymoon-priced hotel rooms to enjoy a tropical weekend getaway to the world-famous islands of the Great Barrier Reef. The Whitsundays are a two-and-a-half-hour flight from Sydney, and with a little planning you can jet off for an adventure-filled weekend that'll cost you less than a flight to Bali.
How to spend a weekend in the Whitsundays
Long Island is one of 74 islands in the Whitsundays, and it's home to one of the most affordable beachfront villa resorts on the tropical coastline. It's only accessible by boat and comes with its own private cove where guests spend their days snorkelling or kayaking along the undisturbed coral. It's an unusual find, and that's because the owners of Palm Bay Resort have transformed the space after a devastating cyclone destroyed two five-star resorts that used to have exclusive access to the island. The shell of one former hotel is still visible on the island's coastline, but on the site of the former Peppers resort is now a row of Balinese-style beach huts that hits the sweet spot between 'budget' and 'boutique'. Palm Bay Resort operates like a hostel, with guests bringing their own food and cooking at the barbecues by the pool, but the beach-front villas offer the same seclusion and postcard-views as the five-star accommodation on the neighbouring islands. Self-catering on a private island does take some planning, though. Make sure you order a grocery drop off from Whitsunday Provisioning in advance. You'll also need to arrange for a water taxi to get you there: Mars Charters charges $50 for the transfer from Hamilton Island. But once you're there, the resort has kayaks and snorkels for hire, tennis courts and a spa, plus there's a six-kilometre bush walk where you'll encounter rock wallabies, goannas, Cunningham's skinks and bush stone-curlews. In fact, many guests at Palm Bay Resort chose to never leave, instead becoming part of the volunteer staff; former travellers help out in exchange for accommodation on the island – they're also the people who'll wash your dishes after dinner (you're on holiday, after all). Beachfront villas are $229 per night.
The best photographs of the Whitsundays are taken from up high. Those aqua swirls of powder-blue sea and white silica sand are blindingly bright and just as beautiful as you'd imagine. If it's the heart-shaped coral formation that tops your bucket list, this is the way to see it. Hamilton Island Air has flown stars like Oprah over the famous Heart Reef and Whitehaven Beach. They have 14 different tours available on their 16 helicopters, four seaplanes and a seven-seater 'baby' aeroplane. The Reef and Beach Explorer will set you back $449 per person, but the half-day experience packs in all the major landmarks plus a rockstar water landing on Whitehaven Beach. They even throw in chilled sparkling wine for your beach lunch. If you've come in winter (and you should – the average temperature is 26 degrees) you'll likely spot humpback whales on their migration from Antarctica. In summer, you might see turtles, tiger sharks and bottlenose dolphins.
Family-run business Salty Dog Sea Kayaking has been running expeditions in the Whitsundays since '96, and they say the best way to get around the chain of offshore islands is by gliding along the ocean's surface. And when the water is as clear as glass, we're inclined to agree. Owner Neill Kennedy and his wife and sons run half-day, full-day and six-day tours from Shute Harbour – or they'll pick you up at your accommodation if you ask nicely. Their most popular trip is the half-day tour ($90 per person) and it includes double kayaks, snorkelling gear, snacks and stinger suits (essential if you're visiting November-June). The waterways are surprisingly quiet on our trip, and the water is a calm sea of turquoise stretching far and wide in all directions. It's not long before someone spots a turtle cruising past and another spots a rock wallaby on the rugged shoreline. Depending on the time of year, kayakers have come close to whales and dolphins in the Great Barrier Reef Marine Park. If it's warm enough, the team at Salty Dog will find a suitably accessible cove so you can jump in and take a swim.
Sixty-two year-old John Henderson quit his office jobs to work as a skipper, and since 2016 he's been transporting couples and explorers around the Whitsundays on his rigid inflatable boat. John prides himself on finding private snorkelling spots, hidden coves and beaches and making sure there's a killer sunset if you happen to be planning a proposal. His day tours can take a maximum of eight people and packages include picnic hampers and bubbles, should the need arise. On our trip, John picked us up at Whitehaven Beach and dropped anchor at Chalkies Beach so we could snorkel amongst the coral that grows up from the sand. We're the only people at this beach, which is lined with pine trees and rocks. After swimming with Maori wrasse, coral trout and clown fish, we speed off to Chance Bay where the water is as calm as a mill pond. There's not a footprint to be found on the sand. A full day excursion with gourmet lunch is $235 per person.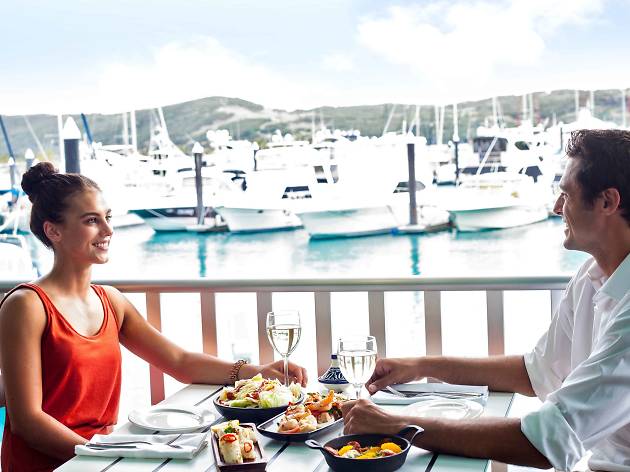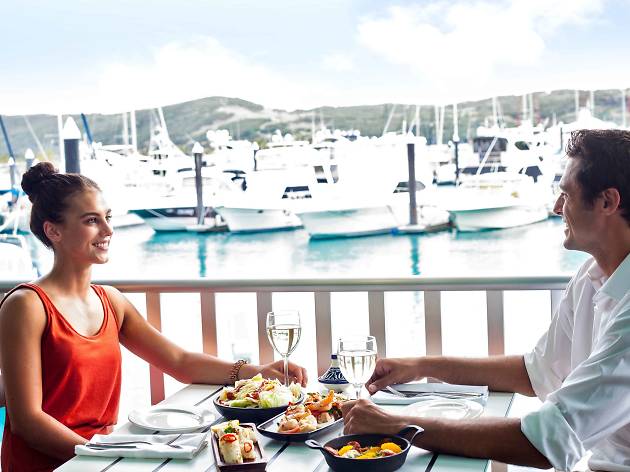 Photograph: Hamilton Island
5. Eating and drinking on Hamilton Island
Fancy snacking either side of your flight? Hire a golf buggy at the airport ($46 for one hour) and head to the marina. Manta Ray Café is a laidback family restaurant with water views that specialises in wood-fired pizzas. If you can't decide between pulled pork or chilli explosion, opt for a half-and-half with two of your favourite toppings for $29. For fine dining with a casual feel, there's Beach Club Restaurant, which overlooks the hotel's infinity pool and Catseye Beach. It's a thongs and shorts establishment, but the Harvey Bay scallops served ceviche style and the housemade pappardelle with Queensland tiger prawns show off the region's finest seafood fare in a white-table-cloths-and-Champagne-by-the-bottle kind of way. Expect to pay around $95 for three courses.
Virgin Australia and Jetstar fly direct to Hamilton Island.
Other weekend getaways
As much as we love all things Melbourne, even we occasionally need a break from the big city. Here's all the inspiration you need to plan your next weekend escape.