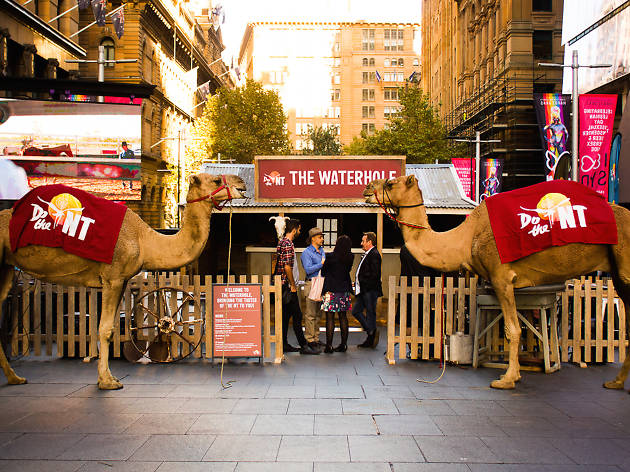 Experience the Northern Territory at Federation Square
Been dreaming of an adventure through the Outback? For a taste of life in the Red Centre and the Top End, head to Fed Square and discover the sights, smells and sounds of the Northern Territory
Nearly every Melburnian talks about taking a trip to the Northern Territory. When we meet those lucky enough to have been, they speak of vast red plains, clear night skies, lush desert oases, cool swimming holes, unrivalled adventure, friendly locals and thriving outback towns. They speak of the chance to learn about Indigenous culture and the humbling moment that they first saw Uluru up close.
So if you feel the pull of the NT, follow your wanderlust to Fed Square on Friday and Saturday, April 1-2, and be inspired to finally take that trip of a lifetime.
The Watering Hole
Those journeying through the Outback rejoice at the sight of a cool desert watering hole. Take a break from bustling city life and chill out with an ice cold beer, a glass of wine or even some ice cream made from Darwin mangos.
Eat your way through the NT
Hungry? Follow the scent of sizzling meat and taste an Aussie kangaroo burger, complete with bush tomato relish and coleslaw. Other NT treats on offer include battered barramundi and chips with finger lime remoulade sauce and wild mushroom croquettes with lime and coriander dressing.
Meet the locals
Here in Melbourne, we don't often get the chance to meet some of Australia's most famous inhabitants. Get to know a camel or take a selfie with a baby crocodile.
Listen to some local tunes
Don't make the mistake of thinking that the NT doesn't know how to throw a party. On Friday night from 6.30-9pm, you'll hear from indie five-piece At the Dakota, whose first single 'Stumptail' won the People's Choice award for NT Song of the Year. The band will be supporting Melbourne soulsters Saskwatch in May, which means you can say you heard them before they blew up. Also on stage will be Alice Springs indie-folk musician Dave Crowe, who records and produces his catchy tracks from a shed in the middle of the desert. He's supported acts like The Waifs and Mia Dyson, and now spends his time finishing his album between Alice Springs and LA.
On the other end of the spectrum will be the chance to hear from one of the country's top didgeridoo players, Andrew Langford. After spending more than two decades performing to huge crowds in Central Australia, Langford takes workshops around the country, teaching people how to learn to play this fascinating instrument.
Pretend you're actually there
Virtual reality headsets will allow you to take a journey through Kakadu and Katherine. Be aware that full immersion in the spectacular landscapes of the NT may result in bitter disappointment once you take off your headsets, which will be swiftly followed by a burning desire to get yourself on the next plane to the NT. Don't say we didn't warn you!
The Waterhole Federation Square. www.travelnt.com. Fri 8am-9pm; Sat 9.30am-3pm. Free. Apr 1-2.