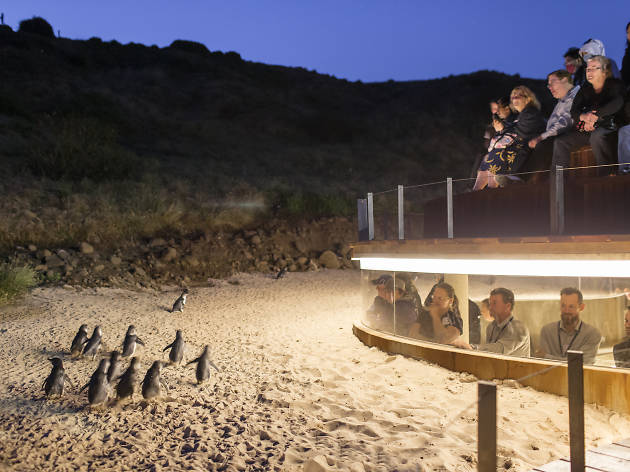 Family attractions at Phillip Island
The family-friendly attractions and activities at this little island have had a significant facelift – plus there are some new surprises.
Antarctic Journey
WWF Australia has collaborated with Phillip Island Nature Parks, the not-for-profit that works to restore and conserve the delicate eco-balance at Phillip Island, to build a three-level multi-media experience that's educational and fun. For instance, you can step (albeit briefly) into a chamber that mirrors the temperature in the Antarctic in real time and there's an infra-red scanner that will show you how much heat you lose from your body as compared to a penguin. The highlight is the lower level where film from Antarctica is projected onto ceiling, floor, walls and mirrors: watch orcas, penguins, whales and seals frolic in front of you.
Nobbies Centre, 1320 Ventnor Rd, Summerlands 3922. 10am-approx. two hours before sunset. $9-$45 (tickets can be bundled with other Phillip Island Nature Parks Australia attractions).
Penguin Parade
Hundreds of Little Penguins waddle up the beach from the sea in clusters every night at dusk – stretching and squawking in the penguin equivalent of yoga and a gossip. The new underground viewing facility enables patrons to watch the penguins' antics at ground level, with the added benefit of a ranger on hand to talk you through the minutiae of penguin life.
1019 Ventnor Rd, Summerlands, Victoria 3922. Penguin arrival time varies throughout the year. Call or check website for details. $12.25-$150.
Koala Centre Conservation
Two walkways through the eucalyptus treetops provide a perfect platform for koala viewing. Helpfully, rangers nominate how many of these sleepy balls of grey cuteness are in each of the expansive enclosures (which keep predators at bay) so you'll know how long to play spot the koala. The surrounding grounds hum with animal and bird life – curious wallabies and more koalas abound if you're patient and tread gently.
1810 Phillip Island Rd, Phillip Island 3923. Open 10am. Closing times vary throughout the year. $6.15-$30.65.
Churchill Island
Churchill Island's chief attraction is the historic homestead (built in the 1860s-'70s), which has been beautifully preserved by the local, volunteer-led Friends of Churchill Island Society, and is still a working farm. Catch milking demonstrations, pat baby animals and wander through the kitchen garden before pulling up stumps for lunch at the café.
246 Samuel Amess Dr, Churchill Island, Newhaven 3925. Mon-Fri 10am-5pm; Sat, Sun 9am-5pm. $6.15-$30.65.
Eco Boats Tours
Rug up and strap in for some high-speed thrills, coupled with dolphin spotting and the opportunity to view remote, untouched parts of the island you can't access otherwise.
Cowes Jetty, 11/13 The Esplanade, Cowes 3922. Rhyll Jetty, 18 Beach Rd, Rhyll 3923. $65-$285.
Phillip Island 03 5951 2800. www.penguins.org.au.