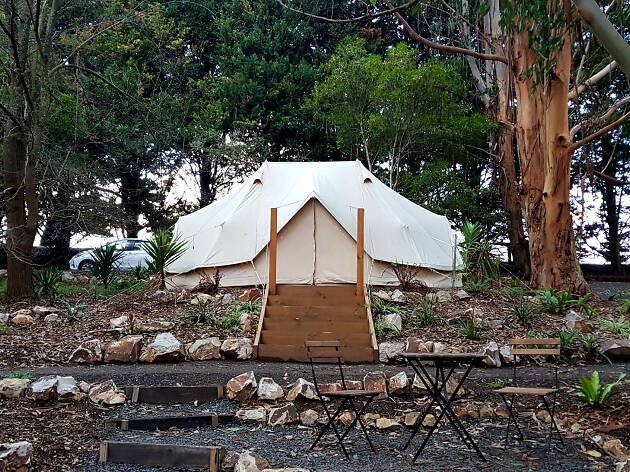 1/4
Photograph: Nicola Dowse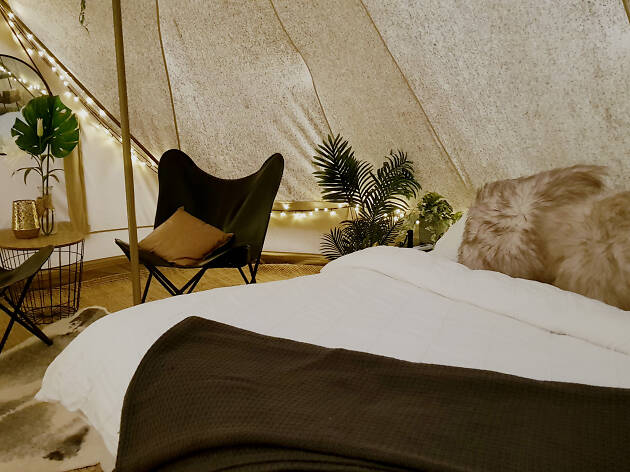 2/4
Photograph: Nicola Dowse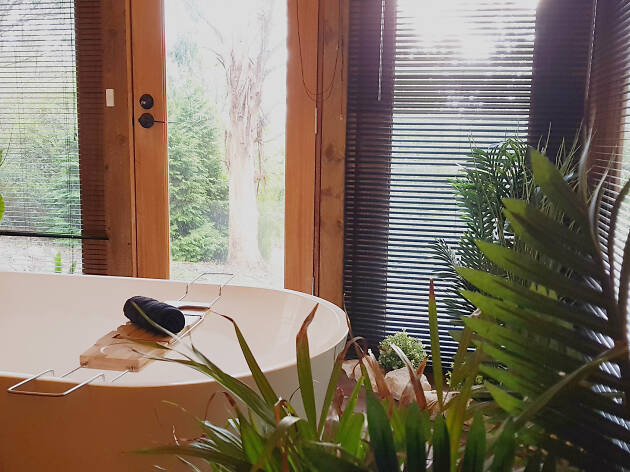 3/4
Photograph: Nicola Dowse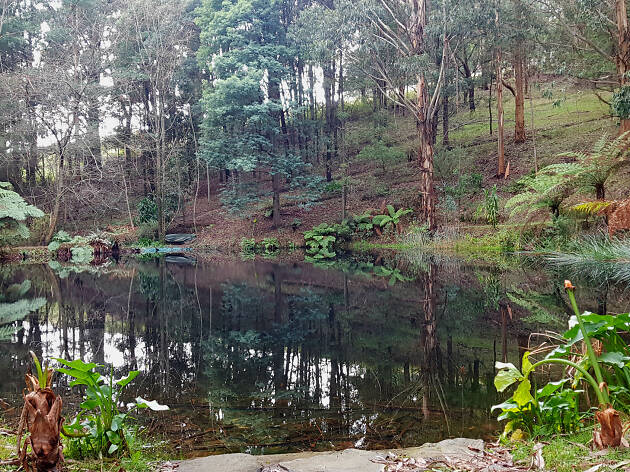 4/4
Photograph: Nicola Dowse
Time Out says
With a queen-sized bed, fridge, heater and private bathroom Mirador Springs proves it's possible to have a luxe camping experience
Mirador Springs isn't all that far from the M1. But in the short, winding distance between the highway turnoff and the blessedly well-signposted retreat, you'll go from flat farmland to a mountain of densely wooded eucalypt forest punctuated by laughing kookaburras and warbling maggies.
On arrival take your immediate right, following the narrow track signposted "cottage and tent". Yep, Mirador Springs offers both, though we can only speak for the tent.
This is glamping as it should be – that is, as far removed from camping as possible. Sure, you'll be staying in a canvas tent (which is a roomy twin-bell design), but it has pretty much all the comforts of your standard hotel room. That means you get a mini-fridge, microwave, pod coffee machine and kettle. If you forgot to bring food it's no problem, with a stack of menus for local restaurants and takeaway shops provided. Or if you're prudent you can arrange for a breakfast hamper to be delivered for a little extra moolah.
No compost toilets here; Mirador's amenities take the form of a luxe outhouse complete with deep dish hot water tub, polished stone basin and a real toilet in all its flushing glory. Plus, with enough pot plants to make a gen Y weep, this washroom is better than a number of hotel loos.
You might be wondering about the heating situation. Just as those who live in glass houses should not throw stones, those who stay in canvas tents should not expect central heating. But Mirador Springs has taken steps to try and work around that, giving guests a small portable fan heater and electric blanket. Or if weather permits, you can start a blaze in your own personal fire pit and toast some marshmallows to gooey perfection. You are still camping, after all.
Mirador Springs's location is perfect for when you want to escape the world. The glamp site is surrounded by an impressive 6 hectares of gardens that feature everything from glassy secret lakes to curious goats. When we visited in early winter there were still enough half-bald red and yellow trees to make us think autumn at the springs would look like a Thomas Kinkade painting.
A final note: try not to rubberneck too much while driving through the catwalk-thin spindly gums lining the road on your way there – wallabies and wombats are about.
Time Out stayed at Mirador Springs as a guest of Glamping Hub.
Details