One perfect day in Ballarat
If Sovereign Hill is all you know about Ballarat, its time for another visit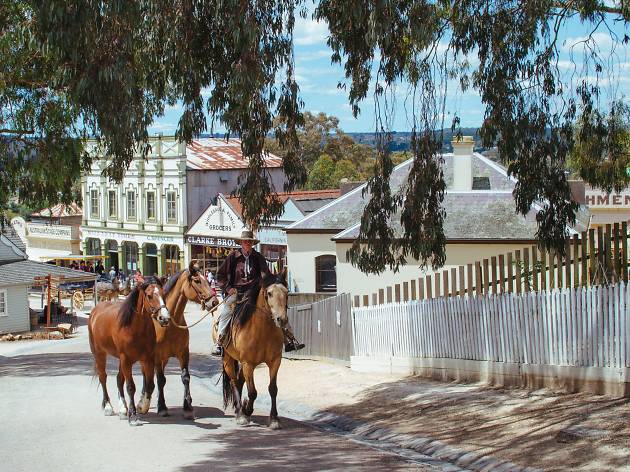 10am-noon
There's a lot to do, so we recommend rolling in early. Your first stop is L'espresso. With the best coffee in town, you could sit here for hours, listening to some soulful tunes and people watching, it's the perfect start to the day. The food stacks up too. If sweet is what you're after, get the French toast with poached pear, or if eggs is more your thing, there's plenty to choose from.
Grab another coffee and walk down Sturt Street to the Art Gallery of Ballarat. One of the oldest and biggest regional art galleries, they boast a huge collection of Australian art as well as running exhibitions throughout the year.
Noon-1pm
From the art gallery, take a short walk back to Sturt Street and walk down a block to the Known World Bookstore. With collectable and rare printed books, plus good quality second hand books, you can work up an appetite searching in this vintage bookstore.
If books isn't what you're looking for, Sturt Street is home to loads of Ballarat's best little shops including retro clothing store, Miss Behavin' and homewares store Wen and Ware. If you're driving around, be sure have a look in Studio Gas, the Upholstery Gallery and Inexterior for homewares, clothes and jewellery, they all happen to be café's too. Did someone say coffee?
1-3pm
Once you've finished moseying around the streets and shops, head to lake Wendouree to Pipers by the Lake café. The 120-year-old building is ideally positioned on the foreshore of the lake and just opposite the beautiful botanical gardens. It has all the usual suspects, from pizza, pasta and steaks on offer.
Head across to the Botanical Gardens and have a look at the ex-prisoner of War Memorial, the Conservatory and the Prime Minister Avenue. When you're done, a walk around the lake is a perfect way to take in the sites of Ballarat; or you can catch the vintage tram that runs through the Botanical Gardens and around some of the lake. The journey takes about 20 minutes.
If you've brought the kids with you, a pit stop at adventure playground is a must. Just along the path from Pipers by the Lake, the playground will be crowded with kids and families enjoying the weekend.
3-4pm
If you need a pick-me-up after that walk, check out Vegas and Rose for some of the best cakes in town and a redskin macaroon. Yes, that's a thing. And it's incredible. If you feel like something extra indulgent though, you need to stop by Sweet Decadence. It's a chocoholics dream. You can buy a bunch of homemade chocolates or sit down and enjoy a pure chocolate hot chocolate.
4-5pm
Now that you've had a sugar overload, visit the interactive Museum of Australian Democracy at Eureka (MADE). With the 1854 Eureka flag as its centre piece, MADE explores the evolution and future of democracy, focusing on culture, civics history and citizenship.
5-7pm
Feel like exploring? Go check out the Lal Lal Falls and just sit, relax and take in the scenic views. Just a 15-minute drive south of Ballarat; make sure to bring your camera with you.
7-9pm
For the best steak in town, head to the Ballarat Steakhouse. The char-grilled steaks are cooked just the way you like it, with a range of sides to choose from and fully licenced bar, its easy to see why it's a local favourite.
If you don't feel like leaving just yet, hit up the Jackson & Co rooftop bar for some cocktails and get some of the best views of Ballarat while you're at it.
If you're catching the train down, VLine trains to Melbourne roughly run on the hourly. The last one leaves Ballarat station at 11.37pm on a Saturday and 10.12pm on a Sunday.