With its long, winding coastline, sheer cliffs, sandy shores, rolling green hillsides, incredible surf beaches and glorious hiking trails, the Bass Coast is a haven for those seeking solace in the lap of nature. In partnership with Visit Victoria and Visit Gippsland for their 'Stay close, go further' campaign, we spent a weekend touring Victoria's serene south-eastern coastline, with stops at Inverloch, Cape Paterson, Kilcunda and more. With so many great places to eat, sleep and explore, there's never been a better time to discover this glorious pocket of South Gippsland. Welcome to the Bass Coast.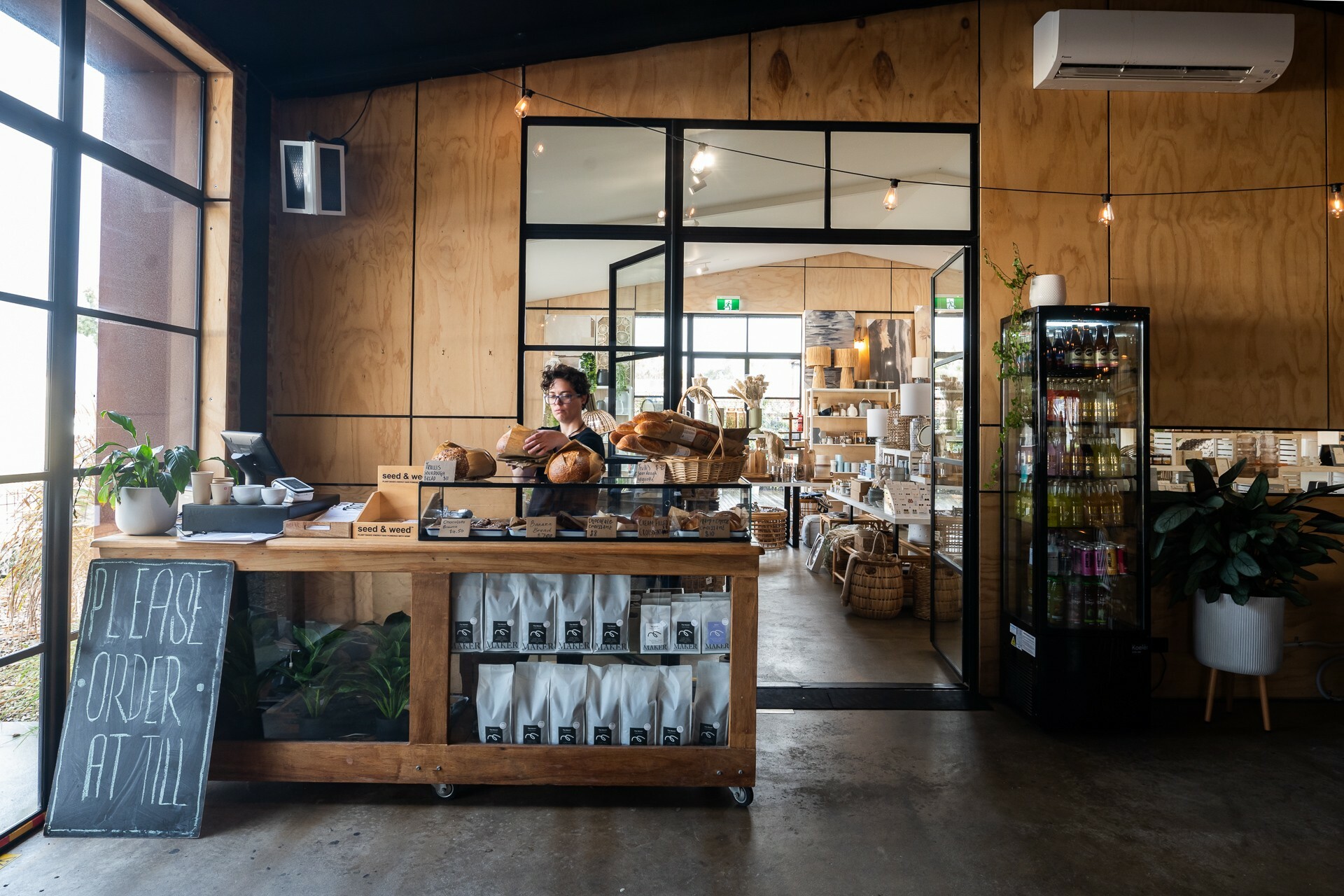 Photograph: Carmen Zammit/Bluette on Bear
EAT
A beautiful brunch
If you're making the drive from Melbourne to the Bass Coast, you owe it to yourself to stop by Inverloch's Bluette on Bear. While the interior is warm and welcoming, combining rustic elements with contemporary touches, the seasonal menu is the highlight. Each dish is thoughtfully prepared with creativity and finesse to showcase the best of local produce. The eggs benedict with local ham was superb, but the star of the meal was the grilled sourdough with macadamia cream, oyster mushrooms from a neighbouring farm (more on this later) and crispy Jerusalem artichokes. Paired with a perfect coffee courtesy of Melbourne-based roastery Maker, this is the best way to start your Inverloch adventure.
Photograph: Carmen Zammit/Ocean View Hotel
Beachside barbecue
As its name suggests, the Ocean View Hotel boasts an incredible view to the rocky, emerald Bass Coast. However, if you're anything like us you'll be too busy marvelling at what's on your plate to notice one of Victoria's most stunning vistas. While there's a range of traditional pub fare on hand, Central and South American Barbecue is the reason people flock here. Prepared by the ever-smiling head chef Ivan Sanchez-Pirez, the menu showcases Argentinian and Cuban signatures that left us in awe. The pork ribs were spicy, sticky and oh-so-perfect, but the La Pampa – a medley of crispy-skinned maryland chicken with creamy mushroom sauce and mash – stole the show.
Photograph: Carmen Zammit/Mates Gin Distillery
A (good) cause for celebration
What do you get when you put an accountant and a chemist together on a hockey field? Well, turns out the answer is some of the finest gin in town. Situated in a converted warehouse in Wonthaggi, the recently launched Mates Gin Distillery is making waves in the world of gin. Combining traditional distilling with a passion for botanicals from sources local and far flung, Mates' boasts an exceptional and focused range of gins that are sure to please juniper berry enthusiasts and casual consumers alike. But don't just take our word for it. Ask for the gin flight, which sees each gin paired with complementary garnishes and a splash of tonic. The best part? A portion of the distillery's sales go to the Dream Big Foundation.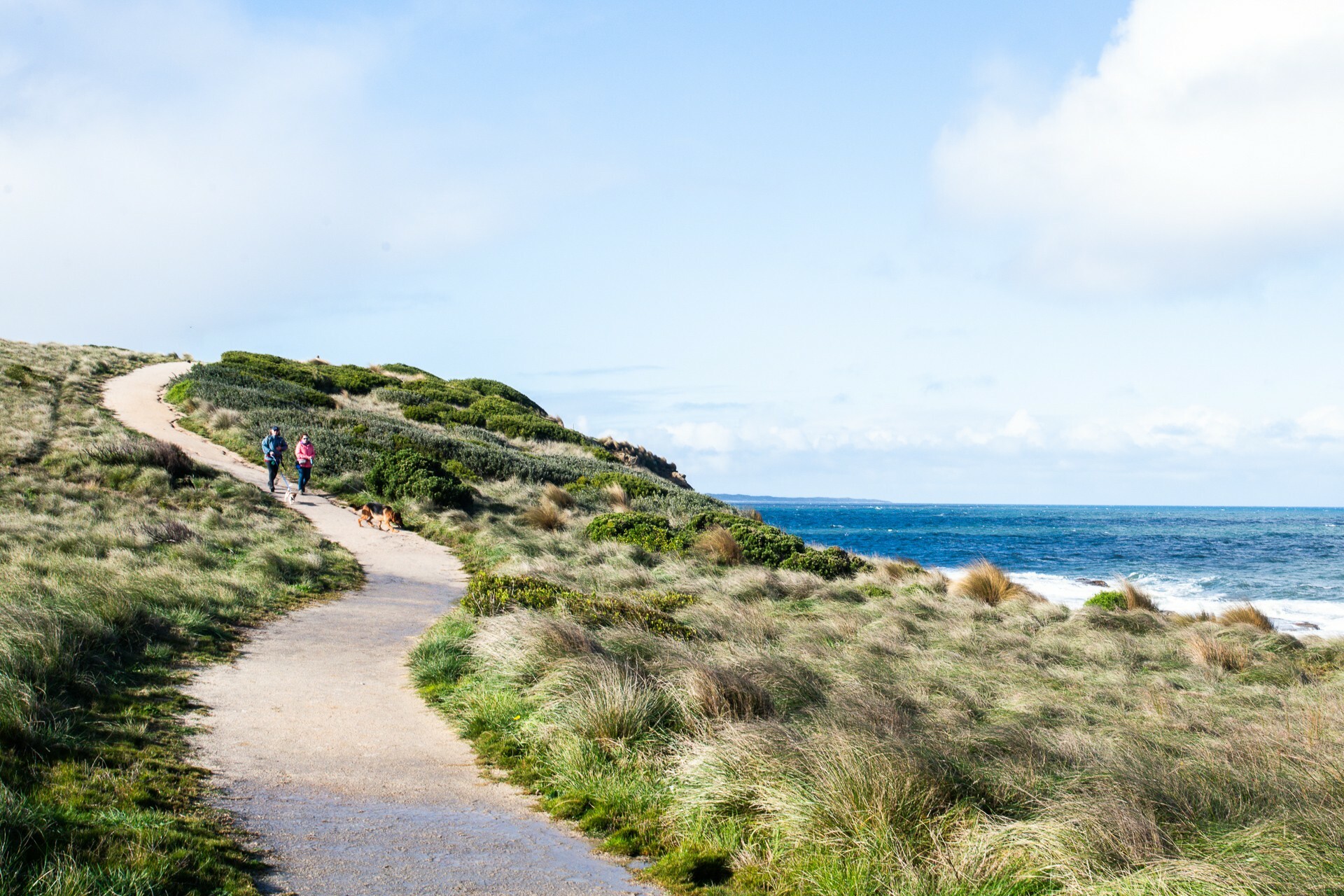 Photograph: Carmen Zammit/George Bass Coastal Walk
NATURAL WONDERS
A walk to remember
There's no better way to discover Gippsland's staggeringly beautiful coastline than the George Bass Coastal Walk. Winding west from Kilcunda to San Remo, this 16km round trip is a must for seasoned hikers and casual walkers alike. To the north you're treated to an endless stretch of rolling hills, meadows and farmland, while to the south lies the mesmerising Bass Strait. As you traverse the trail, keep an eye out for fascinating wildlife, including blue tongue lizards and over 300 species of birds, among other captivating creatures. As always, remember to slip slop slap.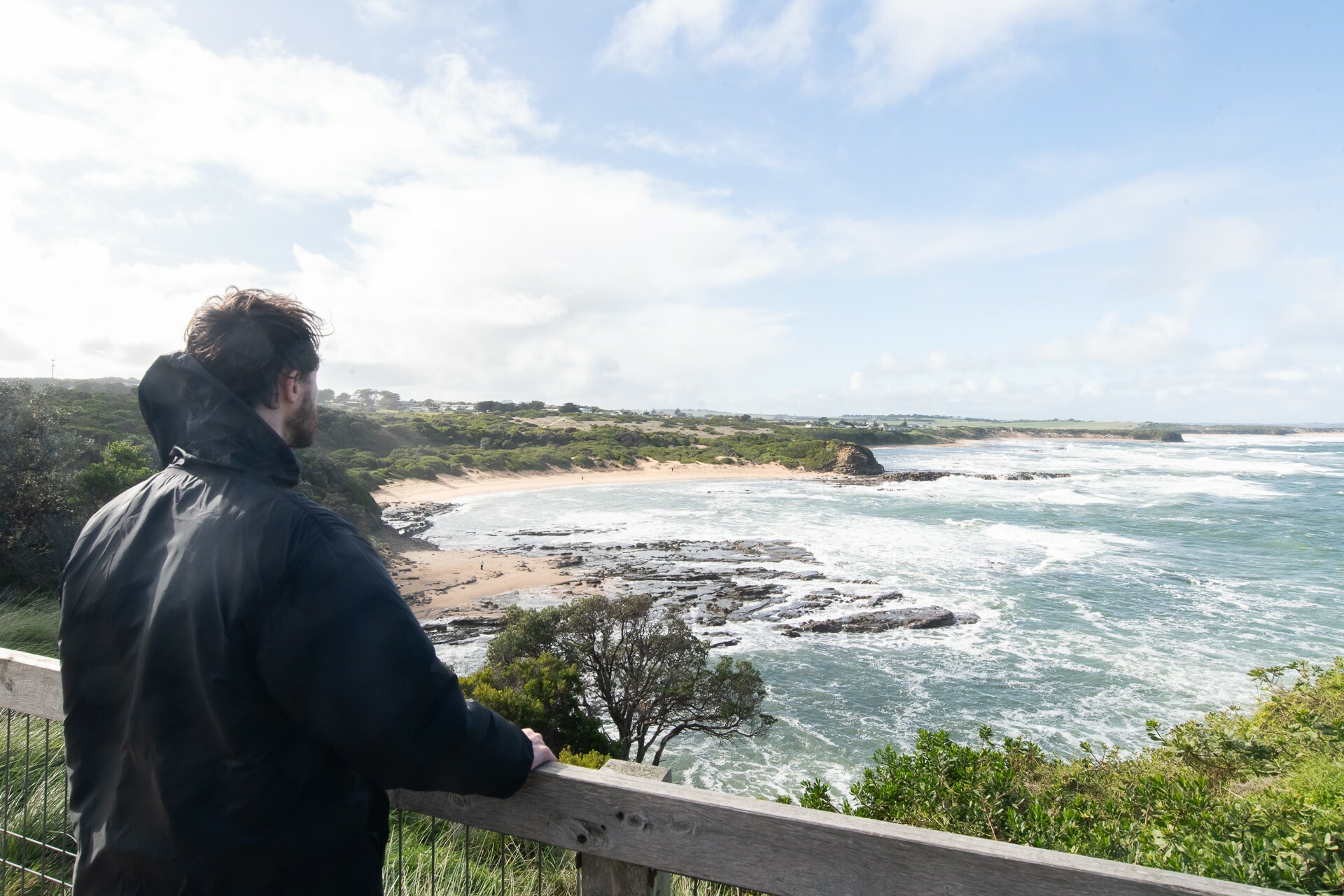 Photograph: Carmen Zammit/George Bass Coastal Walk
Poolside paradise
You'd be forgiven for thinking this is yet another natural marvel of the Bass Coast, but the Cape Paterson Ocean Pool was in fact built by locals in the 1960s. Settle into this crystal-clear turquoise pool, surrounded by an endless stretch of beach and sea, and you'll quickly understand why this has been a hot spot for generations.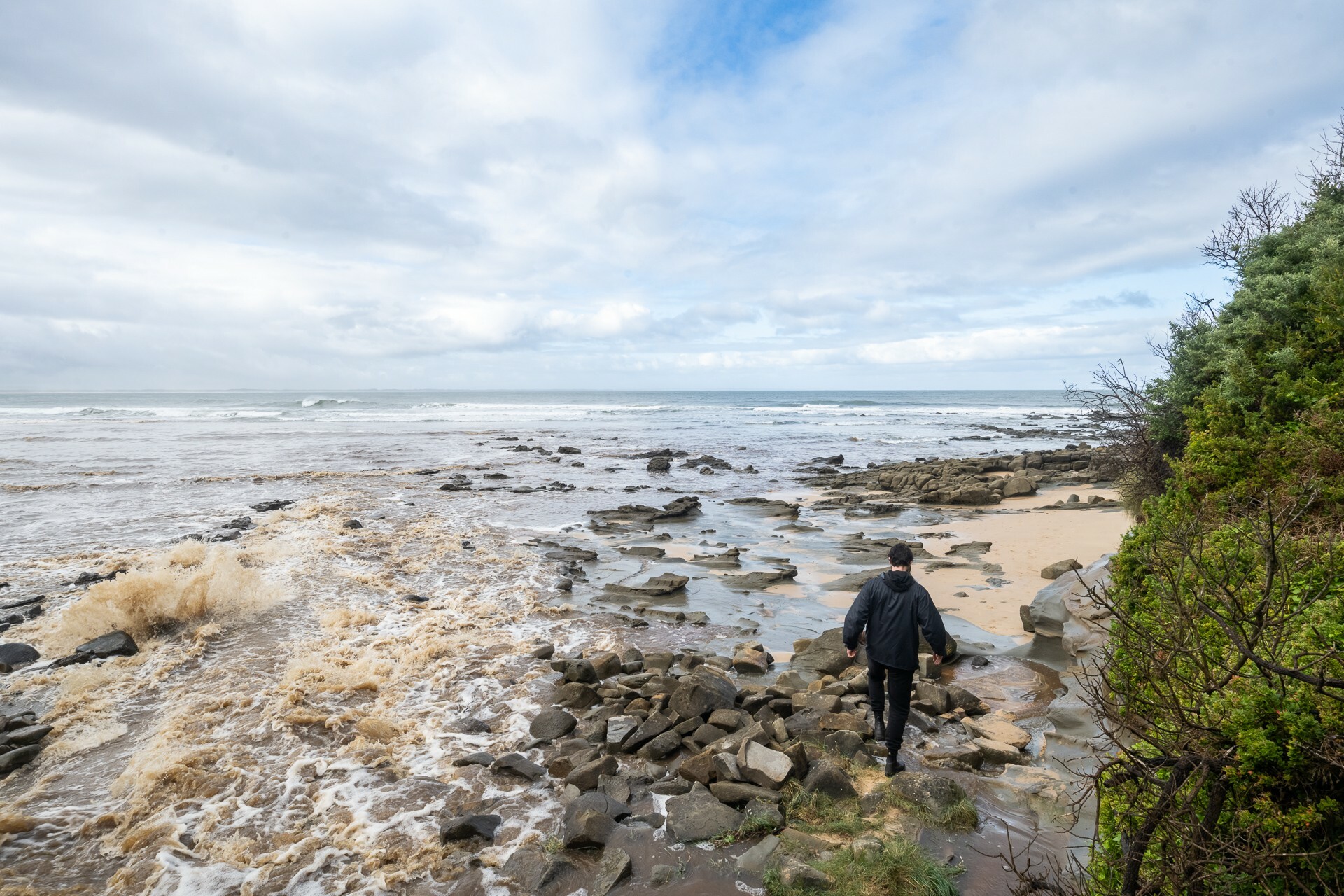 Photograph: Carmen Zammit/Cape Paterson Claw
A lasting impression
Nestled between Inverloch and Cape Paterson, the Bunurong Coast is one of Australia's most impressive shorelines. Known for its remarkable geographical features and diversity of marine life, this rocky, reefy stretch of coast is a sight to behold. We pulled in at Eagles Nest to marvel at the rock formations, then took the path down to the shore to discover the Dinosaur Dreaming dig site, where Australia's first dinosaur bone was found – aptly (if not ominously!) named the Cape Paterson Claw. As if that wasn't enough, there's also a dinosaur footprint just north of the car park.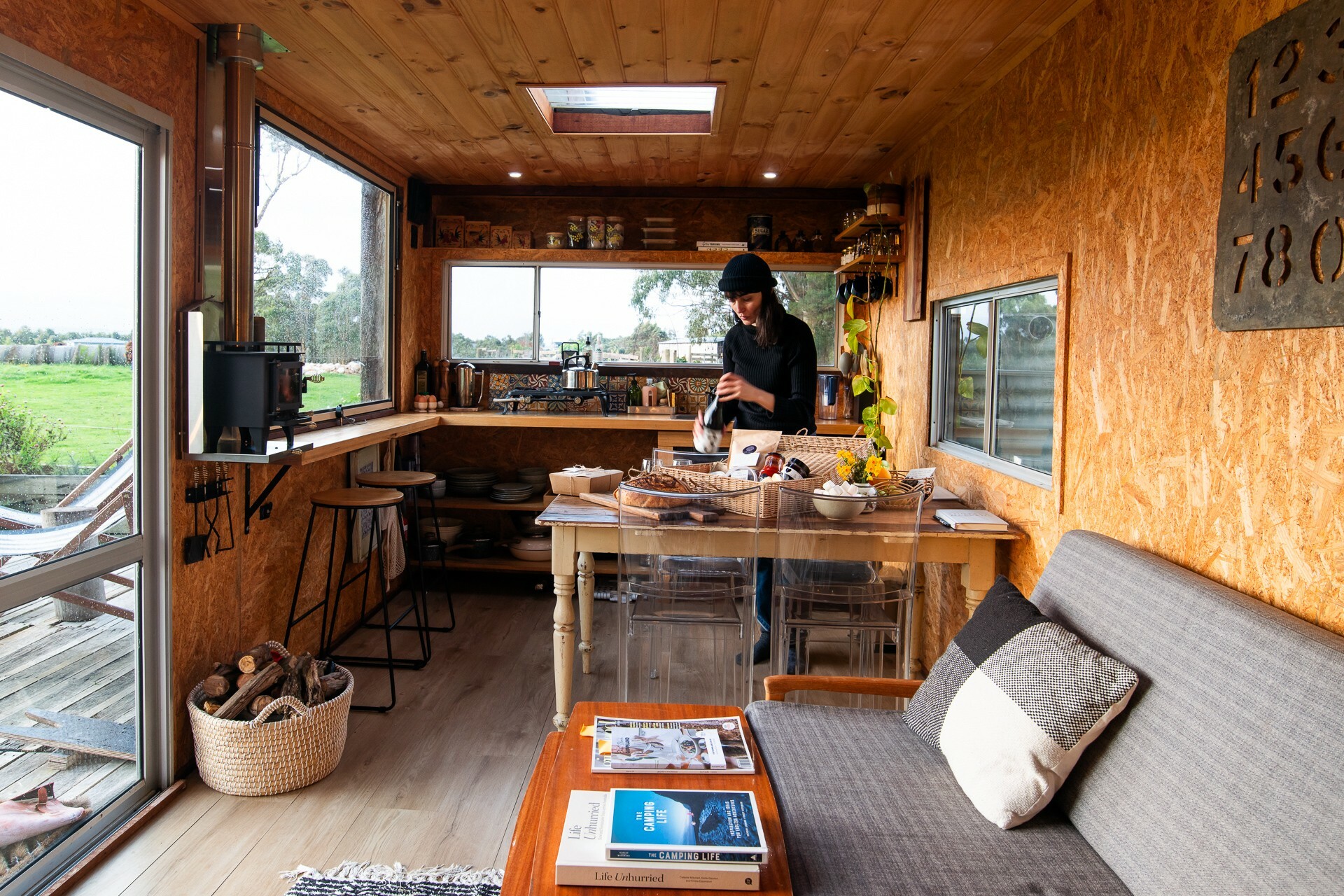 Photograph: Carmen Zammit/Wattle Bank Farm
STAY
Grow, play, stay
That's the ethos of Wattle Bank Farm and it's evident in everything they do. Upon arrival, it's clear we're somewhere special. Citrus trees line the driveway, a family of horses greet us from their paddock by the entrance, and our gracious hosts, Beatrice and Peter, welcome us with warmth and generosity. Seahorse Cabin is tucked away at the rear of the farm, and it's an idyllic escape from the stressors of city life. We settled in, opened a bottle of wine and cooked up some napoli pasta, made with the farm's iconic oyster mushrooms, which are grown right on the farm and used in restaurants across Victoria. After a night by the fire and a cosy sleep under starlight, we woke up fresh faced and ready for another day on the farm.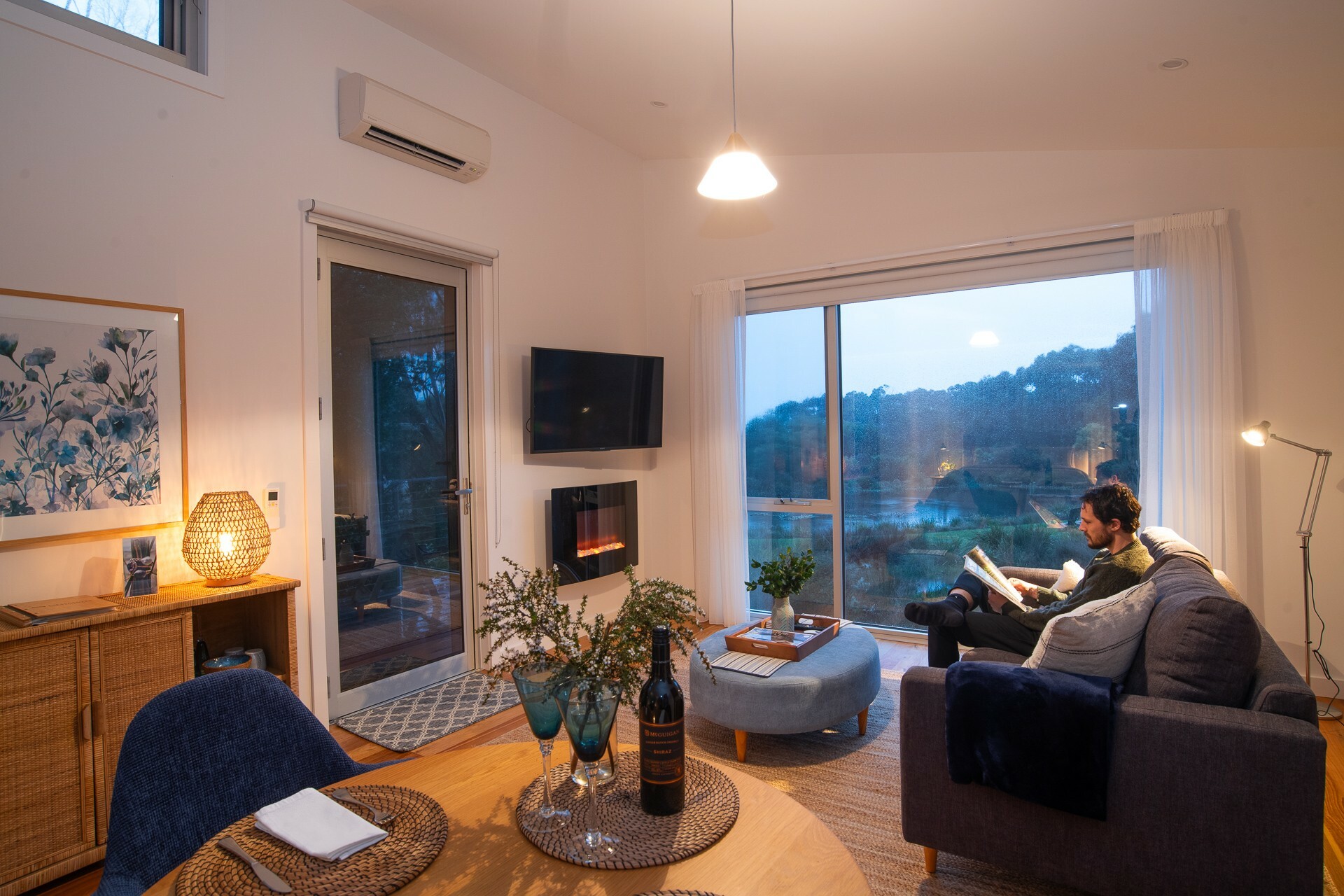 Photograph: Carmen Zammit/Messmates Luxury Eco Suites
Wetland wonder
Escape to the bush and enjoy the finer things all at once. Nestled in the wetlands of Inverloch, Messmates Luxury Eco Suites are the perfect getaway for couples in need of rest and rejuvenation. With just two suites onsite, the lodgings feel intimate, secluded and connected to nature. Named for a species of Eucalyptus found throughout the area, the suites are surrounded by native trees and plant life that have an immediate calming effect. Within the suites you'll find generous, refined interiors that cater to your every need – as do your thoughtful hosts Chris and Jo, who provided us with cocktails for the evening alongside homemade pizzas that were cooked to perfection.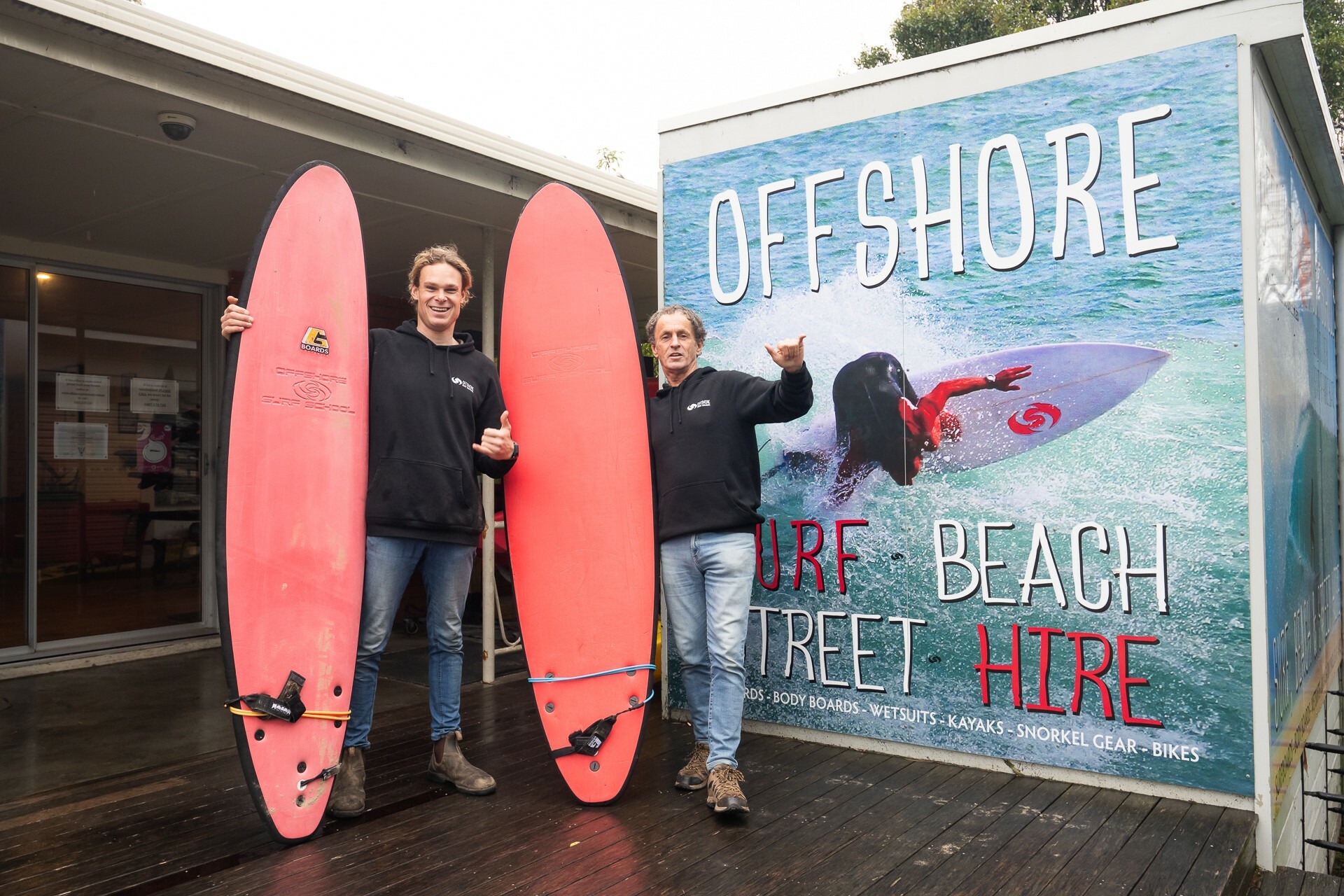 Photograph: Carmen Zammit/Offshore Surf School
DO
Surf's up
Looking to catch that perfect wave? Inverloch Surf Beach is the spot. Just be sure to have a lesson first – particularly if, like us, you're best described as an avid amateur. Fortunately, Offshore Surf School is just a stone's throw from the main beach. Once you've been fitted for a wetsuit and board, they'll guide you down to the golden sands for your crash course in kowabunga. While fundamentals are taught on shore, you'll (quite literally) be hitting the water in no time. If surfing's not your thing, the guys will be all too happy to set you up with a paddleboard.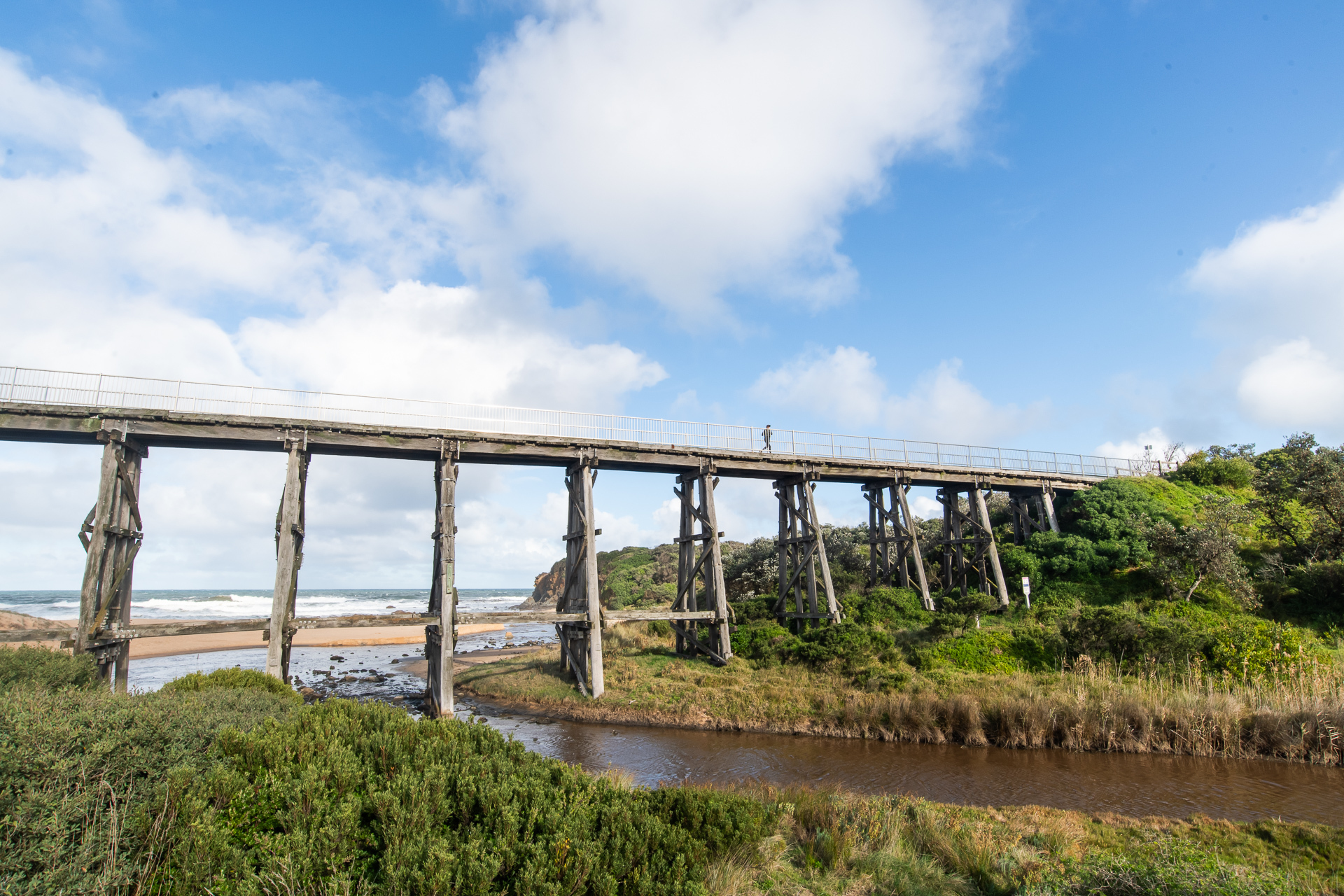 Photograph: Carmen Zammit/Kilcunda Trestle Bridge

Ride the rail
Should you still have an appetite for incredible seaside views, spend an afternoon riding the Bass Coast Rail Trail. Beginning in Anderson and ending at Old Wonthaggi Station, this 21km trail winds through picturesque coastal terrain with many a stop along the way, including some of the area's historic train stations and Kilcunda's magnificent Trestle Bridge.
WHILE YOU'RE THERE…
Spend a Sunday afternoon on the patio at Harman Wines, a charming vineyard just a few minutes' drive from Wattle Bank Farm. Beyond their superb, sustainably made wines, Harman's menu features produce sourced from within 30kms of the estate, making it the definitive place to sample the flavours of Gippsland.
Pop in to Kilcunda General Store for some apple-crumble waffles by the seaside, then wander out the back to Udder and Hoe, a charming delicatessen with a wide range of wares, all grown, picked, pickled and prepared on local farms.
Spend a morning rejuvenating at Cape Paterson's Zeal and Flow, a refined yet relaxed cafe that also houses a homewares store and yoga space. Fancy a walk on the beach? You can't go wrong with an afternoon at Inverloch Surf Beach exploring the lagoons, trails, dunes and caves that line its stunning, rugged shoreline.
When it's time to return to Melbourne, do yourself a favour and take the scenic route. There's no sweeter way to end a trip to the Bass Coast than with an afternoon at the Gurdies Winery. If you're there on a Sunday you'll be treated to some live music courtesy of local band Country Music's Vintage Veterans.