Just an hour's drive from Melbourne, the seaside town of Geelong and its neighbouring peninsula – the Bellarine – is a treasure trove of hidden gems waiting to be discovered. From award-winning wineries and charming waterfront cafés to marine reserves and national parks, there is a smorgasbord of things to do, see and experience.
Victoria's second-largest city, Geelong has a myriad of art galleries, top-notch restaurants and bars cropping up left, right and centre. Pass through this gateway and onto its neighbour, the Bellarine, and you'll find the best of nature: sandy beaches and the chance to surf, snorkel and swim among dolphins and seals.
We've teamed up with Visit Geelong and the Bellarine and Visit Victoria for their 'Stay close, go further' campaign to bring you a fresh guide to what makes the region stand out. The confluence of Geelong as a thriving waterfront city with the Bellarine's breathtaking natural beauty makes them twinkling jewels in Victoria's crown, so what are you waiting for?
Popes Eye Marine Park | Photograph: Mark Chew/Visit Victoria
BACK TO NATURE
Swim with the seals at Popes Eye Marine Park
If all the human stuff is starting to get to you, why not spend the day snorkelling in crystal-clear waters, swimming with seals, and spotting dolphins while skimming the waves with a Port Phillip boat tour? Leaving Queenscliff twice daily during the warmer months, Sea All Dolphin Swims conducts tours within the southern reaches of the bay, surrounded by the historic ports of Queenscliff and Sorrento. Time Out got suited and booted with a wetsuit and flippers as we were introduced to Captain James (Murph) for our half-day tour. The tour usually begins with a trip to Popes Eye Marine Park, an artificial structure that was once a unfinished defence fort but is now a protected site that teems with technicolour marine life. Put your snorkelling into practice and swim side-by-side with the around 40 Australian fur seals that galumph about – it's exhilarating to meet these friendly swimmers up close. If you're lucky, and the conditions are just right, you may even have the chance to swim with the wild dolphins. Your ticket price with Sea All Dolphin Swims includes a small levy that goes to help improve the health of the ocean through research, education, conservation and plastic recycling.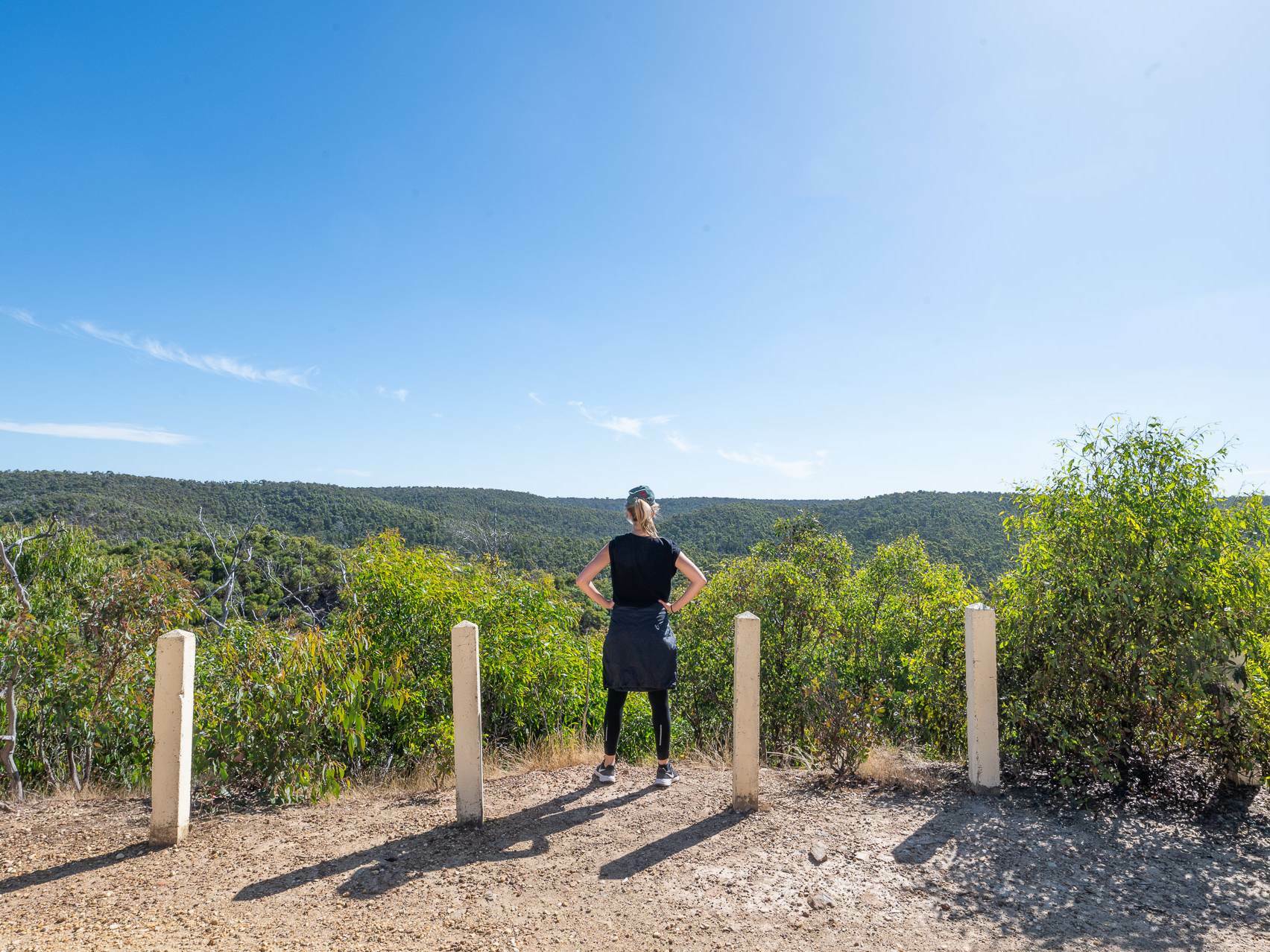 Brisbane Ranges National Park | Photograph: Carmen Zammit
Spot wildlife and wild views at Brisbane Ranges National Park
Escape the city and cleanse your lungs with a trip to the rugged Brisbane Ranges, a 7,718-hectare national park little more than an hour's drive from Melbourne. The Brisbane Ranges' steep gullies and gorges make it a great spot for hikers of all abilities looking to spot native flora and Australian wildlife like tree-hugging koalas, wallabies and kangaroos. There are a number of trails that weave and wind through the Brisbane Ranges, but we headed for the Stony Creek Picnic Area, an ideal base as it is where some of the park's best walks – from the 2.5km Wadawurrung Walk to the 8.5km Ted Errey Nature Circuit – intersect. After tackling a steep incline, we cool off in the shade of eucalyptus trees and tuck into our well-deserved picnic of Waldorf-style chicken sandwiches and pecan sticky buns from the Born & Bred Bakehouse in Geelong.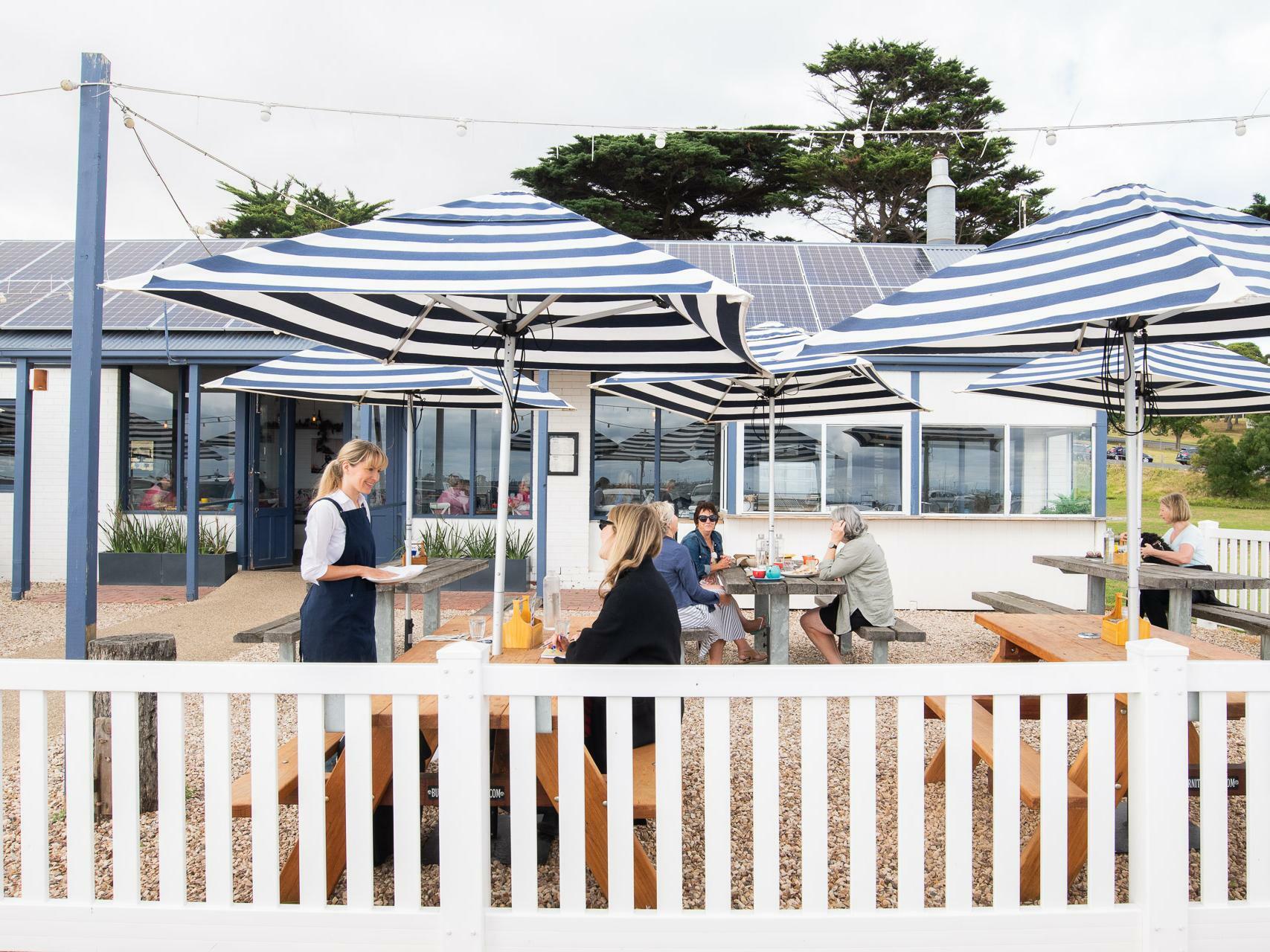 Pier Street Café | Photograph: Carmen Zammit
EAT
Get a shot of nature with your latte at Pier Street Café
Enjoy rolling views of the Bellarine Peninsula with a trip to Pier Street Café in Portarlington. Led by husband-and-wife duo Peter and Ebony Roddy, this waterfront coffee shop and diner serves up contemporary Australian dishes for breakfast, lunch and dinner, which you can eat under the shade of their blue-and-white striped umbrellas. Working closely with local producers such as Jenkins & Son Fisheries, Drysdale Cheeses and Harvey's Fruit and Veg, Pier Street offers seafood from salt and pepper calamari to seared scallops. Don't miss out on trying their signature dish of Portarlington mussels done in three ways: in a seafood chowder, with white wine and sourdough, or steamed with tomato and chilli.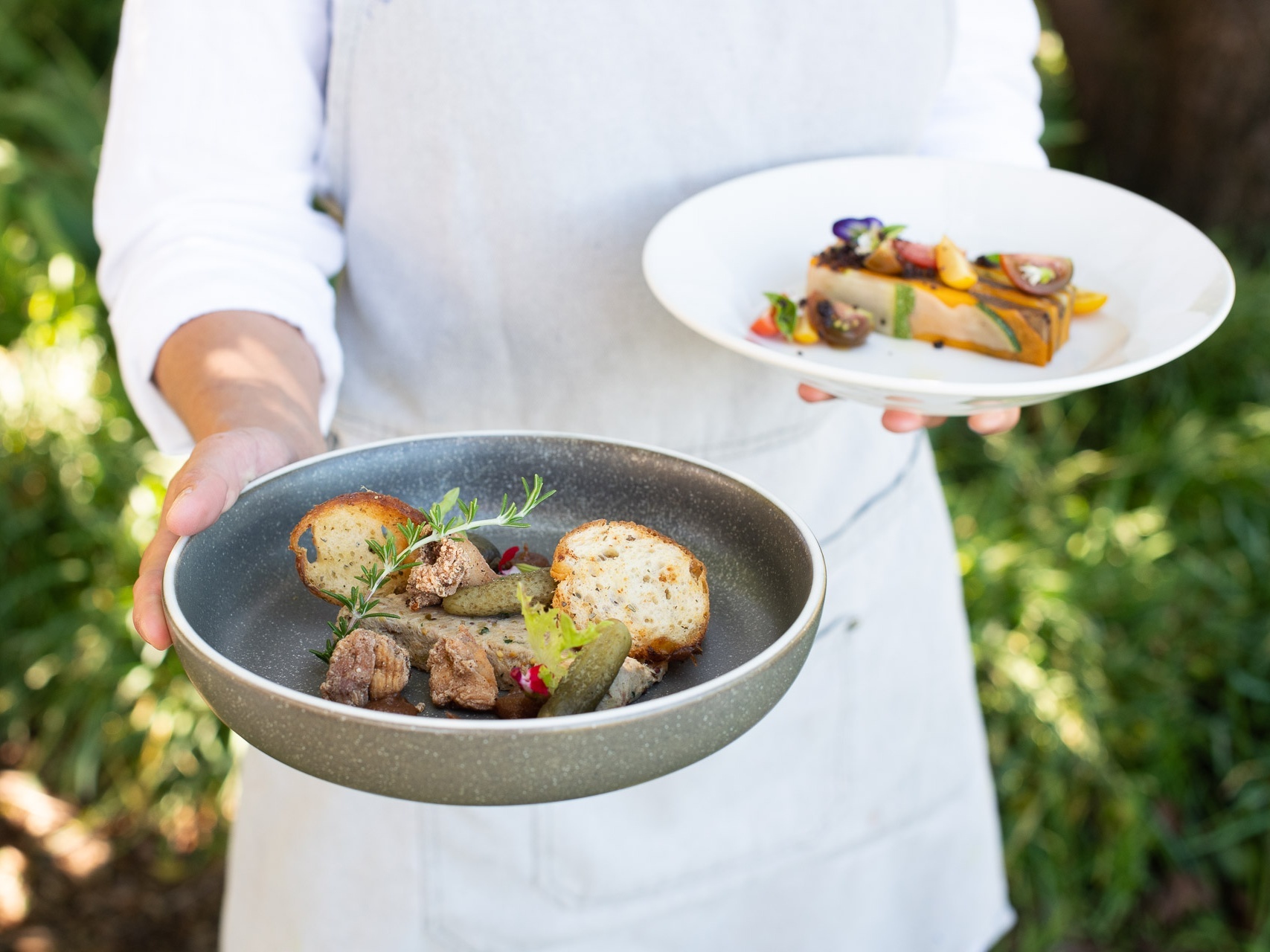 Basil's Farm | Photograph: Carmen Zammit
Eat fresh from the earth at Basil's Farm
Perched on the shores of Swan Bay with views across the water to the historic town of Queenscliff, Basil's Farm is a pocket of paradise. As well as boasting panoramic scenery, Basil's Farm has a vegetable garden you can wander through and see everything from zucchini flowers to basil in bloom. With a priority on farm-to-table dining when they can, Basil's Farms menu offers everything from pressed grilled vegetable terrine, gin-cured ocean trout, lamb backstrap with tabbouleh to Cape Grim mustard sirloin with white anchovies. Kick back, relax, enjoy a glass of wine, take in the views and bask in the breeze.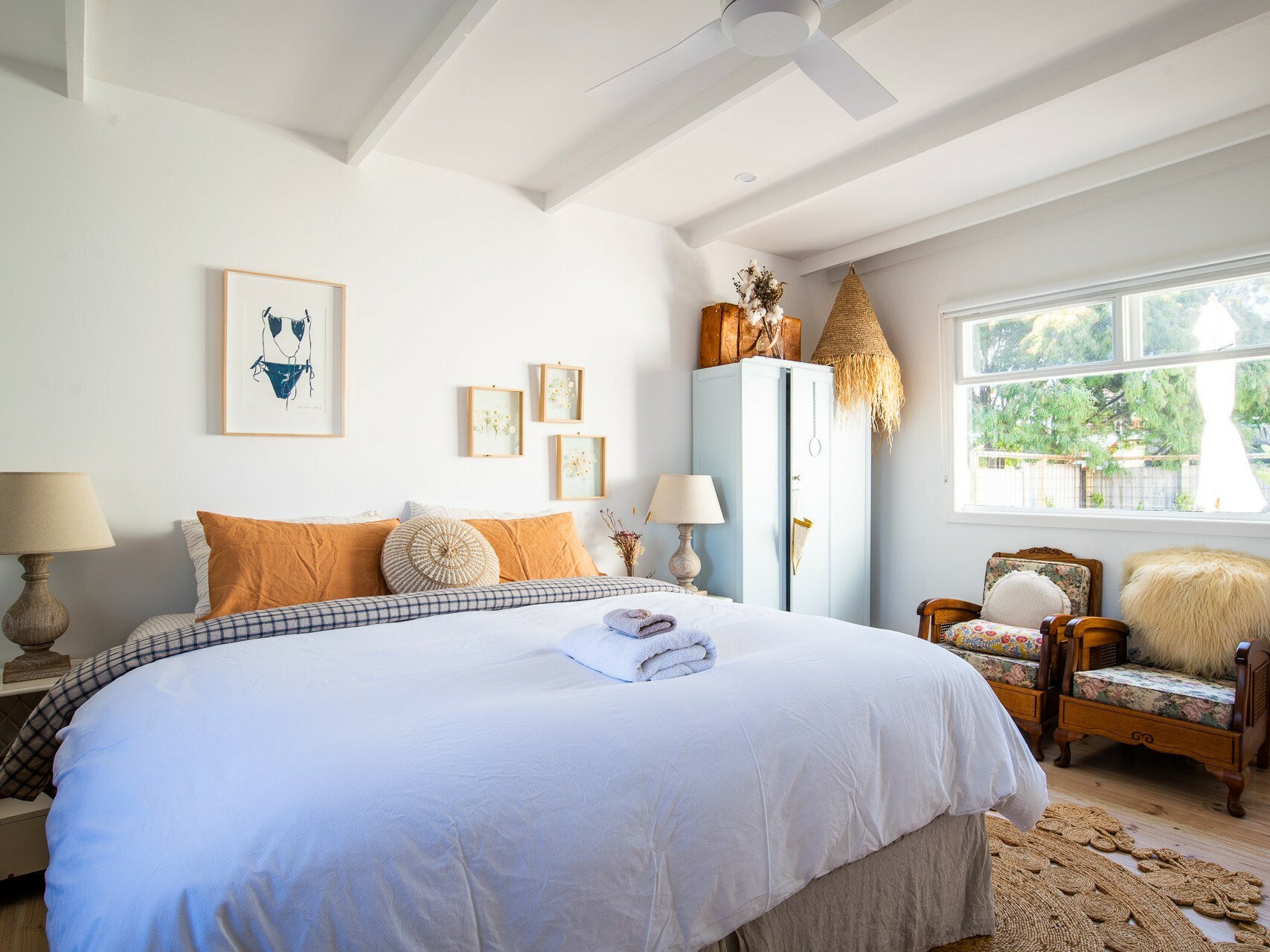 Miles Away Beach Shack | Photograph: Carmen Zammit
STAY
Have a retro retreat at Miles Away Beach Shack
A stone's throw away from the river, beach and centre of Ocean Grove on the southern end of the peninsula, the Miles Away Beach Shack is a perfect groovy getaway from the city. The two-bedroom shack is reminiscent of a 1960s bohemian beach retreat, where natural light illuminates the décor and space from floor to ceiling. The beauty is in the detail with Miles Away, where you can spin a Fleetwood Mac record on their vinyl player, read a vintage classic on the sun-drenched veranda, or make a Bellarine G&T at the drinks bar. With the water mere moments away, it's a thoughtfully styled beach getaway in the heart of Ocean Grove. What's more, just a few doors up is the Garage Café, an old petrol station where you can grab a coffee before heading for a stroll along the beach.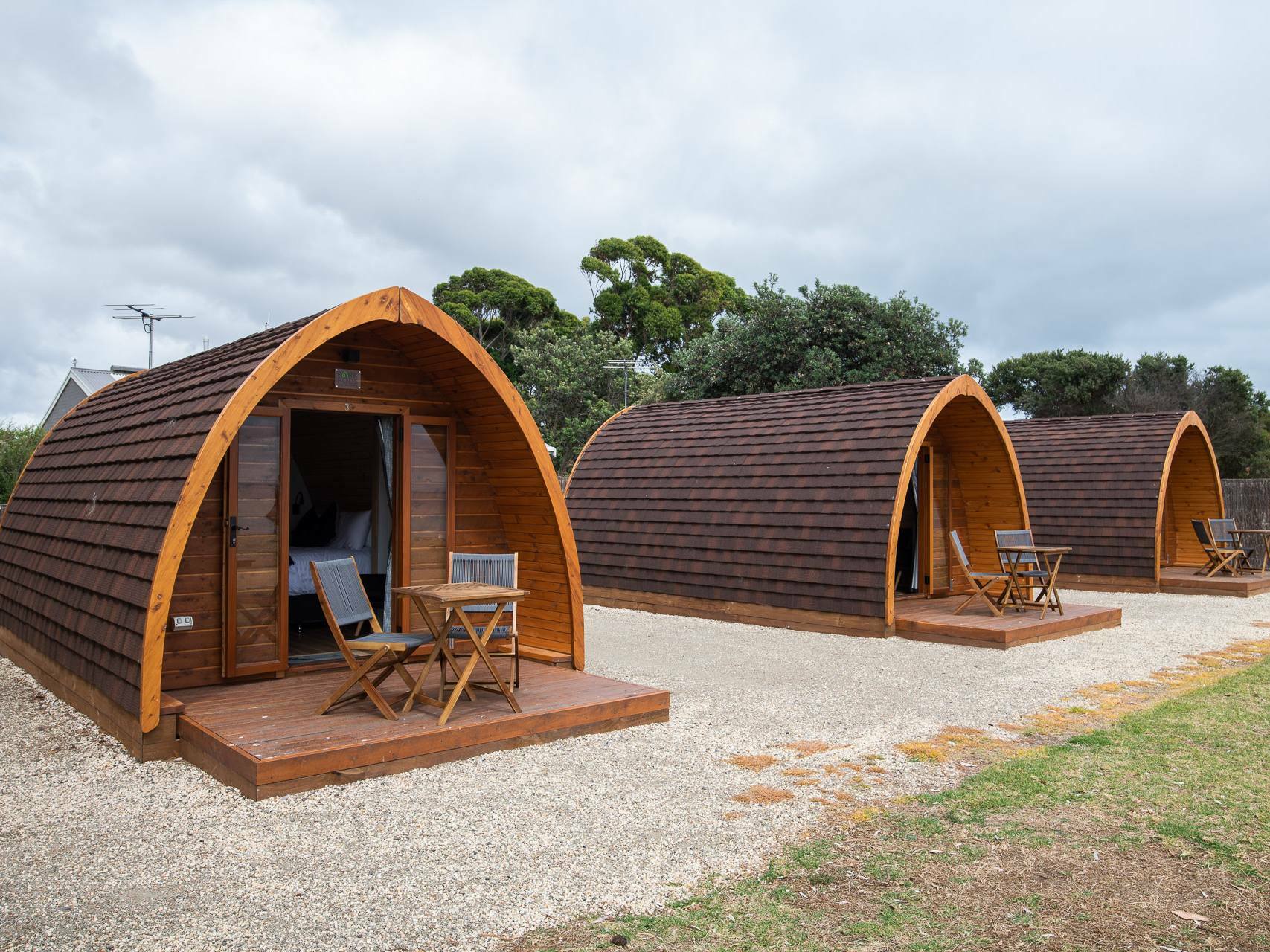 Bellarine Beach Pods | Photograph: Carmen Zammit
Cosy up by the breakers in a Bellarine Beach Pod
Unplug from the daily grind and take in the uninterrupted views across Port Phillip Bay with a stay in one of the Bellarine Beach Pods. Accommodating up to two adults, the pods feature a queen-sized bed, a kitchenette, air-conditioning, a self-contained ensuite and a deck with outdoor seating, making for the perfect romantic escape or off-grid getaway. In the warmer months, start your day with a dip with views of Melbourne in the distance and in the colder ones, how about kicking back with a glass of mulled wine while stargazing?

Boom Gallery | Photograph: Carmen Zammit
WHILE YOU'RE THERE...
Immerse yourself in Geelong's thriving arts and culture scene with a trip to Geelong Gallery. Established in 1896, the gallery is one of Australia's oldest regional galleries, with over 6,000 works, including Australian and international paintings, works on paper, and sculptures.
Head outside and along the waterfront for the Baywalk Bollard trail and spot the 100 colourful bollards by artist Jan Mitchell that act as a chronicle of the city's characters of past and present.
Check out the Boom Gallery, a vibrant contemporary art and design gallery that exhibits original art by local and international artists such as Julien Pacaud, James Price, Sally Stokes and Stacey McCall.
If all that art-spotting has left you ravenous, head to Sumi – an intimate Asian restaurant that cooks Izakaya-style food over a robata grill. Located in central Geelong, Sumi has an eclectic range of chargrilled dishes like tea-smoked duck bao, grilled squid with chilli and miso to chicken yakitori.
Head to Geelong's buzzing Little Malop Street precinct, where you can amble east along the street and check out the street art. Make sure to have a cocktail at the 18th Amendment Bar, a Prohibition-style speakeasy specialising in cocktails like the Bonnie and Clyde and the Jitterbug, with décor and bartender outfits straight out of the roaring '20s.