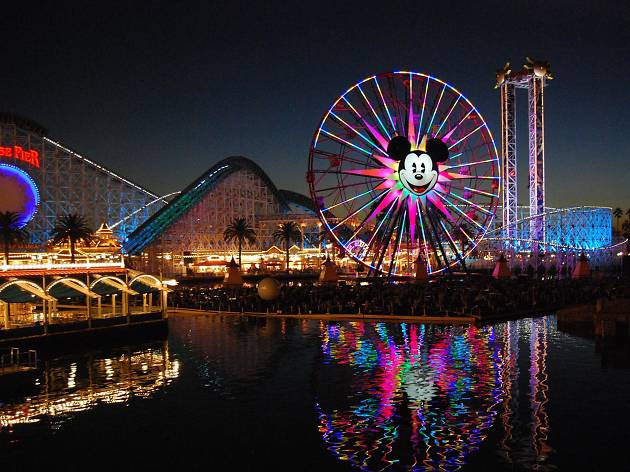 The essential guide to Anaheim
Time Out pays a visit to the home of Disneyland... and so much more
Sure, everybody loves Disneyland... but there's so much more to this revitalised SoCal city. Go beyond the gloss of the Disneyland capital and choose your own adventure. For more USA holiday inspiration, check out our guide to weird, wonderful Austin, Texas.
Head to the Downtown district's Anaheim Farmers' Markets on Thursdays to peruse vintage stalls, fresh fruit and veggies and food from street vendors. Permanent fixtures on the Center Street Promenade include Ink and Bean, where you'll find a barrel-brewed cold coffee and cosy nooks for writer types; and the Center Street Cheese Shop, which boasts a bevvy of locally sourced fromages, including a coconut milk (!) Gruyère. For a spot of shopping head toRare – it's one of California's first curated Goodwill shops – where you'll find handpicked denim, designer shoes, vinyl and retro homewares.

Afterward, take a leap of faith over at Swing it Trapeze. The friendly instructors let you hop, soar and dive right into the fun, teaching you basic high-flying skills, tricks and dismounts all in less than two hours. If you prefer your thrills a little more luxe, you'll want to check out OC Helicopters. Ric Web will take you soarin' right over the OC in his ex-Police EC120B copter. Twisting motorways stretch out below before you soar over Crystal Cove State Park, Laguna Beach and the suburbs beyond. (Prepare to see lots and lots of swimming pools.) Your 20-minute round trip reveals a patchwork of tree-lined canyons, jagged cliff edges, expansive beaches and rows of mansions in the area's affluent gated communities.

Continue the fun and head to the city's biggest tourist drawcard: Disneyland. If you want to experience Uncle Walt's legacy but would prefer it with a west coast twist, buy a hopper pass so you can also check out California Adventure next door. If your thirst for thrills still isn't sated, Knott's Berry Farm in nearby Buena Park should be next on your list. There are heaps of whopping high-speed coasters, from the wild wooden Ghostrider to the stomach-twisting Xcelerator.
A former Sunkist orange warehouse is now home to some of the neighbourhood's hippest eats. The Anaheim Packing House's light-filled atrium boasts more than 20 restaurants, but our pick of the pack are the toasties from the Black Sheep Grilled Cheese Bar. Follow them with a pick-me-up brew from Cafecito, which will please even the snobbiest of Aussie coffee drinkers.
Just across the neighbouring Farmer's Park (where you can take a picnic or paddle up for some ping pong) you'll find Anaheim Brewery, one of the area's many. Restored to its formed glory by husband and wife duo Barbara and Greg Gerovac, the craft beer joint takes its cues from the original namesake brewery that was dismantled during Prohibition in the 1920s. Order a fruity Hefeweizen or sit back with a malty Coast to Coast IPA. Beer lovers are spoilt for choice if they want to keep going, too. The boys over at Bottle Logic are equal parts awesome, creative and geeky – from the comic book-inspired labels to small batch collaborative brews, these guys are total beer nerds in every way, and they own it. You'll also find sour beers at the Bruery and some zany combos (think Chai and creaming soda-infused numbers) at Noble Ale Works.
For a no-holds-barred, all-American meal, head to the Ranch. You can order a steak bigger than your dinner plate, a killer lobster mac'n'cheese as a side, and they've got a wine list with a cool 500 options. After you're finished, line dance off your dinner in the adjoining bar, which is one of the only saloon-style bars in California. For a lighter meal head to Pour Vida back Downtown. Head chef Jimmy Martinez is all about putting big, punchy flavours into his custom tortillas – think ahi tuna with whipped guacamole or a zippy mango pork. Pair your tacos with mango Margaritas or a tequila-infused beer, and you've got a classic Cali lunch in your hands.
The Marriott Springhill Suites are both centrally located near Disneyland and just a short distance from the Downtown district. The rooms are a fair bit bigger than your run-of-the-mill hotel suites, meaning families can spread out during their stay. There's also a rooftop pool that looks over California Adventure's back lot so you can catch the nightly firework show from a distance.
Virgin Australia
flies to LAX two times daily. Anaheim is about a 45-minute drive from LAX – there are also shuttles available.