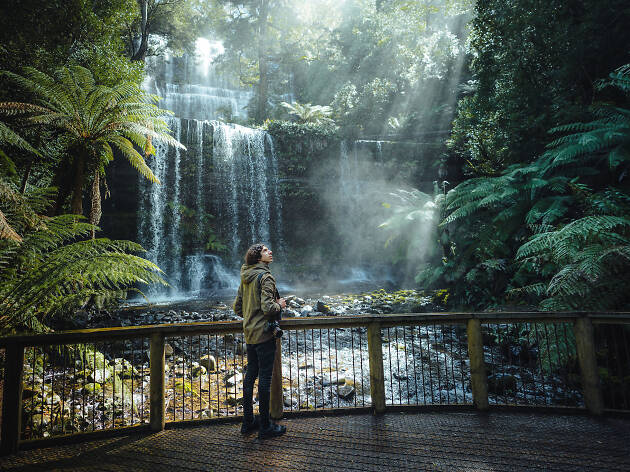 The ultimate Tassie road trip you never knew you needed
[Sponsored] Bringing your car over on Spirit of Tasmania? Skip the big cities and opt for an exciting new adventure
Tassie is small enough to conquer in an extra long weekend but big enough to support all the incredible farm-to-table eateries, small-batch distilleries and eye-popping nature that it's become known for. The best way to get there is by ship – Spirit of Tasmania, to be exact. The reason? Taking your own car to traverse this stunning isle means you can explore more than just the big cities. So take a break from Hobart and explore the rest of Tasmania, where the number of gorgeous things you'll see and experience is bonkers high.
Pack your bags, pop all your necessities in the car and hop onto the Spirit. Tasmania's sparsely populated landscape is made for road trips, and you can experience the best of the island in your own car. You can pack it full of essentials, then come back loaded with mementos from your trip.
As soon as you disembark, head to the Christmas Hills Raspberry Farm for breakfast. A warm fire welcomes you to this stone-and-timber café set beside a duck-filled lake and rows and rows of raspberry bushes. Naturally, the café serves breakfast staples with an added raspberry twist. Order a savoury dish to start, perhaps the country breakfast with optional raspberry sausage or the upgraded Benedict with raspberry hollandaise. Then finish off with something with a sweeter bent – the traditional raspberry pancakes are hard to say no to. Don't leave without picking up some fresh raspberries to take home with you. Our pick is the chocolate-covered raspberries – they have fresh berries inside, not the freeze-dried type, so it's a real pop of flavour when you chomp.
After brekky, pop on your puffer and drive south to the Mole Creek Caves in Mayberry. Book into a 45-minute tour, where park guides will take you deep into these spectacular limestone caves, littered with stalactites and stalagmites. You'll explore the dark river passages and see sparkling crystals, reflection pools and plenty of glow worms. These caves are about 400-500 million years old, and it's incredible to witness up close.
When you think of a waterfall, this is probably what you envisage: a large volume of water cascading over a staircase of craggy rocks, flanked by a canopy of lush green trees. Liffey Falls is part of the cool temperate rainforest of Liffey Falls State Reserve, and there's plenty to like about it. Think towering eucalyptus forests, dappled light peeking through high-reaching ferns and the sweet sound of water plummeting over rocks. Plus – the winding drive there is half the fun.
There's no place like Tasmania, and there's no place in Tasmania like the Thousand Lakes Lodge. Since opening in late 2016, this boutique lodge is planted so deep in the World Heritage-protected region of Tassie's Central Highlands that even Google Maps is out of its depth. This place was once an Antarctic training facility before it was abandoned for not being cold enough (which is hard to believe if you've been here when the temp dips below zero). It's cosiness and comfort you'll find at Thousand Lakes Lodge these days. There are nine swanky guestrooms, a dining room set against big floor-to-ceiling windows and a lounge so inviting you'll want to spend all day wrapped in a blanket reading a big-ass novel.
This 300-hectare sheep and cropping farm is only an hour's drive from Hobart, but it feels like you're a million miles away. Stay the night in one of Curringa Farm's fully self-contained (and especially luxe) cottages that are dotted sparsely across the farm. You'll score stellar panoramic views over the bucolic landscape, with your only neighbours meandering sheep. Farm owners Tim and Jane are sixth generation farmers, and Tim is more than happy to take you around so you can see sheep shearing techniques, watch the farm dogs working and learn about sustainable farming practices during a two-hour farm tour.
If independent spirits is your bread and butter, Lawrenny Estate is just the thing. This relatively new distillery is located in the upper Derwent Valley in the tiny town of Ouse. Visit the cellar door to try one (or all) of the impressive drops on offer – our top pick is the Van Diemen's Gin, which is infused with botanicals grown within the property's own orchard, like strawberries, almonds and lime flowers. Don't leave without trying a sip of the Cold Brew Coffee Liqueur, which has hints of vanilla, nutmeg and cinnamon beside the rich coffee backbone. Bring a bottle home with you. Bring two. Good news is you have the space.
For the most part, New Norfolk is a fairly quiet and quaint town. That is until you go to the Agrarian Kitchen Eatery on any given Saturday. This grand, light-filled restaurant is located in an old asylum, but the only crazy you'll find here is the crazy-good food. The restaurant champions paddock-to-plate principles so the menu changes often to reflect what's fresh and seasonal. Whether you're here for a three-course meal or a cake and a cuppa, everything is executed to perfection, and the service is friendly. Highlights include whipped dory roe with mint and doughy flatbread, dense malloreddus with pork meatballs, plus a wood-roasted eggplant with basil and enough garlic to scare away a vampire.
We've all experienced the existential dread of realising you can't bring home all the cool clothes/homewares/mountains of candy you stumble upon when travelling. But the benefit of taking Spirit of Tasmania is you can pack your car with as much as your heart desires. Enter: Drill Hall Emporium in New Norfolk. This antiques store sells an incredible collection of vintage textiles and linens, decorative furniture, kitchen and garden utensils and heaps more sourced from across the globe. Imagine everything from French giltwood armchairs and 19th-century bone spoons to portraits, gramophone horns and French meat cleavers. Take some time to do some digging here – you truly never know what you'll find.
Earn your next three meals with a brisk walk through the forests of Mount Field National Park. Orient yourself towards Russell Falls, a tiered waterfall surrounded by tall swamp gum trees and huge ferns. It's at its fullest during winter and spring and can be accessed via an easy 10-minute walk from the main car park. Keen to see more? You can follow the path up the hill to see Horseshoe Falls and to do the Tall Trees Walk, where you can get up close and personal with the swamp gums, the world's tallest flowering plants.
Pairing all the best bits of a nature resort with a five-star hotel experience, Truffle Lodge is a glamping experience like no other. Nine expansive safari tents are set up along the Derwent River in a manner that guarantees absolute privacy. The tents are huge – imagine the one Mr Weasely brings to the Quidditch World Cup in Harry Potter but with a comfy king-sized bed, space heater, coffee machine, plush rugs, leather furniture and a separate ensuite (complete with a custom wooden bathtub and rain shower) fitted out in an old water tanker. Each tent also has a large deck with chairs, a hammock and views over the river. There's a communal lounge to kick back in, plus a dining room where breakfast and dinner is served by the attentive Truffle Lodge staff. It's luxurious, it's relaxing, it's everything you'd want from an overnight stay and more.
Tassie's paddock-to-plate philosophy also lends itself to its beverages. Old Kempton Distillery boasts one of the state's (if not the country's) best paddock-to-bottle single malt whiskies. It's here, in the old convict town of Kempton, where you'll see the 900-and 600-litre copper pot stills that create this award-winning dram. Head to the cellar door (located in the main residence of the 1842-built Dysart House) to have a taste or head along to one of the distillery's daily tours, which kick off at 1.30pm. If you're keen to expand your own spirits collection back home, we'd recommend also picking up a bottle of the distillery's Lavender Malt, which is made using the distillery's single malt spirit that's been infused with handpicked lavender.
If you're only experiencing hazelnuts through Nutella, you've got some catching up to do. Fresh hazelnuts are a delight, and at Hazelbrae in Hagley, you'll get them straight from the 18-hectare farm and onto your plate. The on-farm restaurant, Hazelbrae House, boasts a sensational seasonal menu with fresh hazelnuts littered throughout. There's burrata with mozzarella caponata and focaccia, pork and hazelnut terrine and hazelnut puree on the 16-hour slow-cooked Cape Grim short rib. Dessert, naturally, is the nuttiest – don't leave without trying the ice cream sandwich, which has hazelnut ice cream sandwiched between house-made hazelnut biscotti and drizzled with milk caramel and chocolate soil.
Drive back onboard the Spirit with a car packed to the brim with fresh produce, award-winning liquor and a stack of unforgettable experiences.
Keen to start your own adventure with Spirit of Tasmania? Plan your own trip here.
Take the ship!
Put simply, Tasmania is best explored by car. Taking your own car lets you step out of the big cities and experience this wild, sparsely populated island like a true explorer, winding your way through the landscape and choosing experiences as they present themselves. Here are a few more reasons why you should sail to Tasmania for your next adventure.