We all know Gippsland is huge. If you said you went to Gippsland recently, it's likely you only covered a small section of this vast area in Victoria's southeast. So, then, if you're looking for a new place to explore out in Gippsland, might we suggest West Gippsland? It's only a hop, skip and a jump from metropolitan Melbourne and bursting with stunning natural wonders, primo restaurants, ample wineries and more goodies that will no doubt have you considering a tree change.
We're keen to get people exploring as much of this gorgeous state as possible, considering those vast open roads are practically calling our name post-lockdown. Visit Victoria agree, that's why we're teaming up with them for their 'Stay close, go further' campaign. The next time you're itching for a holiday, consider all the natural beauty, one-of-a-kind towns and covetable dining experiences that Melbourne and Victoria have to offer. For now, we're keen to help you explore Gippsland – both West Gippsland and, if you've got a little more time, Central Gippsland near Port Albert. Here's what you need to know before you hit the road.
Day trip
Eat and drink
Warragul's Hogget Kitchen is a collaboration between chef Trevor Perkins and winemakers William Downie and Patrick Sullivan. The trio are keen as mustard to see more people visiting and enjoying the rich food and wine that comes out of the Baw Baw region, hence why they've nailed down a menu that showcases its best stuff. Think Gippsland grass-fed Angus steak, Corner Inlet King George whiting as well as Prom Country cheese to top it all off. The wine list is a who's-who of great Gippsland wines, including some of Sullivan and Downie's own labels.
Now, if you're a fan of cool-climate wines, we'd suggest making a beeline towards Brandy Creek Estate. This destination winery packs a punch with premium wine, an inviting tapas restaurant, plus a contemporary day spa (complete with a Turkish-inspired hammam) to boot. Don't leave without a visit to the cellar door to try Brandy Creek's ruby red tempranillo or the award-winning sparkling pinot gris.
See and do
Roaring and powerful after a big rain, Toorongo Falls is a majestic tiered waterfall to seek out near Noojee. After parking at the end of Toorongo Falls Road, venture out on a 750-metre track towards the viewing platform where you can see the water tumble over the smooth rock cliff face. While in the area, you can follow the 2.2-kilometre circuit track that also takes you towards Amphitheatre Falls. Both waterfalls are flanked by towering gums and jungly ferns, and it should only take you an hour to complete the walk.
Now, for something you'll want to brag about for yonks – the Noojee Trestle Bridge. This is actually the tallest surviving wooden trestle bridge in all of Victoria. Spanning 102 metres and sitting at 21 metres tall, the bridge was originally constructed in 1919 – though in 1939 it burnt down but was rebuilt not long after. It's located beside a beautiful eucalypt and fern forest, so it's a prime location for a bit of nature bathing. If you'd rather keep your heart rate up, this is also the starting point for the Noojee Trestle Bridge rail trail.
Stay a while
Keen to explore more? One particular part of Gippsland we think deserves a little more foot traffic is the seaside town of Port Albert. This historic fishing village, located about 130ks south east of Warragul, is actually Gippsland's oldest port. Depending on which way you're coming from, you can get to Port Albert via the same road that takes Melburnians towards Wilsons Promontory, though you'll instead be heading further up the coast past Nooramunga Marine and Coastal Park towards your destination.
Eat and drink
Fresh, sustainable seafood is the raison d'être of Port Albert's Wildfish Restaurant. Located right on the waterfront on Wharf Street, the restaurant uses every dish as a way to show off the diversity and quality of Gippsland produce, working closely with local farmers, anglers as well as winemakers and brewers to create a wholly local palate. Pick a few snacks off the menu, like oysters with finger lime or marinated Gippsland olives, then dig into mains like octopus and morcilla with macadamia salsa macha, kangaroo striploin or gnocchi served with the local catch from the Corner Inlet. Finish it off with an aniseed myrtle risalamande, a take on the traditional Danish rice pudding.
While in the area, it would be a shame not to stop into the picturesque Toms Cap Vineyard in the middle of the Strzelecki Ranges. While the cellar door is currently only open for private groups, if you're travelling in a smaller group, you'll be able to sample some of the winery's best drops at the on-site restaurant. Head along for a relaxing long lunch beside the striking floor-to-ceiling windows that give you a glimpse at this verdant hilltop estate that features almost three hectares of shiraz, riesling, cabernet sauvignon, chardonnay and sauvignon blanc grapes. Don't want your visit to end? There are also four different accommodation options on the property, including a luxe two-person cottage.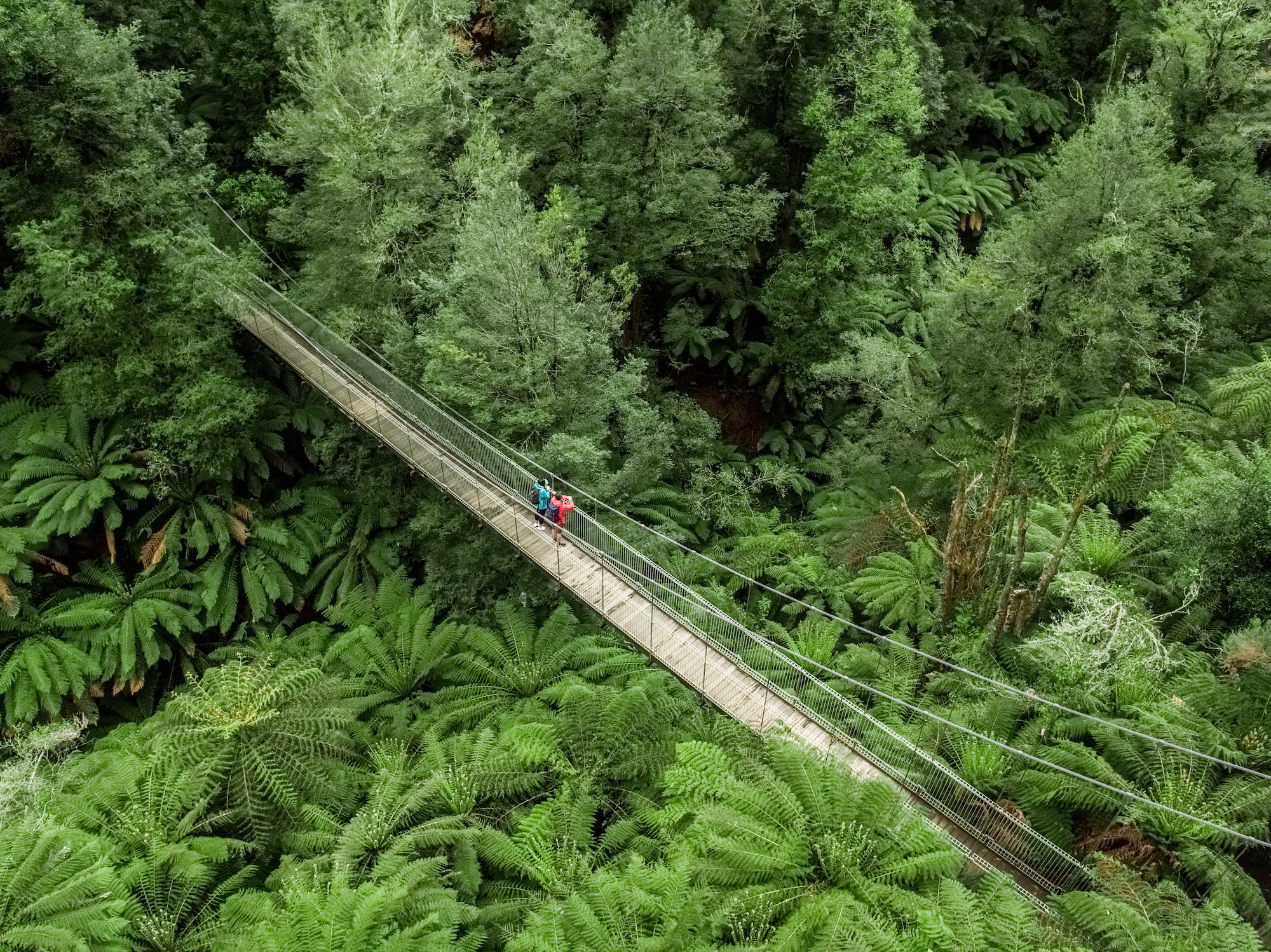 See and do
Just south of Traralgon lies some of the last remnants of indigenous eucalypt forests that once covered the Gippsland region. Tarra Bulga National Park is one of only four cool temperate rainforests in Victoria, with deep river valleys that are dominated by mountain ash and myrtle beech trees. There are numerous walking tracks, camping spots and picnic areas to visit though the Corrigan suspension bridge is where you'll find most people. The bridge, which you can find via the popular Fern Gully Nature Walk, offers a spectacular view of the enormous ferns that blanket the forest floor below.
Stay
Stay overnight at the Port Albert Waterview Retreat, a three-bedroom holiday house that suits up to six guests. This cosy home is smack bang in the middle of a beautifully green lawn and native gardens, meaning it's quiet and picturesque 365 days of the year. Take a seat beside the house's Coonara wood-burning fire, cook up a hearty breakfast in the kitted-out kitchen, or just take a bottle of wine out onto the deck and enjoy the view of kangaroos ambling by at dusk.