Coral Gables neighborhood guide
Get to know Coral Gables with our guide to the area's best local restaurants and bars, arts, entertainment and things to do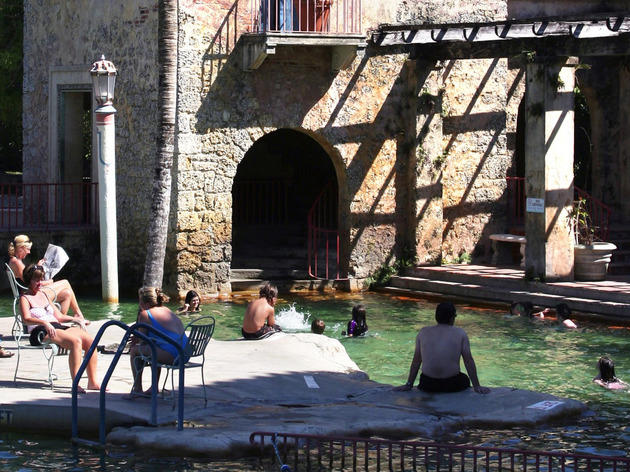 There is substance behind the boast of this self-ordained "City Beautiful." Coral Gables residents enjoy a peachy habitat of terracotta roofs, jewel-like colors and (mostly) lush vegetation. Once a tiny Miami suburb, founded in 1925 as one of the country's first planned communities, the city is now a spotless home for more than 175 multinational companies and a score of consulates and trade offices.

A smattering of upscale commercial galleries, theatres and restaurants all contribute to the air of affluence. But for visitors, the main draw is the picturesque appeal of its Mediterranean Revival architecture, reflected in such landmarks as the Venetian Pool and the Biltmore Hotel.

In 1973, Coral Gables became one of the first cities in Florida to adopt a Historic Preservation Ordinance. Since then, most of the district's buildings have been designated as landmarks and are protected. The current civic zeal for preserving Coral Gables' bucolic character can, in fact, border on the obsessive. A hefty list of official "dos and don'ts" applies to everything from replacing windows to how many guests can park their cars in front of a home for a dinner party without the host having to rent an off-duty police officer to supervise. Even the size of real estate "For Sale" signs is regulated.

Miracle Mile
Coral Way is the major east-west street through the Gables. The section that runs down the central business district, from SW 37th to 42nd Avenues (Douglas to Le Jeune), is known as the Miracle Mile—somewhat exaggeratedly, given that it's actually no more than half a mile long. Once a bustling shopping zone full of local boutiques, nowadays it's just another Disneyfied US neighborhood with all the requisite chains: Barnes & Noble, Starbucks, Einstein Bros Bagels et al. At least the very good Actors' Playhouse (280 Miracle Mile) maintains some semblance of the creative Gables days of old.

A number of interesting spots have also survived in the streets immediately north of Miracle Mile. One is the old John M Stabile building at 265 Aragon Avenue, now the home of Books & Books, Miami's finest independent bookstore. Across the street stands the Old Fire House & Police Station (285 Aragon Avenue, at Salzedo Street), now part of the Coral Gables Museum (305 603 8067). Across Alhambra Circle is the tiny Hotel Place St Michel (162 Alcazar Avenue), which has been an ultra-quaint local attraction for fans of bijou design since 1979.

Coral Way
Some of the Gables' most interesting residences lie on Coral Way, between Le Jeune (SW 42nd Avenue) and Granada Boulevard. The eastern end of this stretch is marked by City Hall (405 Biltmore Way, at S Le Jeune Road), a stately edifice encircled by 12 majestic columns and topped off with a three-tiered clock tower.

Heading west beneath the massive banyan trees, Coral Way intersects with three other roads at Balboa Plaza, a typical example of a Gables plaza, featuring fountains, cisterns, gates and pergolas. South-west down De Soto Boulevard is the Venetian Pool, while sticking with Coral Way brings you to one of the oldest houses in the area, Merrick House, which is usually open to visitors.