Your guide to Ultra Music Festival 2019 in Miami
Everything you need to know about the lineup, tickets, parking and location of Ultra Music Festival 2019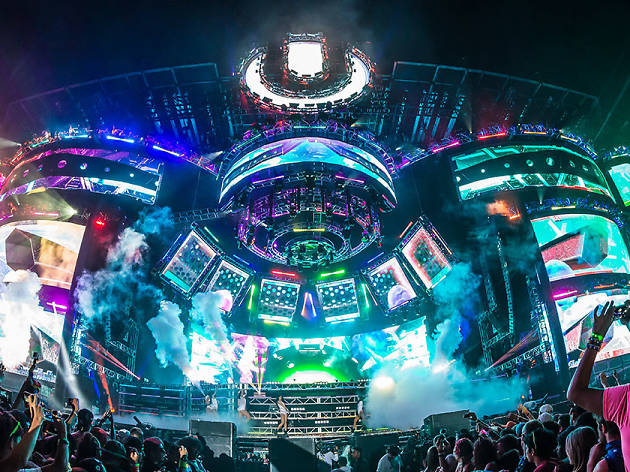 Miami's Ultra Music Festival remains the biggest music festival in Miami. The annual EDM bacchanal takes place on March 29 through March 31. Expect lineups packed with the biggest names in EDM along with a few old-school icons and surprise guests mixed in. Ultra Music Festival also falls within Miami Music Week, a loosely organized series of concerts and parties taking place throughout Miami. Want to stay close to the action? Check out one of the best Airbnb Downtown Miami homes.
When is Ultra Music Festival? Ultra Music Festival takes place March 29, 30 and 31, 2019.
Where is Ultra Music Festival? Ultra Music Festival takes place in Virginia Key.
Who is playing Ultra Music Festival? The Ultra Music Festival lineup has yet to be announced, but we will update this as soon as it is.
How do I get tickets? Buy tickets for Ultra Music Festival at the festival's website, ultramusicfestival.com.
Ultra Music Festival 2018
Ultra Music Festival 2017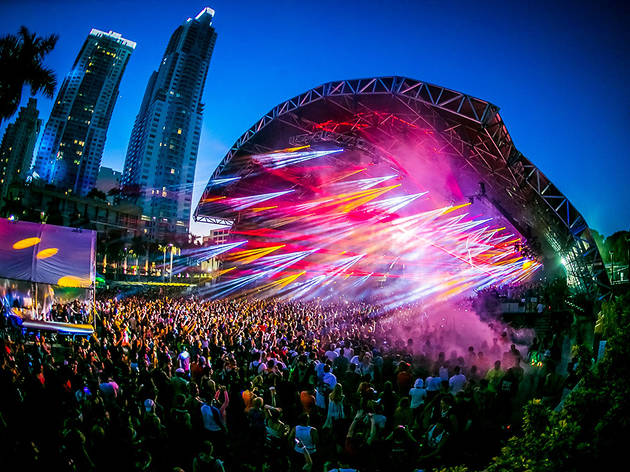 Here's your first look at the Ultra Music Festival light display
Miami Music Week is in full swing, but we still have a few days to go until the main event: Ultra Music Festival.  If you live or work in Downtown, you've probably seen the trucks pulls in, the cranes go up and the massive stages coming together seemingly overnight. What you probably haven't witnessed are the incredible light displays the festival is known for—until now. Below is your first glimpse of what festivalgoers will see come Friday, including LED panels and strobe lights. It's just a test (hence why there's no DJ booth up yet) but it's enough to get us hyped.  A post shared by Everything Ultra (@everything_ultra) on Mar 21, 2017 at 1:06pm PDT   Want more? Sign up here to stay in the know.
How a chance encounter with Björk started Steve Aoki's journey to Ultra Music Festival
Steve Aoki, the mustachioed master of L.A.-based label and lifestyle brand Dim Mak, is a notorious figure in EDM. He was one of the first producer-DJs to cross over into the mainstream, thanks to high-energy compositions and onstage antics (cake throwing, anyone?). But as recently as 2004, he was standing in the audience like the rest of us, sharing a cheap hotel room and saving his cash for the shows and magic of Ultra.  Magic came not onstage but in the form of a woman strolling down Ocean Drive, wearing a "huge flowing dress, massive headphones and humongous glasses." The stranger turned out to be Björk. "She was so majestic," recalls Aoki. After mustering up the courage to speak to her, the two exchanged phone numbers and kept in touch. No collaborations resulted from their chance meeting but the unexpected interaction resonated with Aoki, who experienced part of what draws millions of people to Ultra every year: the opportunity to see some of the biggest names in music. In 2010, he went from being a face in the crowd to a performer, playing his first show at Ultra.  His 2017 headlining set boasts tons of surprise guests, and while he can neither confirm nor deny anything on record before the show, we have a feeling that "Just Hold On" collaborator Louis Tomlinson will make an appearance. And Aoki might just drop a new track while he's at it. "[Ultra] is the perfect ground for experimentation, to play all your new music and get the best feedback you can from a crowd," s