Time Out Miami is the place you go to find out the most exciting things happening in this great big city of ours, and that's exactly the kind of news we're bringing you today: Time Out Market Miami will officially open its doors to the public on May 9, 2019.
No more teasing you with the promise of a good time at South Beach's newest destination for all things food and drink. This time, we're here to deliver with 18 kitchens, three bars and one kick-ass cultural display you'll get to experience next month.
We've told you about the onslaught of talented chefs, including James Beard Award winners and nominees, as well as some of the city's most well-known restaurateurs joining Time Out Market Miami. But there's still room for more.
Time Out Market Miami features a demo kitchen, where Miami-born, Cuban-bred Miguel Massens will showcase his talents for a limited time. The Michelin-trained chef takes over the open-kitchen space for three months, when he'll serve prix-fixe meals as well as five-course tastings during select evenings. During his stint, he'll preview menu items from his forthcoming restaurant Antilia, featuring multicultural dishes such as West African-inspired Garri-crusted grouper with yuca. There'll be a mix of Mexican, Cuban, Puerto Rican and influences from the far corners of the Caribbean and Latin America represented on Massen's thoughtful menu.
Time Out Market Miami has curated every aspect of the dining experience, including the drinks. The Time Out bar will feature a list of original cocktails as well as three specialty drinks created by the city's top drinking establishments. Broken Shaker, Sweet Liberty and Generator Hostel have all contributed handcrafted cocktail creations for Time Out patrons—from a signature manhattan to a Miami-twist on a cosmo to a sweet, Chamomile libation.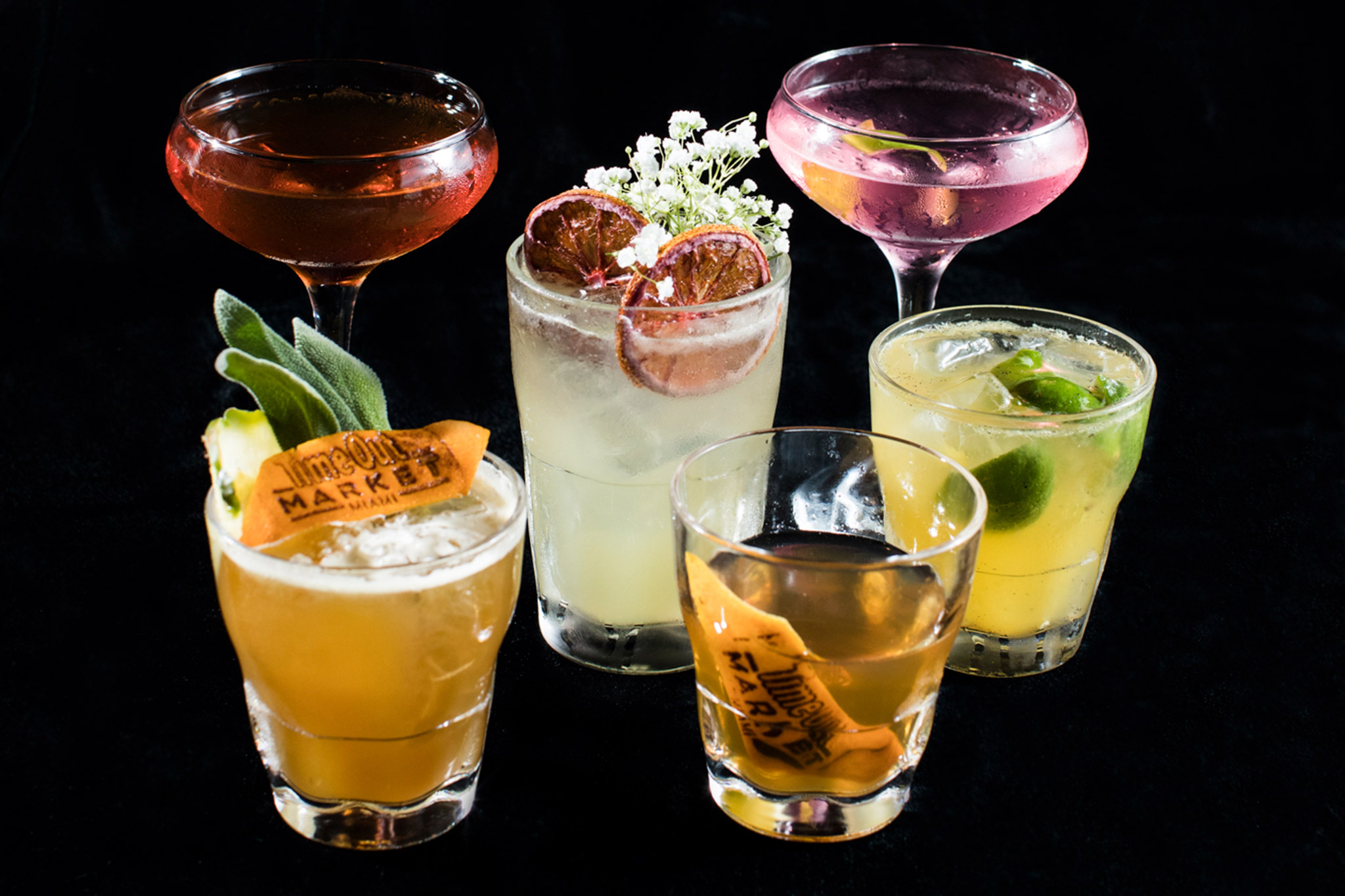 Photograph: Jaclyn Rivas
Need a refresher? Here's a look at the rest of the gang:
Norman Van Aken: The two-time James Beard Award-winning chef dips his proverbial toe into the food and cultural market scene for the first time with his concept My Caribbean Kitchen at Time Out Market Miami, serving as one of the market's three marquee chefs. The father of New World Cuisine plans to cook his signature dishes like his popular salsa of life shrimp ceviche with mariquitas.
Giorgio Rapicavoli: Sharing the marquee spotlight is chef and owner of Eating House, Giorgio Rapicavoli. The Chopped winner brings several favorites from his Coral Gables restaurant over the causeway, including his unique, truffle-laden spin on his family's classic pasta carbonara recipe and those yummy oyster mushrooms you've likely seen all over Instagram.
Jeremy Ford: The Top Chef winner behind the critically acclaimed restaurant Stubborn Seed, and formerly of Matador Room, delves further into Asian cuisine with a new Korean concept. If you know Ford, you'll know lots of delicate flavors, splashy presentations and Instagrammable dishes are to come.
Love Life Cafe: It's been touted by celebs like Gabrielle Union and praised for turning meat-eaters into veggie lovers, and now the light-filled cafe makes its way from Wynwood to South Beach with two concepts at Time Out Market. The side-by-side spaces will serve plant-based eats like Love Life's award-winning burger plus vegan desserts and smoothies.
Antonio Bachour: The dessert master—and recipient of the 2018 Best Pastry Chef Award at the Best Chef Awards in Milan, Italy—brings his talents to South Beach. After cutting his teeth in pastry kitchens across the world and helming his own bakeries in Miami Beach and Brickell, Bachour will dole out all sorts of confections and introduce new sugary treats exclusively for Time Out Market.
Azucar Ice Cream Company: Little Havana's adorable Cuban ice cream shop finds a home at Time Out Market—and we're thrilled for Abuela Maria to hit South Beach but also terrified for what that means for our waistlines. Stay tuned for ice cream maven Suzy Batlle to come up with custom flavors only available at Time Out Market.
Salt & Brine: Christian and Domenica Plotczyk, who redefined Miami's oyster scene with Ella's Oyster Bar, will introduce Salt & Brine at Time Out Market Miami. Expect seafood staples such as the lobster roll plus an assortment of their freshly dressed oysters.
Wabi Sabi by Shuji: Craving something fresh and satisfying? Find at Wabi Sabi, when chef Shuji Hiyakawa brings his delicious Japanese sushi bowls, fresh teas and juices from his former Upper Eastside location to Time Out Market Miami.
Pho Mo by Phuc Yea: From hit pop-up to neighborhood favorite, the Viet-Cajun spot helmed by chef Cesar Zapata and Ani Meinhold keeps the Upper Eastside of Miami satiated with delicious, Asian-inspired fare. Lucky for us, they'll be expanding their efforts to South Beach and bringing all kinds of pho, tasty buns stuffed with spicy tofu and Texas-style brisket, among other dishes, to the market.
Leña by Michael Beltran: Ariete's driving force introduces Leña, a meat-centric spot that touts items like short rib with grilled escarole, smoked half-chicken and loads of other juicy options to wow Miami's carnivores. Judging by Beltran's signature chug burger—which tops nearly every burger list in the city, including ours—grilling season will be a year-round thing.
Alberto Cabrera: The Cuban-American chef, who helmed now-shuttered Cuban gastropub Bread + Butter in Coral Gables, brings his favorite family recipes, plus several new favorites, to Time Out Market. The Local Cuban will be the place to score Cubanos, media noche croquetas and other mouthwatering Latin dishes.
33 Kitchen: One of Miami's best (and now-shuttered) Peruvian restaurants, 33 Kitchen, reemerges at Time Out Market Miami with chef Sebastian Fernandez bringing signatures such as tuna tiradito and lomo saltado to South Beach.
Miami Smokers: If you've had a BLT or any sort of bacon product in Miami in the last few years, chances are it was done by Andres Barrientos and James Bowers of this urban smokehouse. There's going to be some of that and more cured meats when the duo debuts their first charcuterie bar.
Kush: From Matt Kuscher, a guy who serves homemade chili inside a Frito chips bag, comes the South Beach outpost of his popular Wynwood spot, Kush. We can only imagine things will get weirder—and more delicious—when he makes his way over the causeway.
Coyo Taco: Mainlanders know the trendy taqueria for its modern take on tacos, such as duck carnitas and charred octopus. And now Miami Beach will get a taste of Coyo Taco's authentic Mexican food, with a bonus: made-to-order tortillas from a real tortillera on-site.
Stephen's Deli: Hialeah's oldest New York-style deli, Stephen's Delicatessen, reemerges as a hip deli with an outpost at the market (Matt Kuscher's second at Time Out Market). Expect addictive sandwiches, pastrami and other NYC classics.
Time Out Market Miami is located at 1601 Drexel Avenue in Miami Beach. It arrives just in time for summer when we can all use an air-conditioned respite that's mere steps from the sand.
Want more? Sign up here to stay in the know.