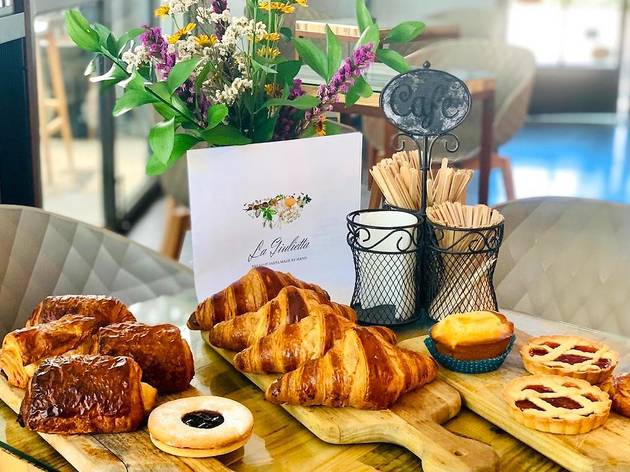 The best new restaurants in Miami to check out now
Eat your way through the best new restaurants in Miami, featuring healthy spots, tasty dessert options and more
October 2020: The food and drink landscape is vastly different than it was last month now that Florida moved into Phase 3, and Miami is somewhere adjacent. We're seeing fewer new openings as established restaurants work to resume business, but a few newbies have made it to this list. There's Caja Caliente's second outpost, a stationary food truck parked in the Design District. Buya also opened up in the vicinity, bringing izakaya-style dining to Wynwood. And not too far from both is Ironside Pizza's adorable new bakery, La Giulietta, where fresh-baked pastries and strong Italian coffee flow freely.

You rule the city's food scene: You've wined and dined at the best restaurants in Miami, and if someone wants to know where to get brunch in Miami, you're their go-to egg master (and pancake master… and mimosa master!). The coffee shops in Miami? They know your name, they know your order and they know you mean business. But there's always something new to discover, and new to learn—that's part of the reason you love the Magic City. Stay up to date—and stay reigning supreme—with our guide to the best new restaurants Miami is welcoming to town right now.
Best new restaurants in Miami
From food truck to brick-and-mortar to food truck again, Caja Caliente's second location, now open in the Design District, harkens back to the Cuban restaurant's early days spent roving the streets of Miami. Owner Mika León is keeping her truck parked this time, slinging her signature Cuban tacos, handheld bites (such as the empanadas and yuca rellena), pan con lechón and other lunchtime favorites. Caja serves an extensive menu for being a small truck (there's lots of fresh seafood on deck) and even provides shaded outdoor seating for folks looking to enjoy their meal onsite.
Buya (not to be confused with Bulla, another popular after-work spot) brings the izakaya concept to Wynwood. Japan's answer to the British pub, it's a laidback restaurant for folks whose dining preferences include craft beer and upmarket street food. The latter category is stacked with shareable choices like the assorted small plates of skewered meats grilled on charcoal and Tokyo-style corn, plus bigger dishes you can keep all to yourself, such as the duck dumpling hotpot. Seek it out on that one cold day this fall when you're craving something seasonal that's not made with pumpkin.
Ironside Pizza is one of those neighborhood gems that still merits the overused idiom and now its sister bakery, La Giulietta, is expanding on the notion. Located just next door to its pizzeria sister, the cozy, sunlit space doles out fresh pastries and strong Italian coffee along with an assortment of wood-fired bread. Get flatbread-style pizzas and artisanal toasts (the avo with poached eggs is a favorite at brunch) plus fresh soups and salads.
This new weekend pop-up at Brickell pizzeria Stanzione (in partnership with Edge's chef Aaron Brooks) doles out Turkish pides (pronounced pee-day) with all kinds of toppings—from lamb to veggies to classic cheese. In addition to the tasty flatbreads, the Pide Place sells an assortment of dips and salads as well as desserts. The baklava, with filo that's more doughy than flaky, is unlike any other you've tried before. Stock up! The pop-up runs Friday and Saturday from 6 to 9pm.
The island influences run deep at chef Niven Patel's long-awaited restaurant inside the new THesis Hotel. It's named for a tropical fruit typically associated with Cuban cuisine, but Mamey's island influences span the world with dishes that draw from flavors found in Thai, French Polynesian and Hawaiian dishes. As is true of all of Patel's endeavors, the menu features locally grown produce, most of which is sourced from Rancho Patel in Homestead, Florida. Going for happy hour? Try the namesake swizzle and pair it with an order of the yellowfin tuna tostones for a light snack.
After nearly two decades of working in restaurants in New York City and Portland, husband and wife team Alissa and Jeremy Frice began wholesaling ice cream to Miami businesses three years ago. Their bespoke creations for restaurants and chef-driven flavor combinations were an instant hit, and now Frice Ice Cream is finally available to the general public at the Citadel. Get your fill in scoop or pint form and, if you love it (which you will), stop by frequently. These guys whip out flavors faster than your cone melts under the hot Miami sun.
The local chain of healthfood restaurants continues to expand its mini-empire with a recently opened location in Miami Shores. Expect more of the same, like hearty veggie bowls, wraps, spinach pies and their signature oversize salads (Extra green sauce, please!). Carrot Express recently added to its already comprehensive menu with a slew of new dishes like the vegan picadillo bowl and an avocado toast tartare topped with fresh tuna or salmon. It'll make you think twice about topping your toast with an egg ever again.
Photograph: Courtesy La Santa Taqueria
Chef Omar Montero took the plunge and turned his food truck into a permanent restaurant in Miami's Little River neighborhood late spring. It's a beautiful space—colorful with midcentury modern furnishings—that serves authentic Mexican food. Sadly, the dining room remains closed but that doesn't mean you can't enjoy tacos at home. La Santa offers takeout and delivery, and benefits from a lovely patio where enjoying a margarita and a couple of tacos is totally acceptable.
The beloved seafood restaurants hit pause on (mostly) all things marine and transformed into Red Sauce. The temporary pop-up focuses on hearty, soul-warming Italian cooking, like baked ziti, French bread pepperoni pizza and chicken parmesan. Dishes not doused in tomato sauce are also available and equally delicious, like the linguini clam pasta in a white wine and butter reduction. Oysters don't necessarily travel well and with indoor dining on hold for the moment, Red Sauce simply makes sense. Pick up and takeout orders can be placed online.
We won't even get into the harsh realities of vacationing this year, so let's jump right to the good stuff: At Leku, you can eat as though you were gallivanting through Spain's Basque country eating pintxos, the small plates this northern region known for. Located inside the Rubell Museum in Allapattah, it's a looker with plenty of outdoor dining and an alfresco woodfired grill where all the meats are smoked.
Looking for something with a view?
Enjoy scenery as lovely as the food.