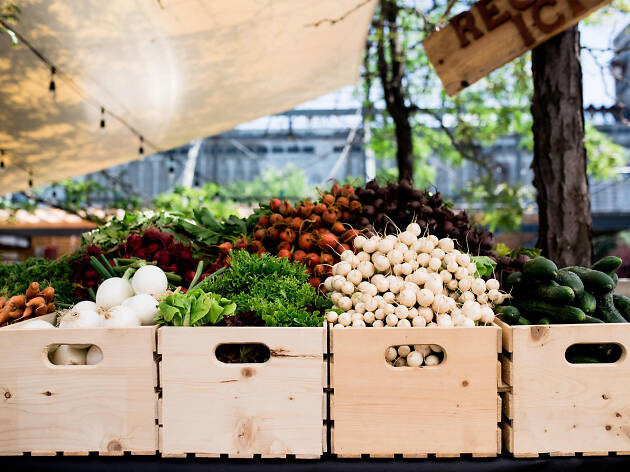 The best farmers' markets in Montreal to explore and savor right now
From the freshest ingredients to scoping local vendors, the best farmers' markets in Montreal have you covered.
As one of North America's most vibrant epicenters of cuisine, it's no surprise that the best farmers' markets make Montreal a buyer's market when it comes to finding fresh and local fare. From Jean Talon in Little Italy to Atwater just south of Downtown Montreal, the city is peppered with seasonal and year-round markets that inform both the menus of the city's best restaurants and the tabletops of locals, all of which feed our growing appetite for Quebec-cultivated greens and goods. So, whether you're looking to shop for the fridge or simply stock up before you kick back in some Montreal parks, grab your tote and prepare to reap the harvests of these cream-of-the-crop Montréal markets. This is the kind of Montreal attraction you don't want to miss.
RECOMMENDED: Full guide to the best things to do in Montreal
Where to find the best farmers' markets in Montreal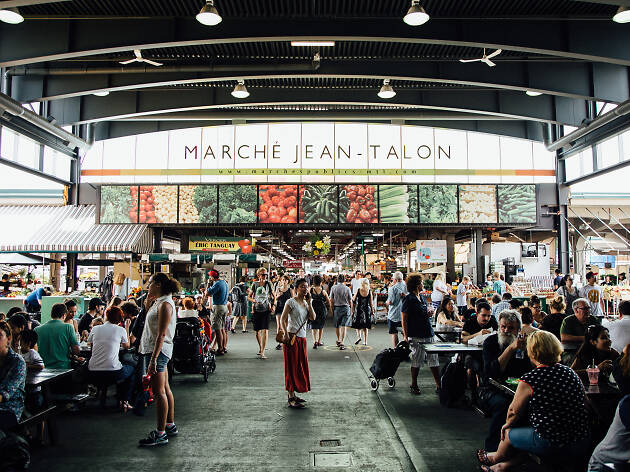 Photograph: Kelly Jacob
Open since 1933, North America's largest open-air market is home to more than 150 vendors ranging from butchers and bakers to even lavender candlestick makers. Stalls overflow with bounty from Quebec farms, peaking late summer with sweet corn, blueberries, tomatoes and more. Come winter, specialty shops like Les Sucreries De L'Érable and Cochons Tout Ronds hold down the fort with maple treats, cured meats, and more—and don't miss the flood of fresh cider from orchards in the fall beforehand. Plan to peruse with a Café Saint-Henri americano (some of the city's best coffee) or Mangue et Melon smoothie in hand, and suck back a few freshly shucked oysters before leaving. There's so much here that we'll easily count its address among the best restaurants in Little Italy.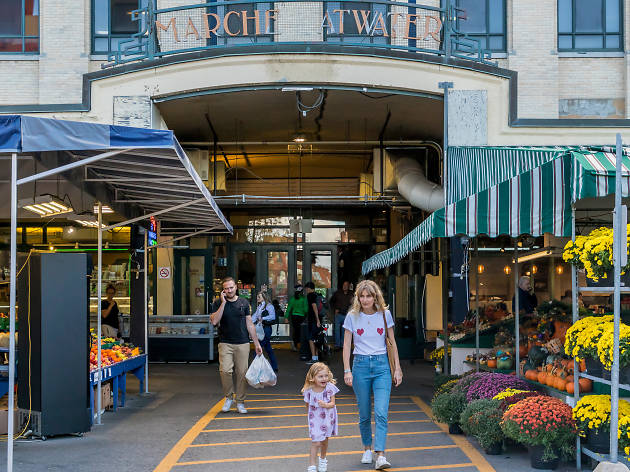 Photograph: Eva Blue
A vestige of Art Deco's influence in the 1930s, Atwater Market's clock tower-topped hall is a Saint-Henri landmark overlooking the Lachine Canal. Stationed inside year round, stalwarts such as Boucherie & Charcuterie de Tours and Poissonnerie du Marché Atwater offer up everything you can think of, from offal to wild yellowfin tuna. Le Coin Gourmand and Les Douceurs du Marché are emporiums for souvenirs of the jarred and jammed variety, while no less than three fromageries make Atwater a paradise for cheese. Chefs hold court of the market's north end in the summer until early fall, cooking up Singaporean street food at Satay Brothers, Réunion curries at Marmite Su'l Feu, some of the best damn barbecue in town at Aylwin BBQ, fresh flatbreads with seasonal produce toppings at Chez Layla, and more.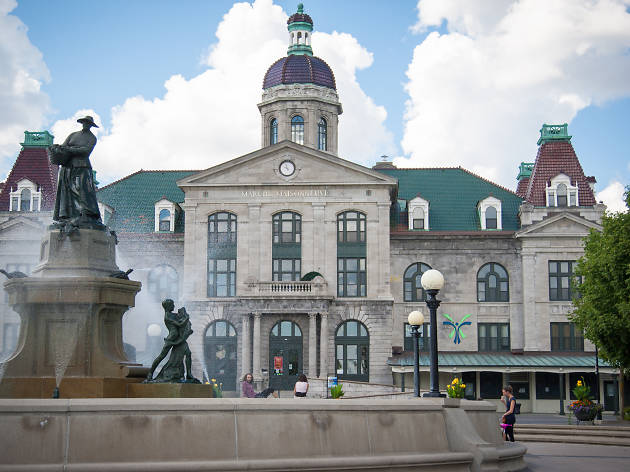 Photograph: Simon Lanciault
Next door to its former home in a Beaux-Arts building that first opened its doors in 1912, this local farmers' market continues to be of monumental import for the Hochelaga-Maisonneuve borough. Start by nabbing a custom market tote touting the ingredients needed for an apple pie: Pick up vanilla and cinnamon at Aliments Merci, apples at Les Jardins Dauphinais and stop by Fromagerie Maisonneuve and Aux Champêtreries for some cheeses and maple goodies. Before leaving, make a wish at the fountain topped with a bronze statue of a basket-carrying market farmer sculpted by Alfred Laliberté.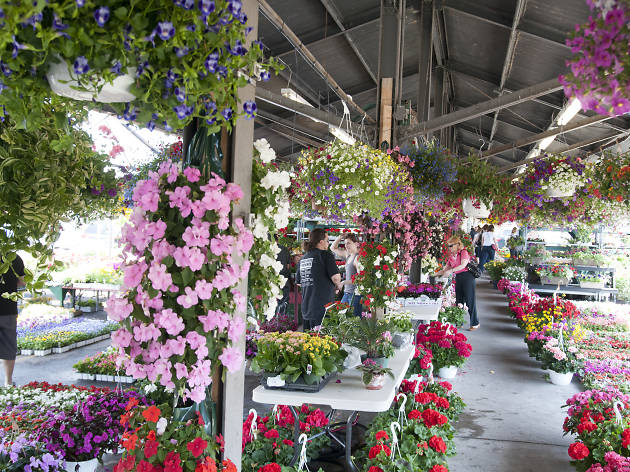 Photograph: Marchés publics de Montréal
Just off the Lachine Canal bike path on the corner of Notre-Dame and 18th Avenue is the oldest public market in Montreal, starting in 1845 and open year-round since 2004. While the market blooms at its fullest in the summer with flowers hanging from the rafters of the low-roofed space that covers a warren of Quebec-grown fruit and veggie stalls, a maple-drizzled waffle from Station Angus or Gaufrabec goes down easy any season. Late bloomers will appreciate that Christmas trees are sold right up until December 23, with proceeds going to Maison des Jeunes de Lachine that works with youth aged 12-17.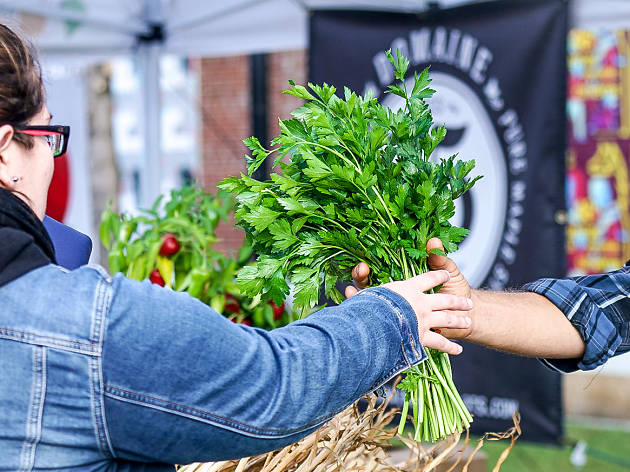 Photograph: L'Autre Marché / lautremarche.org
For the past 10 years, L'Autre Marché has connected Rosemont residents with local farmers and artisans at its end-of-week market that runs from May to October. Between 3pm and 7pm every Friday, marketgoers can get a head start on their weekend grocery runs, crossing off bread, pastries, fruits, veggies, pies, herbs and charcuterie, among other provisions. No trip is complete without a pint from coop microbrewers MaBrasserie, which is best savoured on the terrasse in the adjoining Jean-Duceppe Park where MusimétroMTL musicians play into the early evening.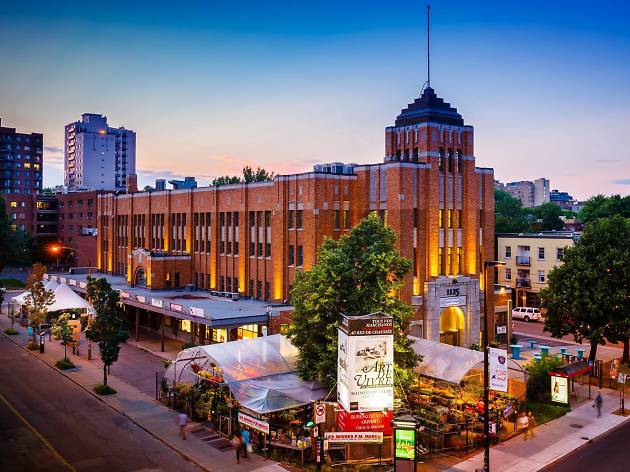 Photograph: Le Marché Saint-Jacques / @marchesaintjacques
This neighbourhood farmers' market on the edge of the city's Gay Village has held its ground since 1872, making it one of the oldest public markets in the country. Its grand building with an Art Deco façade from 1931 that was once frequented by a who's who of political juggernauts, from Jean Drapeau to Sir Wilfrid Laurier. Once bustling with sausage stands, bakeries and greenery, the market is now closed for revitalization work that will install a Super C grocery market on the ground floor, with smaller vendors setting up shop under the canopies lining Amherst and Wolfe streets. The expanded market is set to reopen in the near future—keep up to date by visiting their website.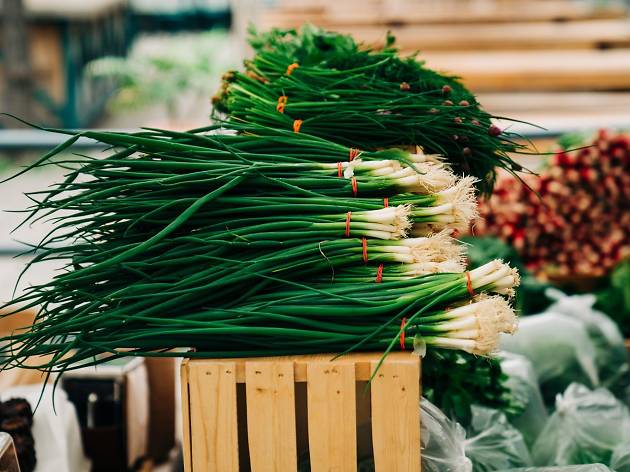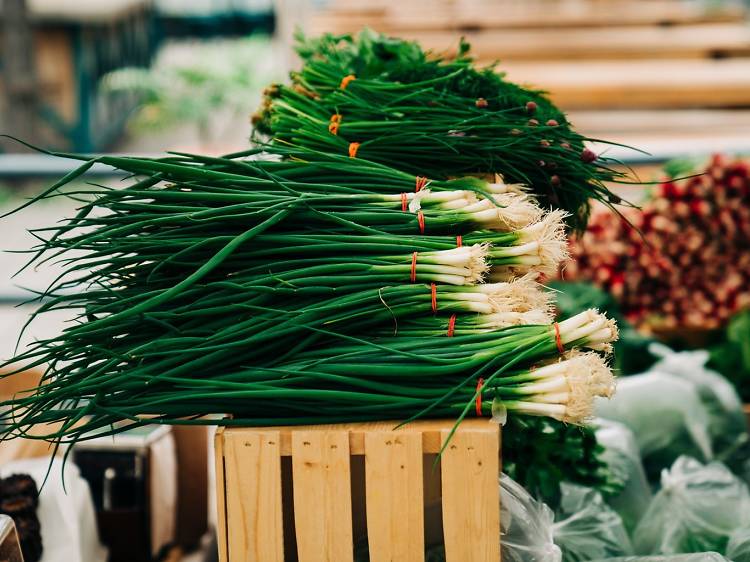 Photograph: Hoi Do Photography
Come summer, it's one of the best things to do in Old Montreal. While not strictly a farmers' market, it's hard not to pay a visit to this spot: With the iconic Silo No.5 in view, Marché des Éclusiers' riverside location in the Old Port sits at the crossroads between surf and turf in more ways than one. Open Thursdays and Saturdays, a tiny tented market offers staples like microgreens from Les Jardins Carya, croissants and baguettes from La Petite Boulangerie, garlic and ground cherries from Ferme le Champs Libre and raw honey from Miel MTL. A brunch-through-dinner menu by Pastaga's chef Martin Juneau serves haddock fish and chips and smoked maple poutine, as well as a Carribean BBQ grilled by chef Jae-Anthony at the adjoining restaurant and terrasse seven days a week.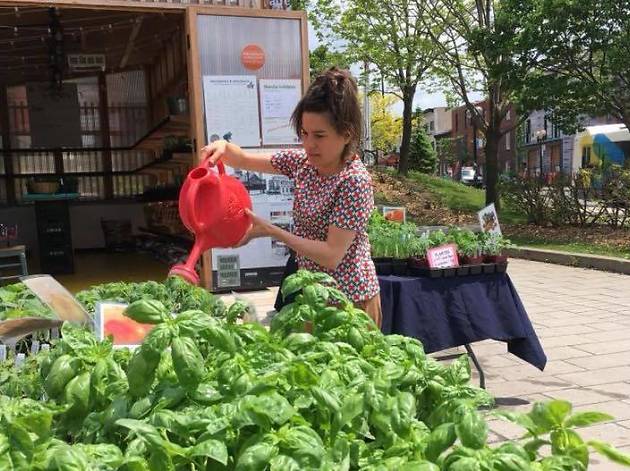 Photograph: Marché solidaire Frontenac / @marchesolidairefrontenac
8. Marché Solidaire Frontenac
Located in Place du Marché near Métro Frontenac, this 12-year-running community market now has a second location at the Jardins Gamelin near Berri-UQAM. Organized by Carrefour Alimentaire Centre-Sud, this collective aims to cultivate social engagement with an emphasis on local and affordable products alongside free volunteer-run workshops that cover gardening, pizza-making and other food-centric essentials. On Wednesdays from 12pm to 1pm, stop by for Bols du Quartier, a $2 meal special that serves up hearty bowls of fresh market fare.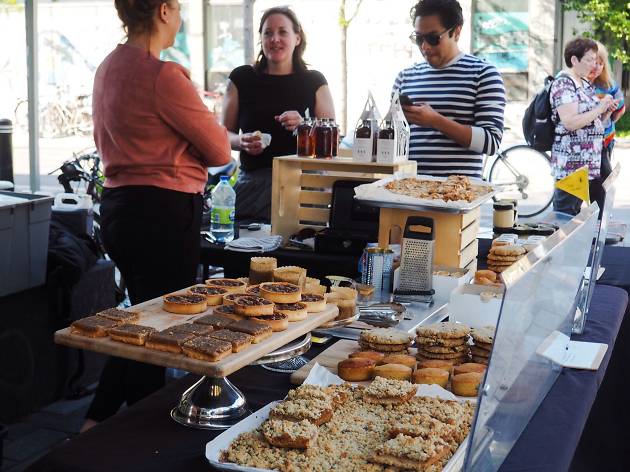 Photograph: Marché Fermier / @marchefermierlaurier
9. Marchés fermiers de la Maison de l'amitié
Stationed outside of Métro Laurier and on Prince-Arthur, these petit Plateau markets bring the best of Montreal's surrounding farms to locavores in the city. From May to early November on every Thursday and Sunday, highly specialized artisans show off their wares, from Bernard Bélanger's handmade sourdough to Maggie's sweet and savory tarts. Known for its goat cheese, Fromagerie Ruban Bleu is one of the province's oldest cheese farms, while Les Jardins d'en Haut stocks hardy crops grown from the highest point in the Haut-St-Laurent region.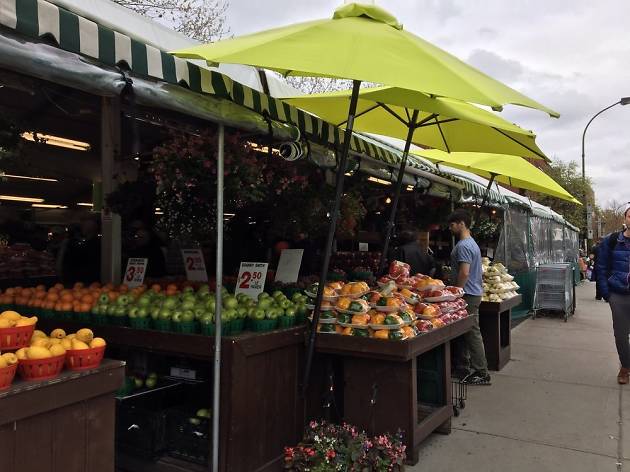 Photograph: Courtesy Yelp/Fatema Z.
At the corner of Jean-Brillant and Côte-des-Neiges, the green-and-white-striped canopy and tents of Les Trottier Fruits & Légumes spill onto the sidewalk over stands of fresh flowers, veggies, and fruits—with apples direct from their orchard. Since 1980, the 24/7 kiosque has been a reliable spot for garden greens, pumpkins, Christmas trees, maple taffy on the snow and homemade Quebec honey.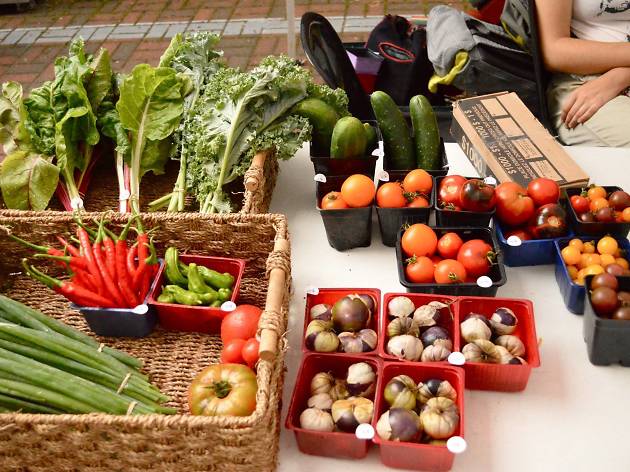 Photograph: Concordia Farmers' Market / @theconcordiafarmersmarket
11. Concordia Farmers' Market
Every Wednesday from 12pm to 6pm during their fall and winter semesters (September to April), students can get their fill of brain food at the on-campus Concordia Farmers' Market, set up in Hall Building on the second floor mezzanine in front of the Hive café. Monthly pop-ups keep things fresh in the summer, purveying organic greens from Ferme de L'Ile, vegan desserts from Raw Stef, honey from Laurentians-based Abeilles de la Colline, and potted plants from agricultural cooperative HydroFlora Concordia. Keep eyes peeled for special stands and workshops throughout the year hawking everything from vegan sushi to lessons in entomophagy—that's academic speak for eating bugs.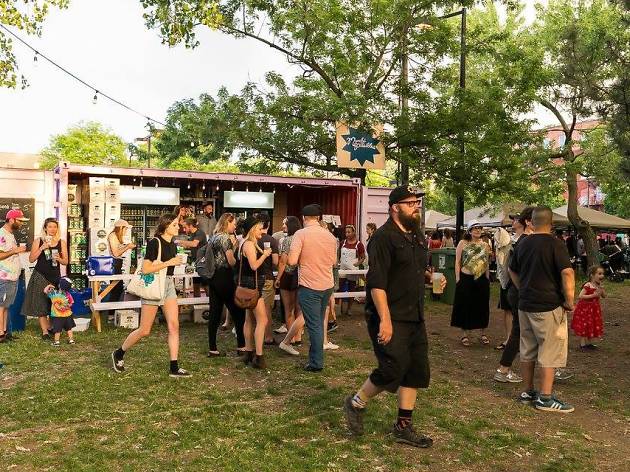 Photograph: Vivien Gaumand/@marchedespossibles
With Jean Talon Market within biking distance, it seemed unlikely that Mile End would land its own public market space, but Marché des Possibles proved it was possible when it cropped up on the corner of Bernard and St. Dominique in 2014. Don't expect your garden variety selection of greens at this June-through-July affair. Think artisanal kombucha, gourmet tacos and crispy fried chicken, all served from chef-led pop-ups. Hunker down in a neon Muskoka chair, or park yourself in a biergarten picnic table to catch an open-air concert or film soirée.
More great things to do in Montreal
Maximize your dime and time with the best cheap things to do in Montreal, from arts and culture to food and drink.
If you're in search of one stop curio shops, check out Montreal's best flea markets for choice vintage and antique finds.
Our top picks for the best things to do in Montreal with kids make sure you'll be having just as much fun as they are.