National Ice Cream Day on July 21 is a particularly notable holiday and one of the best summer activities for kids...and parents!
There's an endless array of ice cream shops in NYC where you can purchase delicious frozen treats. And this weekend, many of those Instagrammable dessert spots will host great deals so that you can revel in a cheerful ice cream haze. Read on for the scoop!
The Nutella Café
From 3–5 pm, the first 50 hungry customers to visit the Union Square spot will receive one free frozen Nutella Pop topped with chopped hazelnuts. But if you aren't one of the first 50 ice cream lovers, don't worry. Until 5 pm, customers will receive a complimentary scoop of a gelato flavor of their choice, including Artigianale (gelato made from Nutella).
Milk and Cream Cereal Bar
Venture to Milk and Cream Cereal Bar (159 Mott St), where you will be able to get a free cup of ice cream if you are one of the first 50 lucky customers on July 21. The shop opens at noon!
Melt Bakery
If you are looking to spice up a basic ice cream cup, go to Melt Bakery for a delicious and decadent ice cream sandwich. The shop at 132 Orchard St will offer buy-one-get-one free on its July monthly special, "Luigi," which is a yummy sandwich of Pistachio Ice Cream between two Chocolate Cherry Cookies. Count us in!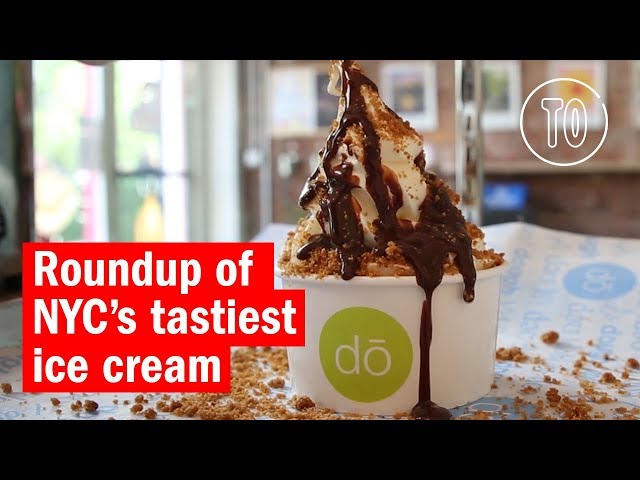 GODIVA
If you're a fan of GODIVA's creamy chocolate, head over to a GODIVA boutique for a buy-one-get one 50 percent off deal on soft serve and parfaits this Sunday. The available flavors include Signature GODIVA Dark, Classic GODIVA Vanilla or a swirl of both flavors, as well as seasonal delights like mango raspberry.
Carvel
Classic cream favorite, Carvel, will offer a buy-one-get-one free cup or cone of soft serve to fuel your love of frozen goodness.
People's Pops
People's Pops will be hosting a promo at Liggett Terrace Food Court on Governors Island on Sunday from noon–2pm. If you mention National Ice Cream Day and follow the brand on Instagram, you can receive $1 off any of the menu items.
Baskin-Robbins
Order up! Another fan-favorite ice cream hub, Baskin-Robbins, is offering two pre-packed quarts for $7.99 and a free delivery via DoorDash when you spend $10 or more.
My/Mo Mochi Ice Cream
My/Mo Mochi Ice Cream is partnering with UNIQLO to offer free mochi ice cream on the 21st from 11am–4pm at UNIQLO stores across NYC.
Get ready to scream for ice cream this Sunday, aka the most delicious day of the year! 

Halo Top Creamery
Head over to Supermoon Bakehouse on 120 Rivington St for free Halo Top Pops. These sweet treats, featured in Strawberry Cheesecake, Mint Chip, Peanut Butter Swirl and Chocolate Chip Cookie Dough flavors, will be available starting at noon and are sure to wow!
Dylan's Candy Bar
Heralded for its endless sugary treats, Dylan's Candy Bar won't be skipping out on a National Ice Cream day deal! At any of the NYC locations, mention "National Ice Cream Day" at the ice cream counter for one free scoop of creamy goodness. This sweet deal will be offered from 2 to 4 pm on Sunday and won't be one to miss.
Sign up to receive great Time Out New York Kids deals in your inbox each day.