The most Instagrammable dessert spots in NYC
We rounded up 15 Instagrammable dessert spots in NYC to keep your followers—and your tummies—satisfied
The way to a heart is allegedly through the stomach, but in a social media-crazed world, we have to believe eyes play a factor in the hunger department.
Decadent, over-the-top treats have a way of grabbing our attention and garnering likes, so opt for the most Instagrammable dessert spots in NYC when hunger pains kick in. We found the best ice cream shops, candy stores and cookie delivery services that pack in the flavor and photo-worthy moments.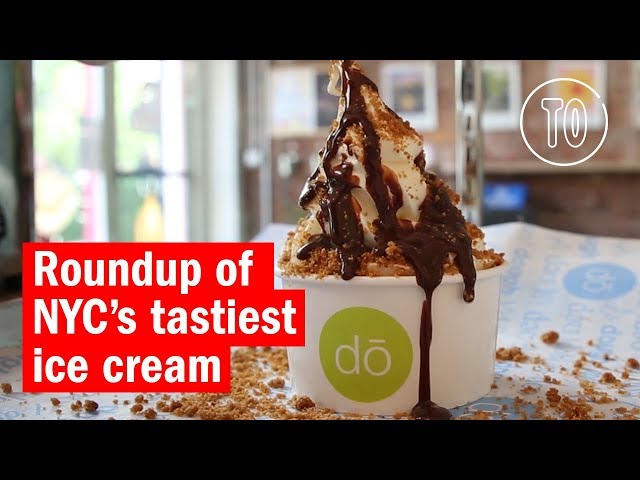 Whether you and the littles are craving a scoop of a sundae, a slice of cake or a bite of a donnoli (a pastry hybrid worth noting), make sure to have a look at the tasty treats in our roundup. Your followers—and your tastebuds—will thank us!
If you're feeling especially adventurous, make sure to snag a peek at our favorite rainbow foods after you've scoped out these fun and Instagrammable dessert spots!
An Instagram hit we welcomed into Time Out Market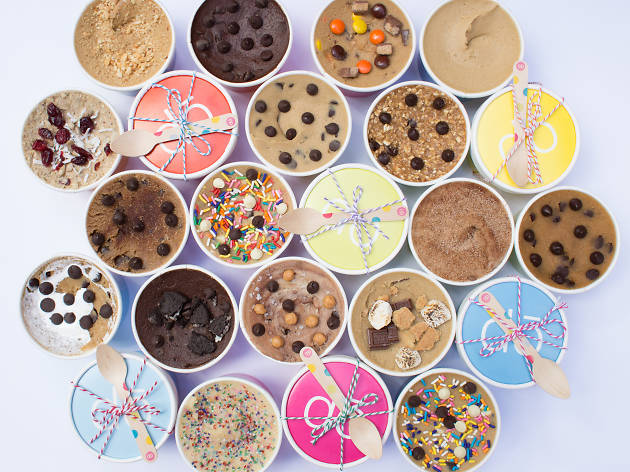 You might recognize DŌ's cookie dough as the dessert that recently went viral online. Taste what all that fuss on Instagram is about at our Time Out Market. Yes, we braved the long line filled with eager fans; we couldn't help ourselves from sampling decadent flavors like Nutella, fluffernutter and peanut-butter cup. Cookie DŌ is for all of us kids (and adults) who can't wait to eat the dough before the cookies are finished baking in the oven—we guarantee you won't be able to stop licking the spoon. Our favorite way to eat dessert? With a view. You're lucky, we've got the best in town.
Instagrammable dessert spots in NYC
1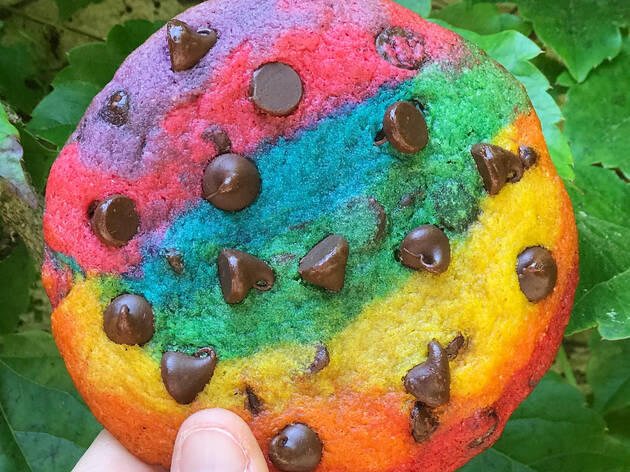 Photograph: Courtesy Baked in Color
Thanks to Baked in Color, the classic chocolate chip and glass of milk combo is treated to a vibrant twist fit for a unicorn. Everyone's go-to snack has a hint of pizzazz courtesy of the cookie's bright rainbow hues. You'll never get tired of dunking and induldging when these sweet treats are in the equation. A single cookie, which is four inches in diameter, costs $3.
This Asian-inspired ice cream shop, known for fish-shaped cones of delicious soft serve flavors, has delievered another tasty sensation to New Yorkers: pancakes. The souffle-styled dish by Taiyaki ($8) makes breakfast, or dessert, all the more satisfying. Note that pancakes and matcha pancakes are only available in Manhattan on Fridays–Sundays from 11am–2pm. Hurry—they're the talk of the town that everyone's been flipping over!
Why settle for a cone when you have the option to enjoy your ice cream with a little more oomph? In attempts to familiarize New Yorkers with Chinese street food, Wowfulls offers its treats and toppings in a 50's style Hong Kong egg waffle. The final products are as tasty as they are gorgeous! Desserts typically range around $10.
Restaurants, Ice cream parlors
The old-school spot in Carroll Gardens is a blast from the past and a crowd pleaser for foodies of all ages. Though older Brooklyn Farmacy & Soda Fountain patrons will be more inclined to opt for an egg cream, kiddies will gladly request a Cookie Monster Sundae, complete with mint chip ice cream, cookie crumbles, hot fudge, whipped cream and blue sprinkles. A half size ($12) is probably a better fit for little tummies than the full-size version ($15).
Restaurants, Ice cream parlors
Ice cream and doughnuts? No need to tell us twice. Stax puts a refreshing spin on the ice cream sandwich by piling sweet flavors—Snickerdoole, s'mores, Matcha green tea—between either a glazed, unglazed or chocolate doughnut. We'll take two! One scoop with a topping starts at $6.45.
6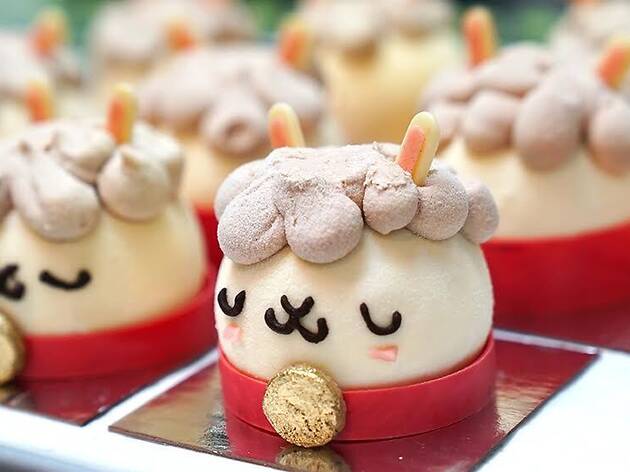 Photograph: Courtesy Bibble & Sip
We feel a bit guilty for biting into the Lucky Alpaca by Bibble & Sip ($7), but this offering is a bit too difficult to pass up. Vanilla white chocolate mousse, hazelnut pudding, nougatine and caramel plus chocolate cake pack a lot of flavor into a little treat.
7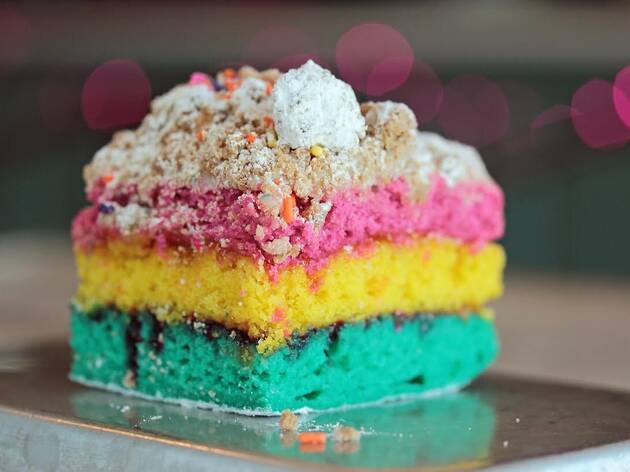 Photograph: Courtesy Bradley Hawks
What kid doesn't love a rainbow cookie? The popular treat during family get-togethers is amplified thanks to Comfortland in Astoria. Its famous Rainbow Cookie Crumb Cake ($6/slice, $65/cake) is a union of apricot & raspberry jam layers, topped with crumb and rainbow sprinkles. If you'd like to spice things up, the colors are totally customizable!
8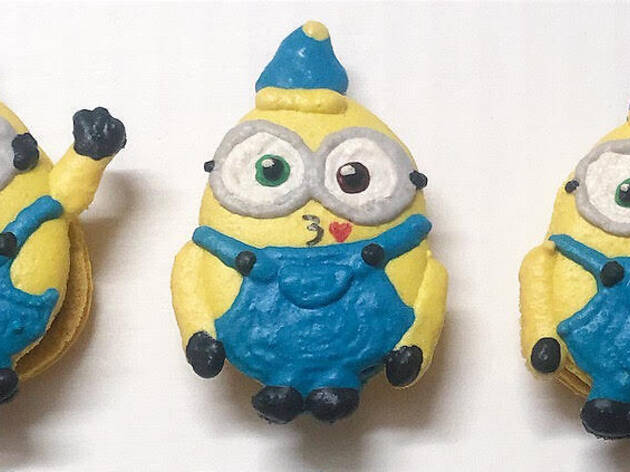 Photograph: Courtesy Amy Li
NYC baker Amy Li began making macaroons to help support women shelters and survivors of domestic violence. What began as an experiment eventually became a business, courtesy of her artistic characters, colors and all-around irresistible sweets. Stache of Goods are macaroons unlike any others you've seen before! Minion macaroons are $65/dozen.
Restaurants, Ice cream parlors
Soft Swerve looks to turn typical ice cream flavors on their head by providing customers with unique finds they can't order anywhere else. (Ube purple yam, anyone?) Make your own snack or let the pros pick for you: Mott & Mulberry, which includes Matcha green tea ice cream, chocolate drizzle and Oreo crumble and Brooklyn Bridge, which combines Black sesame ice cream, caramel drizzle, Skor toffee and mochi will certainly knock your socks off. Prices vary.
10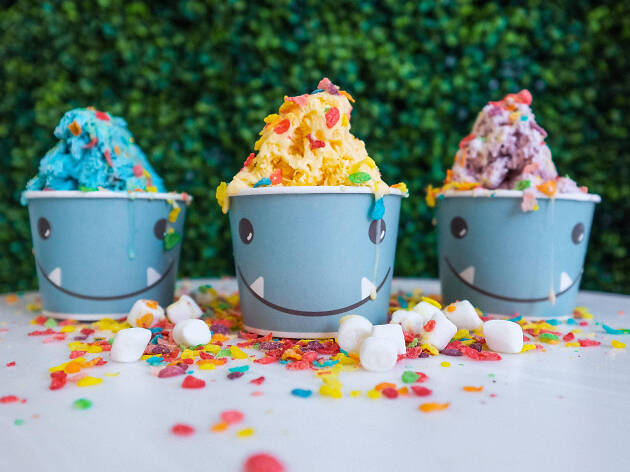 Photograph: Courtesy Snow Days
Snow Days is an Asian-inspired ice cream shop that is as exciting as the name suggests (although it has nothing to do with days off from school). Get a new twist on a frozen treat with shaved ice cream—coconut, roasted black sesame, strawberry, to name a few. Complete the indulgence with toppings like M&Ms, chocolate chips and fruit, but don't forget a *free* drizzle! Prices vary.
11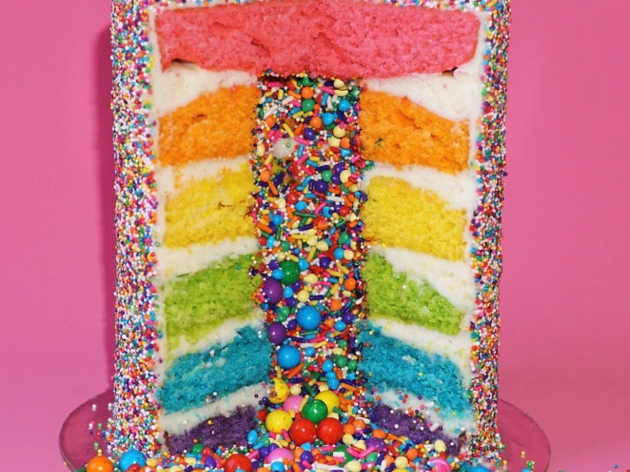 Photograph: Courtesy Flour Shop
Flour Shop is a feast for the senses in every way imaginable, from the photo-worthy rainbow decorations to the opulent desserts. A mini Rainbow Cake Explosion ($30) is the perfect way to celebrate a special occasion...or, you know, Tuesday.
12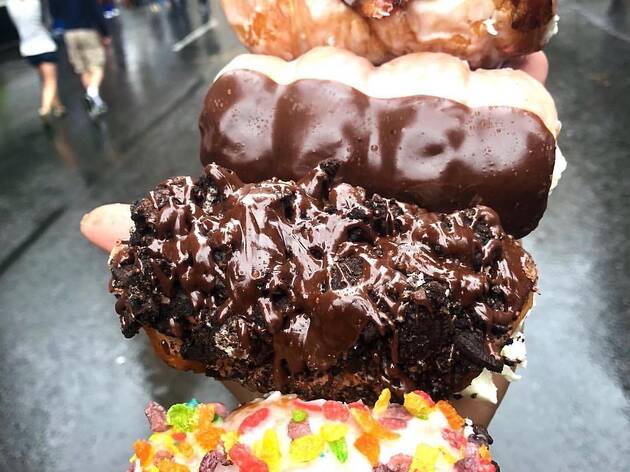 Photograph: Courtesy Beatriz Martínez
This ain't your nonna's cannoli recipe. Head to Vaccaro's Bakery & Cafe for a modern take on an Italian classic. The donnoli, created by Vincenzo Vaccaro, is a doughnut-cannoli hybrid that lets hungry visitors add extra pizzazz with toppings such as coconut shavings, Fruity Pebbles and more sweet stuff. This summer, expect a gelato-filled donnoli with flavors straight from Italy! Prices from $5–$7.
Cereal and Saturday-morning cartoons are nice, but have you ever been to Milk & Cream? Despite the name, the NYC hotspot is better suited for an after-dinner snack rather than breakfast. Cones, cups and shakes featuring your favorite cereal and toppings are yours for the taking. Selections such as the Cookie Crisp Blend and Cocoa Puff Blend are not only delicious, but worthy of a selfie or two. Prices vary.
14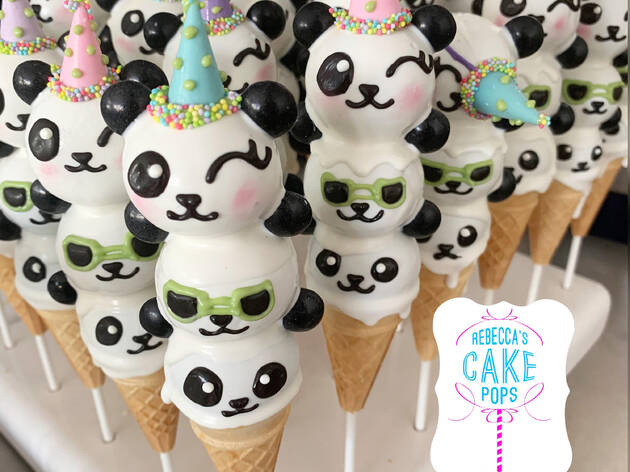 Photograph: Courtesy Rebecca's Cake Pops
A scrumptious cake in lollipop form, Rebecca's Cake Pops offer different flavors disguised as adorable objects—pandas, doughnuts, flowers and anything else you can possibly imagine. Prices vary.
15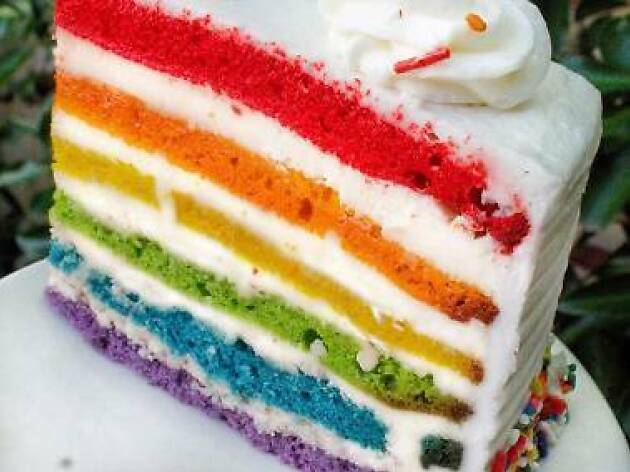 Photograph: Courtesy @lifebysyd
The Cobble Hill sweet shop will put a little spring in your step, especially thanks to this multi-hued snack. Its gorgeous, whimsical cake is as sweet as it looks, and with each layer dedicated to the colors of the rainbow, it earns a spot on our list of must-try desserts. This beauty is a vanilla cake with strawberry-flavored buttercream and vanilla buttercream icing. $6.95/slice.