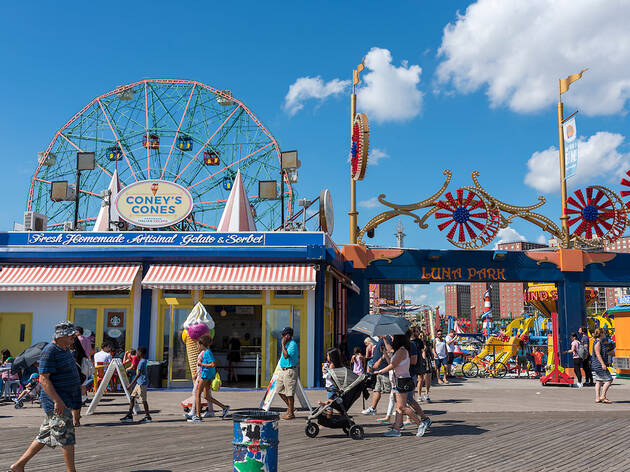 The best summer activities for kids in New York City
Searching for things to do in summer with kids? We'll help keep you busy with an epic list of happenings!
It's time for sand between your toes and a hot dog at Nathan's. Summer activities for kids in NYC are aplenty, so start mapping out your perfect vacation.
We round up seasonal happenings your crew can't miss—street fairs, frequent trips to water playgrounds for kids, pitstops at delicious ice cream shops in NYC and epic Coney Island activities. After all, what's a NYC summer without a ride on the Cyclone?!
Don't fret about your lack of a backyard. Between local pools, beaches and parks, there are countless places to go out and enjoy the summer sun. Make sure you have your sunscreen handy!
Peruse our picks for the best things to do in summer with kids now!
Summer activities for kids
More summer activities
Plan ahead for some great summer reading this year! Our list of summer books offers everything from picks for brand new readers to picks for tweens (ya know, the ones who can't put down the iPhone). These summer books offer a great opportunity for all ages to unwind with a great story, whether told through pictures or shared through chapters. Looking for more great kids' books? Check out our guide to the best kids' books around, books about kindness and these truly wonderful baby books (where you'll be doing the reading)!
No need to trek to the bodega for a rocket popsicle! These popsicle recipes are sure to cool off adults and kids alike when the sun is shining and temps are rising. The best part is that these are all popsicle recipes you can make in the comfort of your own home, and there's no need for any fancy gadgets (many you can even make in a Dixie cup)! Homemade popsicles for the win! You can also go the healthy route with real fruit popsicles or banana popsicles (or go all out and pile on the sweet with some ice pops).