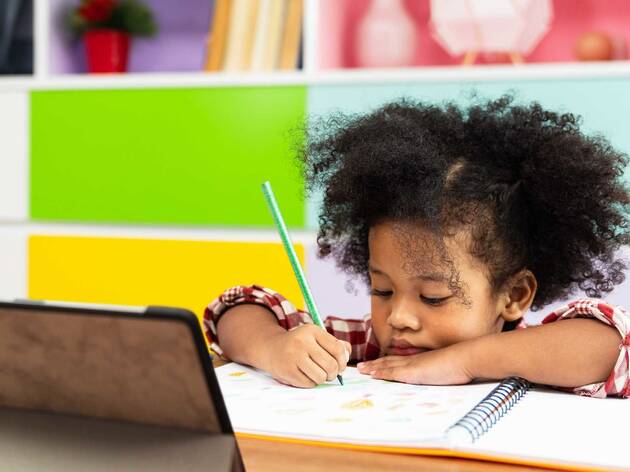 NYC schools assigns independent learning days: Here's how to keep kids occupied
These online activities, events and educational resources will save you on June 4
Posted: Wednesday June 3 2020, 1:44pm
School is out on Tuesday...kinda.
On Monday, the NYC DOE announced that two previously-scheduled holidays (June 4 and June 9) are now mandatory school days, only many teachers will be in meetings and won't be instructing.
What's a home-schooling family to do?
Make the most of it, of course, and we're here to help. Check out ways to keep kids busy while they're learning!
• Discuss race, justice and equality: These online resources include videos, conversation starters, readings and activity books geared to children of all ages.
• Tune into a virtual storytime: Watch an all-star lineup of celebrities read Harry Potter and the Sorcerer's Stone chapter by chapter (with Daniel Radcliffe, Oliva Colman, Kate McKinnon, Alec Baldwin and more). You can catch a star-studded lineup (like Mindy Kaling, Lupita Nyong'o, Ryan Reynolds and many others) read James and the Giant Peach. Note that previous episodes are archived, but the remaining episodes have been put on pause.
• Read about diversity and inclusion: These titles that explore race range from the board book Antiracist Baby to the Newbery-winning graphic novel New Kid.
• Take a virtual tour of the International Space Station: Join the American astronauts who docked there this week.
• Check out the #ConcertsForKids at Lincoln Center: Browse the video archive of more than a dozen 25-minute performances that range from Caribbean jazz to Mexican dance music to Punjabi funk.
• Stream the best educational shows for kids: From Odd Squad to Ask the StoryBots to Horrible Histories, these programs prove that TV is as fun as it is educational.
• Put on a show: The Arts Break program from the New Victory Theater explores a performing art every week—don't you want your little angle to practice tap dance, juggling and circus tricks at home?
• Download books for free: SimplyE, the free e-reader from the New York Public Library, gives you access to more than 300,000 books.
• Try some activities for younger kids: The Children's Museum of Manhattan has a new event every day, plus tons of archived activities to occupy your littler ones.
• Take an online class for free: If you haven't tried TED-Ed or the Smithsonian Learning Lab, you're in for a treat.
• Work out: Your little ones will keep fit with these online exercise activities for kids.
Most popular on Time Out
- Disney's free drawing classes teach you how to sketch your favorite princesses
- Tour the real-life locations of Harry Potter's world with Google Earth
- Celebrate the 100th birthday of Deno's Wonder Wheel with a free coloring book
- New York's kiddie salons share advice on how to cut your child's hair at home
- Best family restaurants in NYC doing delivery
Sign up to receive great Time Out New York Kids deals in your inbox each day.
Share the story