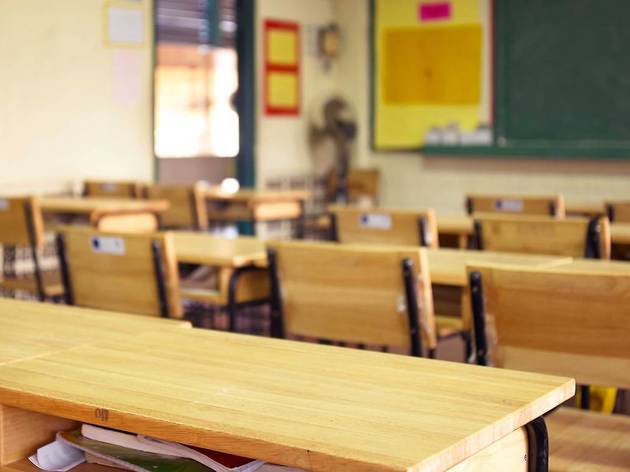 What parents need to know about NYC schools reopening this fall
We'll break it all down for you.
Posted: Thursday August 6 2020, 6:00pm
UPDATE: Governor Cuomo revealed on Aug 7 that all New York State schools can reopen this fall.
All eyes are on New York City.
Mayor Bill de Blasio intends to move forward with a blended learning curriculum for the new school year, but families with children in the NYC DOE are waiting on the green light from Governor Andrew Cuomo, which is expected this week.
The federal government does not decide if NYS schools reopen — the state does.

We will make that decision based on the science and the data.

A decision will be announced in the first week of August.

— Andrew Cuomo (@NYGovCuomo) July 8, 2020
There's still a lot of information that's up in the air, but we'll help navigate your questions in the meantime. See below for more information and stay up to date by visiting schools.nyc.gov.
What does blended learning look like?
Mayor Bill de Blasio revealed earlier this summer that NYC schools plan to implement a blended learning model this fall, which is a mix of remote and in-person learning. Students will be learning five days per week and physically in the building either two or three days per week.
Can my child learn remotely?
Parents have the option to enroll their children in an entirely remote curriculum for the fall. In order to do so, they must take the Learning Preferences survey or call 718-935-2200 by August 7. Students will not need a medical reason to opt into this plan. Those who opted for 100 percent remote learning will have the option to change back to blended learning at a few specific times during the school year.
What will it take to open NYC schools?
NYC schools will be allowed to open their doors if the percentage of citywide positive tests is less than 3 percent (as compared to 5 percent for the rest of the state). If it is equal to or greater than 3 percent, schools will close. Learn more about the threshold here.
What happens if someone gets sick?
During a press conference, the mayor outlined what individual schools could possibly look like should a positive test case surface: Two positive cases in different classrooms can shut down a school and result in remote learning for two weeks. One positive case will shut down a particular class and shift learning to a remote environment. If there are two cases linked together in the same school but different classrooms, the building itself will be closed. See the full breakdown on Twitter @NYCMayorsOffice.
Science will dictate how we reopen @NYCSchools and keep our kids, teachers and staff safe:
• Physical distancing and required face coverings
• Cleaning throughout the day and each night
• Clear communication with parents pic.twitter.com/NLZjvT7qEb

— NYC Mayor's Office (@NYCMayorsOffice) July 31, 2020
What are the health and safety measures in place?
Along with guidance from the CDC and the NYC Department of Health and Mental Hygiene, NYC Schools will have testing and tracing procedures in place at all of its buildings. In the event someone becomes ill during the day, there will be an isolation room. Cleanings with electrostatic sprayers will take place on a nightly basis. Additionally, an order has been placed for 11,000 cases of hand sanitizer and 100,000 cases of disinfectant wipes.
But cleaning measures are just one aspect of these procedures: All those in the school building will have to remain six feet apart and wear masks when need be, plus particular areas will need to be reconfigured, including lunch rooms and gyms. Learn more about the procedures.
I have questions. Who should I contact?
The NYC DOE will host digital, citywide information sessions on August 12 and August 27. The program will address the proposed plans from NYC schools and take questions at the end of the session. Visit schools.nyc.gov for an up-to-date look at what's happening in the NYC DOE.
Most popular on Time Out
- The Bronx Zoo will bring back free Wednesdays
- The best summertime cherry picking NY families love
- The NYC DOE is hosting a virtual information session about returning to school
- Sesame Place is reopening with new safety measures
- NYC to provide free daycare for children ages 3 and up
Share the story