Heads up! We're working hard to be accurate – but these are unusual times, so please always check before heading out.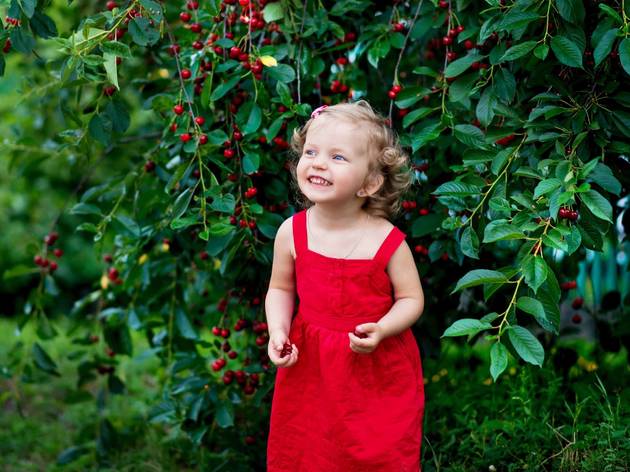 The best summertime cherry picking NY families love
Looking for a delicious day trip? Check out our list of the best cherry picking NY families love!
Cherry picking CT
This family-owned organic farm is an all-American classic: Acres of rolling hills, sun-kissed fruit trees, a farm store with eggs, milk and produce. The PYO season starts mid-June with cherries, then carries through the summer with blueberries and strawberries. Lucky locals get to subscribe to March Farm's CSA. 160 Munger Lane, Bethlehem, CT (203-266-7721, marchfarm.com).
This family-operated stop not only gives visitors a PYO option, but it also lets them choose from delectable sweets—jams, pies, cookies—if they're looking to take home other snacks besides the fruit. Be sure to check the calendar for seasonal event listings, too! 483 Matson Hill Rd, South Glastonbury, CT (860-633-2789, belltownhillorchards.com).
Ellsworth is an area well worth a day trip! After gathering sweet cherries galore and taking in the rolling hills, open pastures and original structures around the farm, check out some of the historic sites around town. The farm's website offers some useful facts and picking do's and don'ts for the novice cherry picker. 461 Cornwall Bridge Rd, Rte. 4, Sharon, CT (860-364-0025, ellsworthfarm.com).
Cherry picking NJ
From asparagus in April to pumpkins in October, Terhune Orchards has all the PYO options you could want—including eight varieties of sweet and sour cherries! The farm provides containers for you to gather your berries in, and when you're done, be sure to wander down the farm trail to meet sheep, chickens, horses, geese and ducks and peruse all the treats at the farm stand. 330 Cold Soil Rd, Princeton, NJ (609-924-2310, terhuneorchards.com).
Fruitwood Orchards has offered 110 acres of fruit orchards since 1951. Though they're known for their yummy honey, you can find apples, peaches, nectarines, pears, and cherries depending on when you go. There are also some less common PYO treasures, like watermelon, cantaloupe, and wine grapes. 419 Elk Rd, Monroeville, NJ (856-881 7748, fruitwoodorchardshoney.com).
A taste of New Jersey sour cherries is a must at this PYO hotspot. Sign up for a group picking session and visit the site for delicious recipes once you've gathered your goods. Of course, a trip to the Country Store for home-baked goods is a must! 91 Wemrock Rd, Freehold, NJ (732-462-0756, battlevieworchards.com).