The best cherry picking NY has to offer
Spend a memorable summer day at one of these local farms or orchards, where you and the kids can pick your own cherries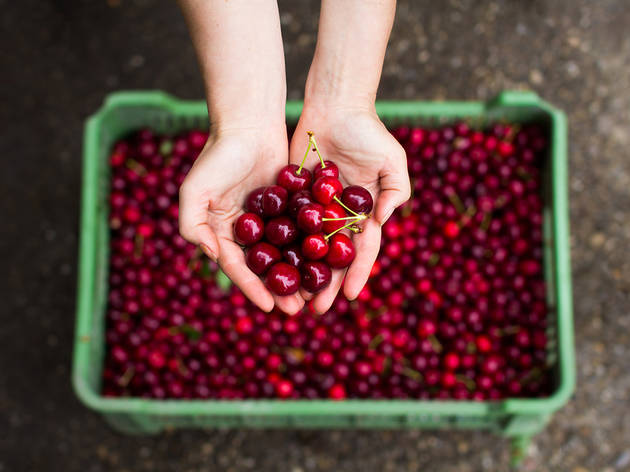 Summer's a great time to hang in the city, but one of our favorite outdoor activities for kids is a trip to the best cherry picking NY has to offer. You can bring some home to make cherry pie, cherry jam, dried cherries or just eat 'em from the carton on your ride back home. The best laid plans...
RECOMMENDED: Full guide to where to pick your own fruits and vegetables near NYC
Whatever you end up doing, heading to a local cherry farm means a great summer day trip for the whole family. Check out these fun summer activities for kids too!
Cherry picking CT farms
Belltown Hill Orchards
You can find fourth-generation, family-run Belltown Hill Orchards nestled in the hills of South Glastonbury. The cherries now in season come after late spring's strawberries and before autumn's apples (and apple cider donuts, of course.) When you've gathered enough cherries to satisfy your pie, preserves and fruit cravings, stop by the farmers market for some homemade treats that "will bring you back to grandma's pantry." 483 Matson Hill Rd, South Glastonbury, CT (860-633-2789, belltownhillorchards.com). Fri-Sun 10am-4pm.
Ellsworth Hill Orchard and Berry Farm
Ellsworth is an area well worth a day trip! After gathering sweet cherries galore and taking in the rolling hills, open pastures and original structures around the farm, check out some of the historic sites around town. The farm's website offers some useful facts and picking do's and don'ts for the novice cherry picker. 461 Cornwall Bridge Rd, Rte. 4, Sharon, CT (860-364-0025, ellsworthfarm.com). Sun–Fri 8am–6pm, Sat 8am–5pm.
Cherry picking NJ farms
Battleview Orchards
This family-owned and operated Country Store and farm has sour cherries and a variety of other New Jersey fruit like strawberries, peaches, apples and pumpkins. THe approximate end date for this year's cherry season is July 10 but if you don't have time to pick your own, head to the Country Market and Bakery for fresh cherry pie or preserves. Check Battleview's website for their cherry crisp recipe. 91 Wemrock Rd, Freehold, NJ (732-462-0756, battlevieworchards.com). Call for PYO days and hours.
Fruitwood Orchards Honey Farm
Fruitwood Orchards has offered 110 acres of fruit orchards since 1951. Though they're known for their yummy honey, you can find apples, peaches, nectarines, pears, and cherries depending on when you go. There are also some less common PYO treasures, like watermelon, cantaloupe, and wine grapes. 419 Elk Rd, Monroeville, NJ (856-881-7748, fruitwoodorchardshoney.com). Call for dates/times.
Terhune Orchards
From asparagus in April to pumpkins in October, Terhune Orchards has all the PYO options you could want—including eight varieties of sweet and sour cherries! The farm provides containers for you to gather your berries in, and when you're done, be sure to wander down the farm trail to meet sheep, chickens, horses, geese and ducks and peruse all the treats at the farm stand. 330 Cold Soil Rd, Princeton, NJ (609-924-2310, terhuneorchards.com). Farm 9 am–6 pm daily, picking orchard, 9am–5pm daily.