The best rainbow food in New York City
If you're looking to jump in on this delicious rainbow food trend, NYC will provide you with a whole menu of beautiful offerings.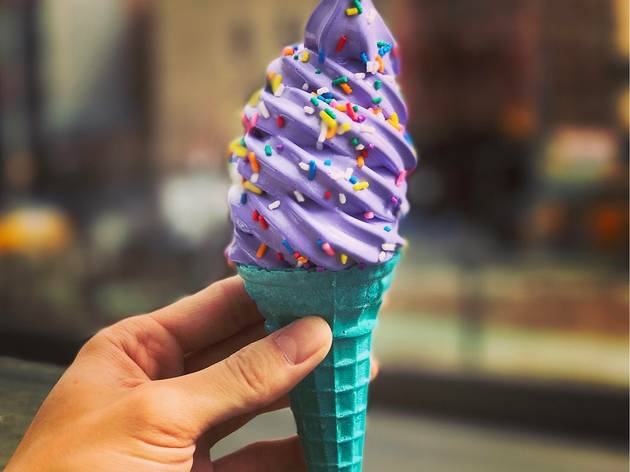 Ever since the Bagel Store's rainbow bagel showed up on the market, its seems like everyone has been going extra cray cray for cute rainbow food in NYC. From unicorn lattes to multi-hued desserts, there seems to be no end in sight to the rainbow trend, and we can't say we're not totally loving it.
Some of the colorful offerings have surpassed our wildest dreams, like Hong Kong's famous Kala Toast rainbow grilled cheese sandwich that has us simultaneously tilting our heads and watering at the mouth! Our closest imitator in the U.S. is currently Chomp Eatery's Unicorn Melt...all the way in Los Angeles. Boo! (California also has this decadent Unicorn hot chocolate we're still waiting on over here...)
Looking for the best rainbow treats you can find right here in NYC? Below are some of our favorite picks to try before the next trend rains on this colorful parade. You may also want to check out our roundup of equally colorful cereal restaurants, too (yep, that's a thing!)
Best rainbow food in NYC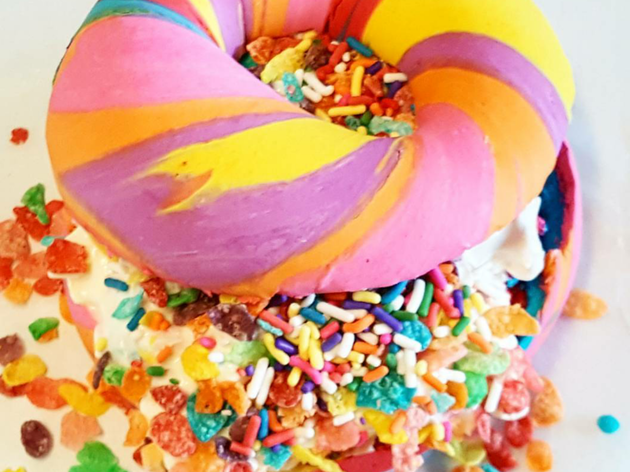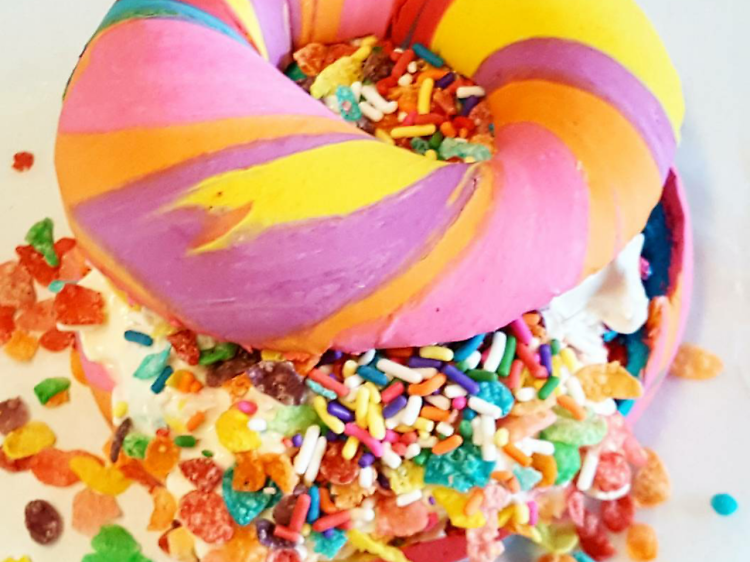 Photograph: Courtesy Scot Rossillo
The Bagel Store took a New York staple and turned it on its head when its rainbow bagel went viral. The most beautiful bagel known to humankind is carefully handmade with layers of colored dough. Once baked, it's filled cream cheese mixed with Funfetti cake sprinkles for a breakfast that'll almost leave you feeling guilty for it. Almost.
754 Metropolitan Ave. (929-266-5742, thebagelstoreonline.com). $3.95.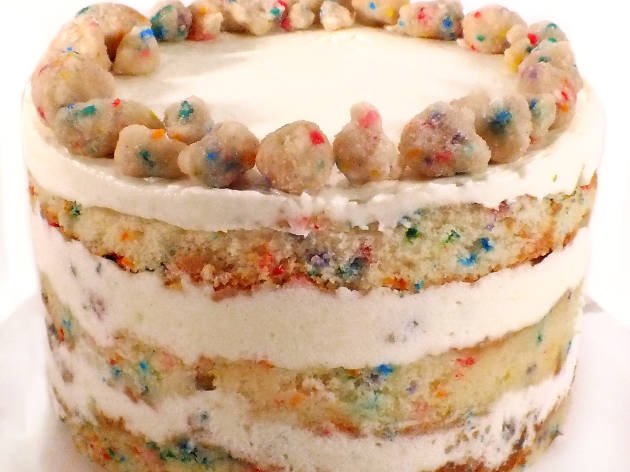 Photograph: Courtesy Milk Bar
Milk Bar knows a thing or two about GOOD desserts so it's only natural that we'd turn to them for their take on the signature birthday cake. The Milk Bar version is a vanilla rainbow cake layered with rainbow cake crumbs and topped with vanilla frosting. Apparently it took Milk Bar founder Christina Tosi and her team more than three years to perfect this heavenly creation! You can even customize your cake by choosing from various layer fillings, sauces, frostings and crumb toppings.
Various locations (347-577-9504, milkbarstore.com). $50.50, customized birthday cake $60.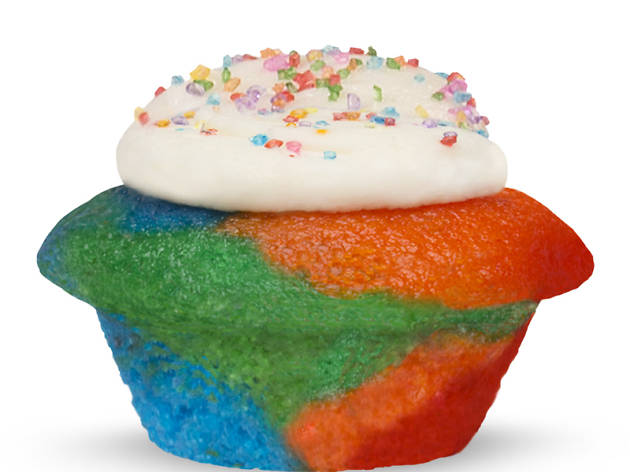 Photograph: Courtesy Baked by Melissa
It's obvious that the rainbow cupcake is a huge part of Baked by Melissa's brand: it's the dessert company's logo and one of the signature flavors that launched it to delicious success. The bite-sized treat is made with tie-dye vanilla cake and topped with vanilla icing and rainbow sugar crystals. You can knock 'em back one piece at a time or indulge your inner glutton with The Psychedelic, a 25-pack of those little sweeties that's only available online.
Various locations (212-842-0220, bakedbymelissa.com). $1 for a single cupcake, The Psychedelic $25.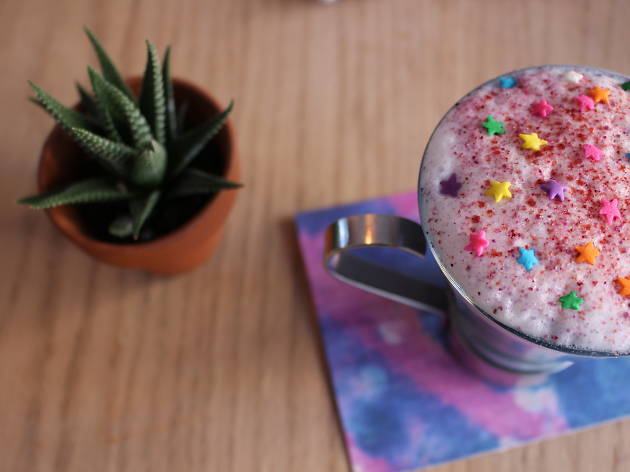 Photograph: Courtesy The End
The End's lattes not only look beautiful, but you won't feel as guilty after you drink one. The Unicorn Latte features live E3 blue green algae that supplies the body with essential amino acids, vitamins and minerals. It also has cold pressed lemon tonic, a touch of wildflower honey and cayenne and frothed with vanilla bean extract and coconut mylk. If you think they let up on the health kick when it came to the toppings, think again: that magical cherry on top is a dusting of The End's super-fruit blend of pomegranate and goji powder with vegan sprinkles. While there, check out the shop's menu, which features other vibrant drinks like the Purple Amethyst Latte and the new Merbabe Latte (complete with a mermaid's fin)!
522 Metropolitan Ave. (347-987-3954, theendbrooklyn.com). $9.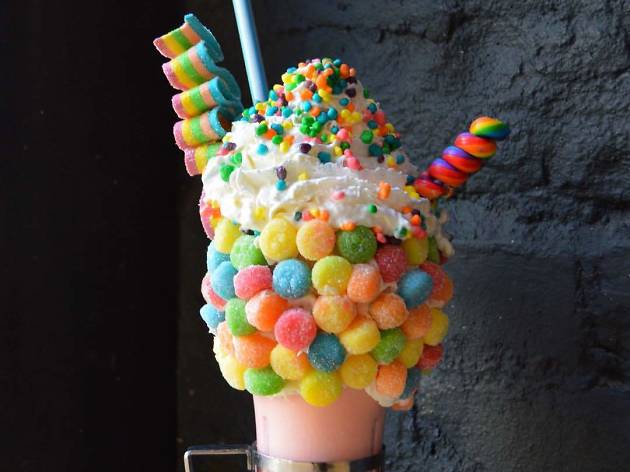 Photograph: Courtesy Black Tap
You've probably seen Black Tap's insane milkshake creations pop up on your Instagram feed. It's hard to believe that these are even edible, but thank goodness they are! While the restaurant has a menu of classic shakes, you can just gloss right over those and browse through what you're really there for: crazy shakes. Our money's on the Sour Power, a black cherry shake with a vanilla frosted rim and sour gummi poppers and topped with a Pixy Stix, rainbow pop, sour skewer, whipped cream and nerds.
529 Broome St. (917-639-3089, blacktapnyc.com). $15.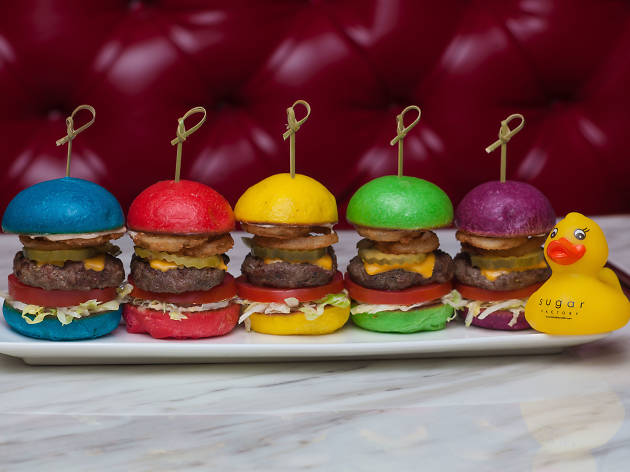 Photograph: Sugar Factory
Burgers just got a whole lot more fun. Folks will get a kick out of the colorful buns on Sugar Factory's Rainbow Sliders. The meal comes with five Angus beef sliders with melted American cheese on a toasted rainbow brioche roll and topped with Sugar Factory's special sauce. Then pair those Rainbow Sliders with any one of the decadent milkshakes on the menu. The Tie Dye Milkshake features vanilla ice cream with red, blue, green and yellow white chocolate ganache topped with whipped cream, Pop Rocks, cotton candy, a necklace candy and rainbow sprinkles. Whew!
1991 Broadway (212-414-8700, sugarfactory.com). Rainbow Sliders $20, Tie-Dye Milkshake $18.
Photograph: Courtesy Union Fare
Union Fare's Birthday Cake Croissant is almost too cute to eat, but if you do, you'll find a burst of color once the flaky pastry is pulled apart. Sprinkles are rolled right into the croissants' butter and once they're baked, they're stuffed with whipped cream and pastry filling. Another colorful croissant is topped with a Fruity Pebble coating and filled with an orange-infused pastry cream, you know, in case you ever wanted to bulk up your rainbow feast.
7 E 17th St. (212-633-6003, unionfare.com). $5.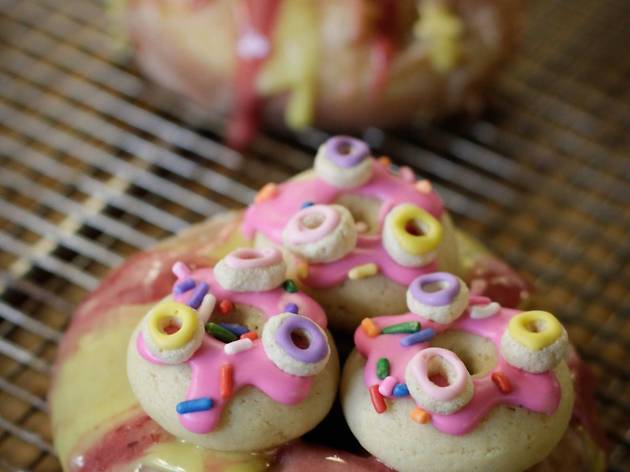 Photograph: Courtesy The Cinnamon Snail
If you have a donut lover in your life, they will get more than they bargained for with this treat. The Cinnamon Snail's Inception Donuts are filled with fresh maple raspberry filling and then decorated with donuts that are then decorated with even more donuts! The baked doesn't offer them on the daily because creating them is labor intensive, but check their social media accounts for a heads up on when these special occasion treats are up for grabs.
2 Penn Plaza. (862-246-6431, cinnamonsnail.com). $7.50. Follow on Facebook.com/TheCinnamonSnail for updates on bakery offerings.
Photograph: Gelso & Grand
Gelso & Grand's pretty confection, known as the Unicornolli, is made of a crispy waffle cone cannoli shell brushed with edible gold dust. Inside are two unicorn inspired fillings: Lavender Berry (strawberries, graham crackers and lavender berry macarons) and Funfetti Cake (vanilla cream with sprinkles with a slice of funfetti cake inside and on top). Each delicious treat is served with a tiny hammer so you can crack the cannoli along the middle where the two flavors meet!
186 Grand St. (212-226-1600, gelsoandgrand.com). $20.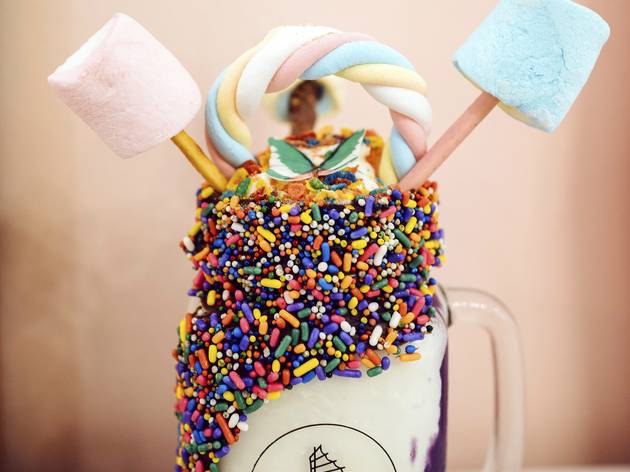 Photograph: Courtesy Majestic Mr. Jesse
Unicorns are hot right now, so if you're looking for a little something to cool off these days, give New Territories a visit. The ice cream parlor's Unicorn Parade milkshake consists of artisan vanilla bean ice cream in a sprinkles-rimmed cup lined with Ube, a purple sweet potato. The shake is then topped with whipped cream, crushed Fruity Pebbles, a rainbow marshmallow arch and an assortment of Pocky and marshmallow skewers.
190 Orchard St. (646-649-4521, newterritoriesnyc.com). $12.
Show more