The best kids' playgrounds in New York City
These are the best kids' playgrounds in NYC! Visit for cool play structures, slides and more for your crew to enjoy.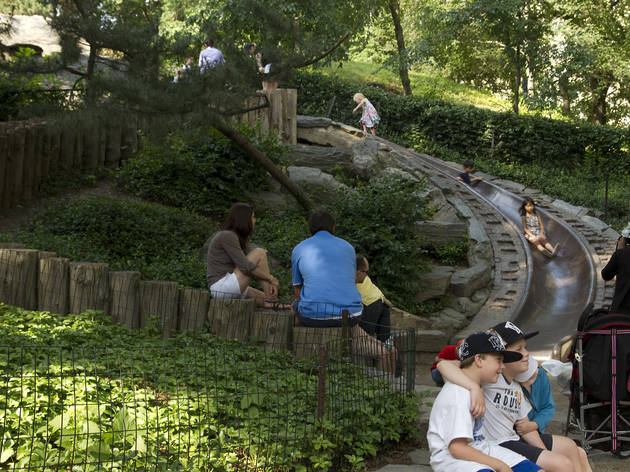 Here in NYC, playgrounds are the backyard our urban kids will never have. They offer a safe place for children to explore, climb, play games and even escape to faraway lands for an imaginative adventure. These kids' playgrounds are more than just play structures, slides and swings: they're a great place for kids and parents to make new friends, and for families to congregate most of the year!
RECOMMENDED: Full guide to outdoor activities for kids in NYC
In short, we know how important it is to know the best playgrounds in your area, and we're here to help with a roundup of the best. You'll find everything from large games of tic-tac-toe to NYC's longest slides (Slide Hill on Governors Island!), plus artful play forts, climbing structures, tunnels and even spray showers. View our list of the best splash parks for more on that.
You'll certainly want to visit classics like Ancient Playground, Heckscher Playground and Playground for All Children on your journey, and you won't want to miss our favorite playgrounds with famous artwork, either.
For more exciting fun outdoors, visit these spectacular carousels and great spots for outdoor dining.
The best kids' playgrounds in NYC
More fun things to do with kids
There are plenty of outdoor activities for kids in New York City—many you'll even love doing as a family! When you're not busy cuddled up with our favorite family movies on Netflix and our list of the best kids movies (come on—it's time to head outside!), you'll love exploring the coolest family attractions and the other amazing outdoor activities this amazing city has to offer. 
Read more