Best music lessons for kids in NYC
Music lessons for kids in NYC guarantee to catapult your little one to virtuoso status. Move over, Mozart!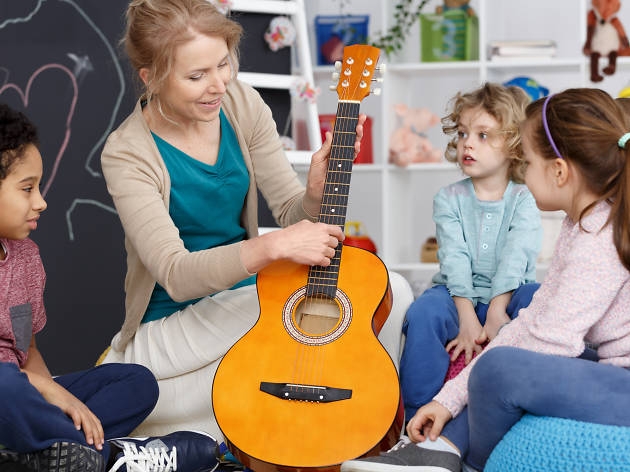 It's time to tune those strings and fetch a pick or two.
NYC's lengthy options of music lessons for kids will introduce youngsters to the fundamentals of various genres. Whether your children want to shred on the guitar or land a spot in the local chorus' soprano section, these offerings will help get them there.
In due time, you won't need Apple Music—your kiddos will provide all the entertainment you'll need. Until then...maybe invest in some earplugs (just to be on the safe side)?
Happy practicing to all the budding musicians out there!
Looking for more ways to keep your tykes busy? Book a space at one of the best kids' classes in NYC that are under $50, sign them up for one of these acting classes for kids or grab the whole crew and get ready for an adventure at the best family attractions the city offers.
Music lessons for kids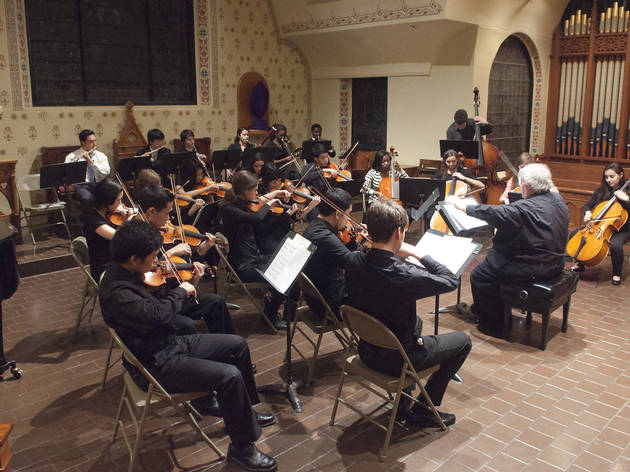 Things to do, Cultural centers
Classes here build on skills from one series to the next, from Baby and Toddler's First Music Class all the way up to Dalcroze Eurhythmics. Older kids (ages 6 to 10) can move on to group classes in keyboard, violin and guitar, or private lessons in a variety of horned, string and wind instruments and vocals. Ages 3 months–10 years.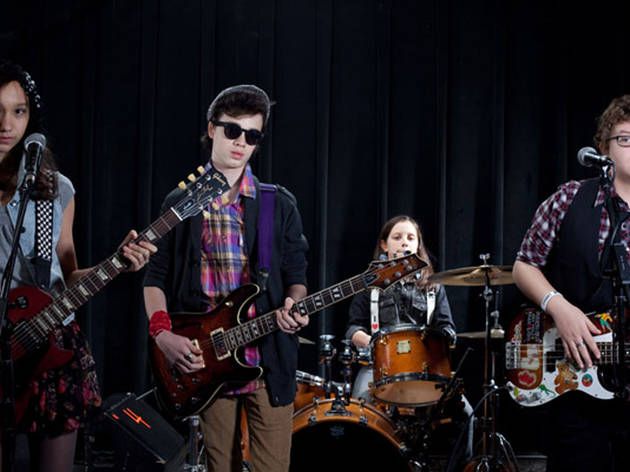 Things to do, Cultural centers
Tweens and teens practice, perform, write and record (think rhythm, chord progressions and instrument technique), and tackle more-advanced subjects like stage presence, while collaborating in bands. Bands also get a hands-on lesson and recording session at Williamsburg's Bunker Studios and a final show at Rockwood Music Hall, plus dedicated young rockers can sign up for private lessons or a 6-week summer workshop. Spending a summer abroad? This school's gone international—they have a Paris branch! Ages 8 and up.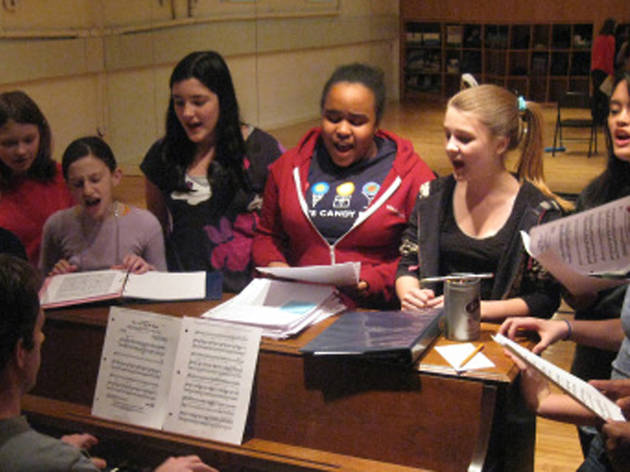 Things to do, Cultural centers
The comprehensive curriculum at this music school founded in 1897 and housed in a five-story Victorian Gothic mansion ranges from House Party classes for toddlers (featuring the music of kid-crooner Dan Zanes) to GarageBand classes, blues bands and chamber ensembles. Ages 1–10.
Home of the Merkin Concert Hall, the Kaufman Center also houses the Lucy Moses School for teens and adults and the Special Music School for kids. Kaufman students regularly perform at the Merkin in a series of wallet-friendly concerts featuring standard rep. All ages.
Things to do, Classes and workshops
If your child is chasing rockstar dreams, sign 'em up for music, arts and technology classes at this Carroll Gardens studio. Kids ages 5–12 can learn how to read, write and play the piano through interactive games and activities as well as participate in individual and group recitals. Band courses let them bang away on drum sets, form their own pop or rock band and get funky in a jazz, funk or soul group. If it's composition and songwriting skills that they're looking for, they can sit in on music production classes where they'll learn music theory, song form and how to record, mix and share their tunes through project-based lessons. For kids who prefer one-on-one instruction individual, private lessons tailored to each child's speed are available. Parents can also learn how to play instruments and compose music so the whole family can host a jam fest at home. Not only will all ages walk away with new musical skills, but with a stronger sense of self, creativity and confidence. All ages.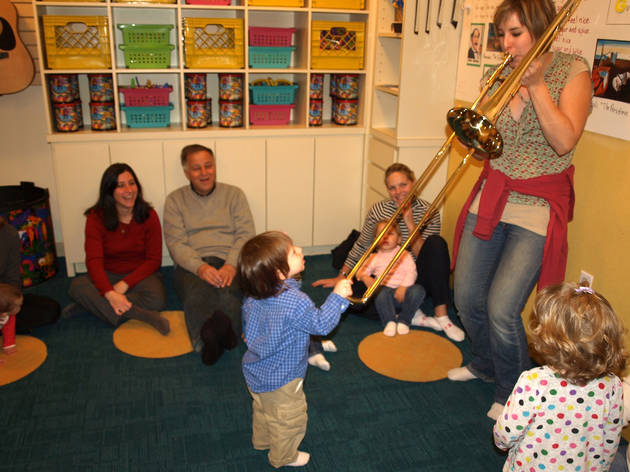 TLB mixes music classes up with a blend of classical hits, modern favorites and even music from Broadway. Every week, kids meet a new instrument of the orchestra and can play along with their teachers. Every class has music-inspired movement incorporated, whether it's following the rhythm on bouncy balls or dancing to the music. Ages 4 months to 6 years.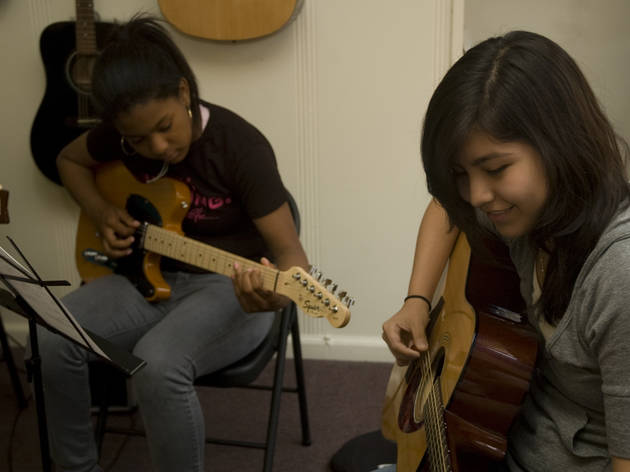 Things to do, Schools and universities
Little rockers strum along to classics like "Satisfaction" and "Wild Thing." The school provides instruments, so your kid doesn't have to lug his guitar to and from class on the subway. Students start with an intro class, then move up to more advanced classes as they progress. Ages 8 and up.
Kiddie commitment-phobes ages 6–12 can pop in for single sessions at this multicultural performing-arts haven. The Bharata Natyam class covers basic adavus—the series of steps, postures and gestures that form a dance sequence. Or kids can try Bollywood Fusion, which is influenced by traditional Indian forms plus newer styles like salsa and merengue.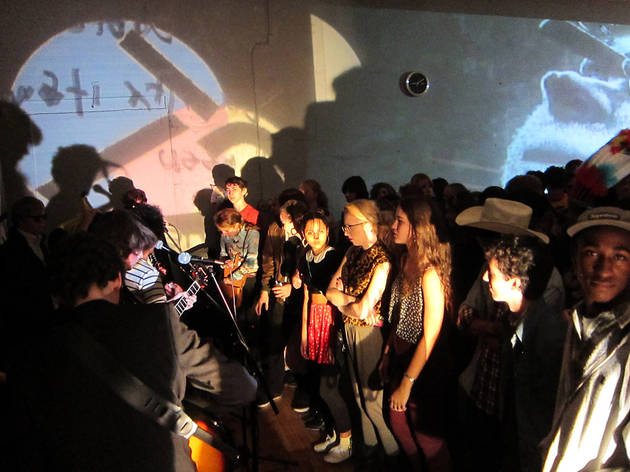 Museums, Special interest
For more than 20 years this not-for-profit institution has provided a range of arts programming. Toddlers and preschoolers can take general classes in music and movement or visual arts, while school-age children dive into more-specific studies in piano, drumming, solfege and eurhythmics and more. The school also offers private and group lessons on any instrument, as well as a band program for tweens and teens, as well as several drop-in and after school clubs and classes. Ages 16 months and up.
Just a stone's throw away from Lincoln Center and Juilliard, this comprehensive performing arts school offers classes in everything from music theory, Dalcroze, and chamber orchestra, in addition to private or group instrument lessons. The center offers lessons in dance, theater and digital media, too. Ages 18 months and up.
Things to do, Classes and workshops
The curriculum here ranges from Music and Movement classes to Hippity-hop, where kids can master basic moves. Older kids take courses in music composition and music history and master classes with guest artists. Ages 18 months–18 years.
Led by music director Dianne Berkun, the Brooklyn Youth Chorus Academy offers students a wide range of music courses by way of the Cross-Choral Training method, which ultimately focuses on three main areas—music literacy, performance and voice training. All ages.
This cozy Greenwich Village outpost has long hosted opera and classical chamber-music concerts. It also caters to students of all ages with private lessons and group classes.
Things to do, Classes and workshops
The renowned program focuses on providing quality art education across four disciplines: music, dance, theater and visual arts. Within those categories, young creative types focus on acting, musical theater, painting, photography, yoga, West African dance, musical instruments or vocal music, among other seemingly endless offerings. Ages 2–18.
More fun for kids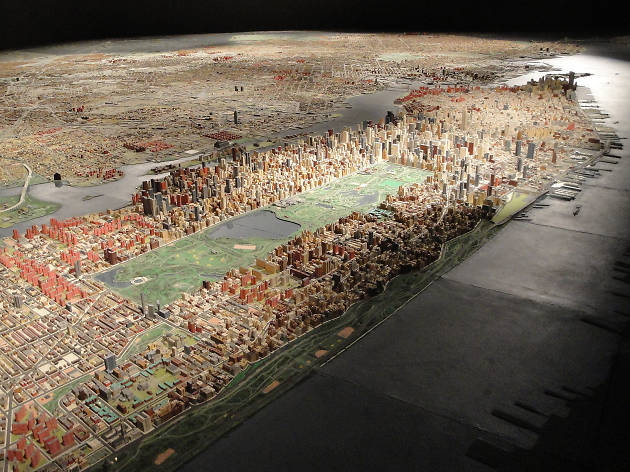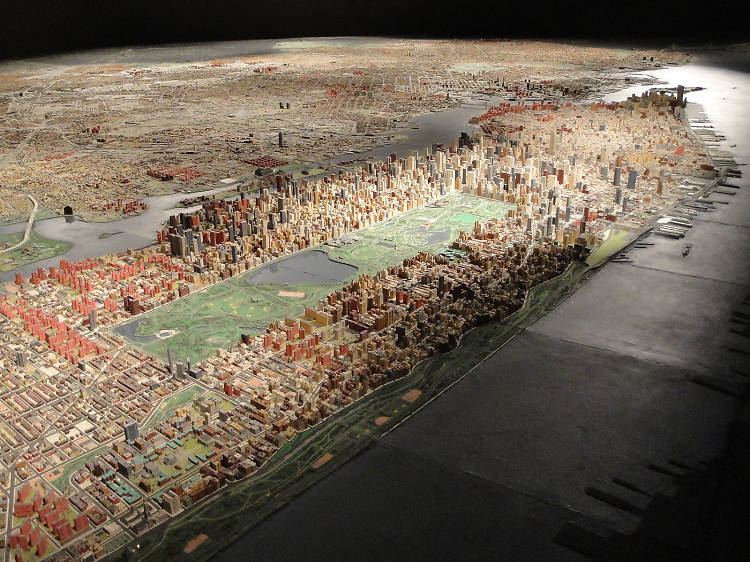 Photograph: Courtesy Wikimedia Commons
Panorama of the City of New York
Long before Gulliver's Gate landed in Times Square, the Panorama of the City of New York made visitors feel like giants hovering over the miniature replica of NYC. Created over the course of three years for the 1964 World's Fair in Queens, the massive scale model covers an area of 9,335 square feet. The model grew to include every building, park, bridge and landmark created before 1992 with updates and additions since then. The panorama also included a lighting cycle that cast light and darkness over the city along with 3,172 colored lights highlighting different structures and painted windows that glowed green during the "night" hours. And much like Gulliver's Gate, airplanes took off and landed in LaGuardia Airport. Queens Museum, New York City Building, Flushing Meadows Corona Park (718-592-9700, queensmuseum.org); $8, children free.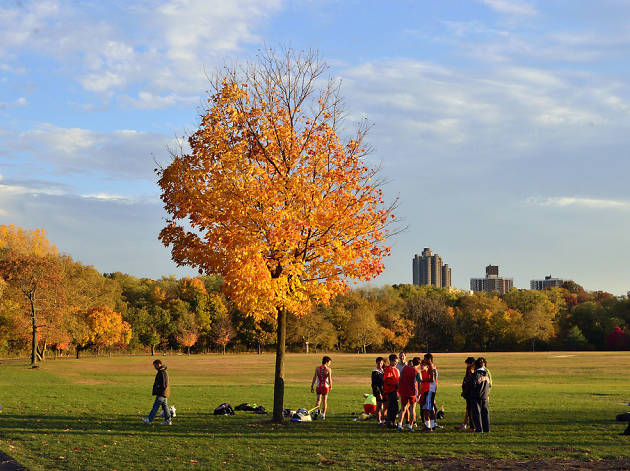 Photograph: Courtesy Flickr/Steven Pisano
Central and Prospect Parks might get all the love in this city, but head into our northern borough to find another oasis just as worthy of attention. The Bronx's 1,146-acre park is the third largest in NYC and features four playgrounds with spray showers, nature trails, ball courts, fishing, horseback riding, swimming pools and more. Take the kids to see the Tortoise & Hare statue, a monument celebrating Aesop's famed fable. Broadway and Van Cortlandt Park S (718-430-1890, vcpark.org).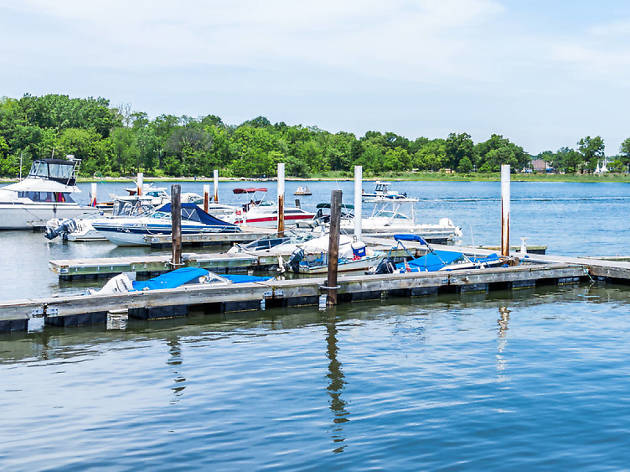 Photograph: Courtesy Shutterstock
The Bronx also offers an easy breezy day trip the whole family will enjoy. City Island, located just off the Bronx, offers up seaside adventures like boat rentals, fishing, the City Island Nautical Museum and so much seafood. Grab a bench at Johnny's Reef Restaurant and chow down on shrimp, steamed fish, crab legs and clams. The quaint island is a part of the Bronx, but it'll feel like you've been picked up and dropped off by a New England harbor. To get there, catch the 6 Tain to Pelham Bay Park Station and the Bx29 bus into City Island. A free bus that picks passengers up at the subway station runs on the first Friday evening of the month from 5:30pm to 9:30pm with a stop at the Bartow-Pell Mansion Museum before crossing over the City Island Road bridge.
This sweet carousel in Riverbank State Park features 36 fanciful creatures imagined by kids. Artist Milo Mottola used children's drawings as inspiration for the rides, including misshapen birds, horses, fish and weird monsters. This is totally a kid's carousel—and one that spins around with beautiful views of the Hudson River in the background. Riverside Dr at 145th St (212-694-3600, parks.ny.gov). Memorial Day through Labor Day, Wed and Thur 11am–3pm, Fri 12pm–5pm, Sat 11:30am–5:30pm, Sun 12:30pm–5:30pm, holidays 12:30pm–5:30pm; $1.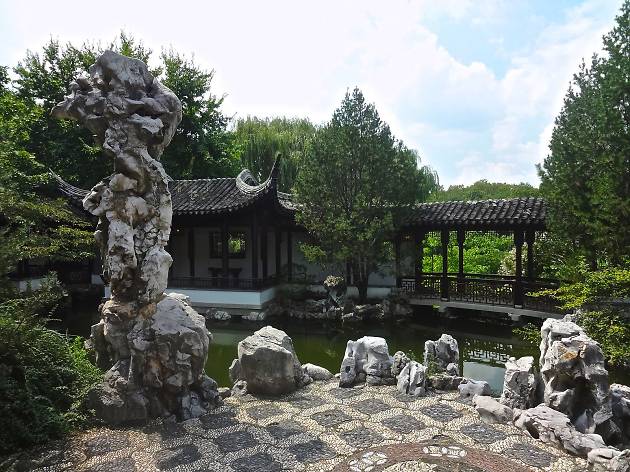 Photograph: Courtesy Wikimedia Commons
Snug Harbor Cultural Center & Botanical Garden
If you need another reason to catch a ferry ride into Staten Island—beside the free boat ride and glance at the Statue of Liberty—hop off and visit this peaceful botanical garden. Retired sailors made this area their home in the 19th century and old Victorian and Greek Revival homes can still be found here. The New York Chinese Scholar's Garden features rock formations made to resemble mountains that inspired Confucian, Buddhist, Taoist monks, poets and artists. Families can roam through a bamboo forest, chase waterfalls and count the Koi that fill the pond. The historic pocket also contains the Staten Island Children's Museum and Staten Island Children's Theatre Association so there's plenty to keep the little ones entertained. 1000 Richmond Terrace (718-425-3504, snug-harbor.org); various prices.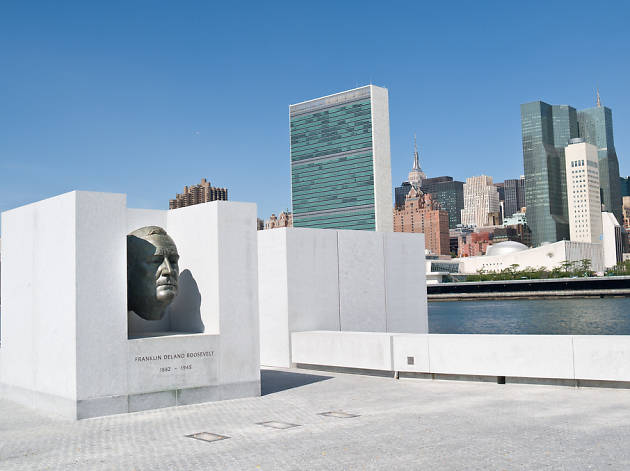 Photograph: Courtesy Flickr/Phil Roeder
Franklin D. Roosevelt Four Freedoms Park
The memorial to the country's 32nd president is a great reason for the family to make its way over to Roosevelt Island. There, you'll find wide open pavilions, steps for people watching and views of the Manhattan skyline. Bring a kite to fly on the lawns or participate in free family-friendly activities on the weekends. Imagination Playground features oversized blue building blocks for all ages to play with and the Uni Project provides a pop-up reading room with books and art supplies. Plus, kids will get a kick out of traveling into the island via tram! Grab a table and snacks from the Katchkie food truck, which serves food and drinks Saturdays and Sundays 12pm–4pm from April 22 to September 24. 1 FDR Four Freedoms Park (212-204-8831, fdrfourfreedomspark.org). Wed–Mon 9am–7pm; free.