Petting zoos in New York City
Take your animal lovers to family-friendly petting zoos, including the Central Park Zoo and more animal farms near NYC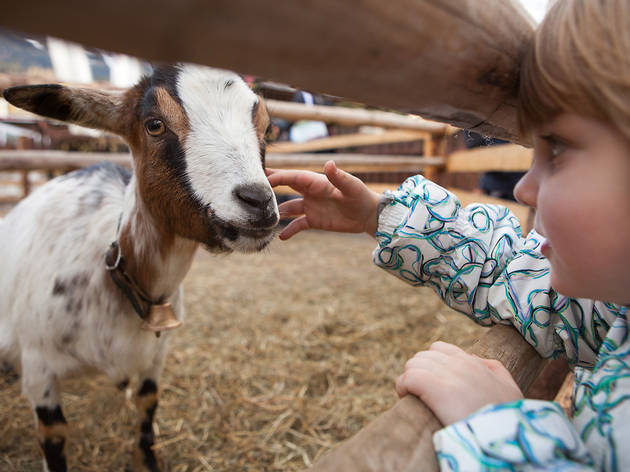 Run-ins with squirrels and pigeons are one thing, but many city kids don't often get the opportunity to meet farm animals in person. Luckily, several local zoos—like the Bronx Zoo and Central Park Zoo—have petting zoos so kids can pet and feed critters like goats, pigs and ducks.
RECOMMENDED: Full guide to outdoor activities for kids in NYC

If you're on the hunt for even more animal and nature-focused activities for kids beyond petting zoos in NYC, consider visits to our favorite kids' gardening spots, local parks for kids (including the audubon centers) and certain picks on our list of family attractions.
Petting zoos near NYC
Attractions, Zoo and aquariums
Meet a two-toed sloth, giant anteaters, prarie dogs and mini nubian goats when you visit the Bronx Children's Zoo, the most hands-on adventure at the attraction. Junior explorers are invited to learn about animal habitats and behaviors through sensory experiences. They'll burrow through a prairie dog town, zoom down a tree slide and feed friendly goats, sheep and llamas.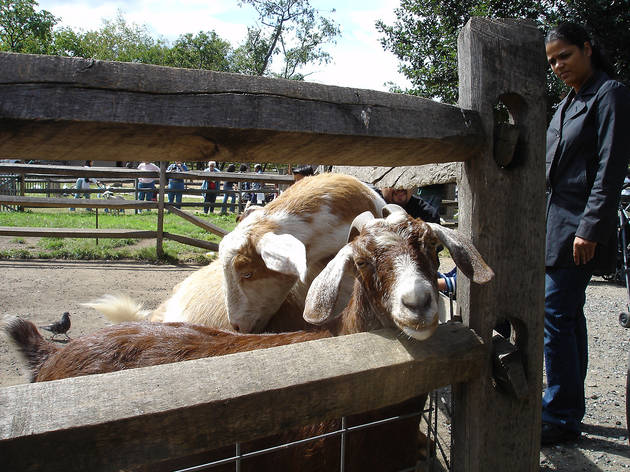 Photograph: Courtesy Creative Commons/Flickr/cuttlefish
Queens County Farm Museum
The oldest continually farmed land in NYC, this 47-acre attraction offers a petting zoo where kids can meet steers, alpacas, sheep, pigs, hens, goats and honeybees. In addition to visiting animals, youngsters can enjoy other seasonal events: In the summer, attend an old-school county fair and when fall rolls around, pick your own pumpkins, test your navigation skills in the corn maze and get the chills at the farm's Halloween haunted house.
Things to do, Play spaces
Instead of jungle gyms and storytimes, this indoor family space's defining feature is its live animals. During open play, your tot can mingle with birds, bunnies, turtles and hamsters, and participate in seasonally focused cooking classes, art activities and music workshops. The space also offers longterm classes and camps.
Attractions, Zoo and aquariums
One of five exhibits, the Barn & Garden invites animal-lovers to visit with alpacas, goats, sheep, pigs, chickens and other friendly beasts—they can even grab a handful of grain and feed them!
Attractions, Zoo and aquariums
Nestled within Manhattan's most magnificent park, this zoo houses more than 30 species, including a few that enjoy being petted. Little ones will love getting acquainted with potbellied pigs, sheep and goats. It also claims to have the only cow in Manhattan! The petting zoo/children's space gives kids room to crawl, jump and climb around, just like the creatures that call the zoo home. Sea lion and penguin feedings in other areas of the zoo are sure to draw shrieks of joy from the tots as well.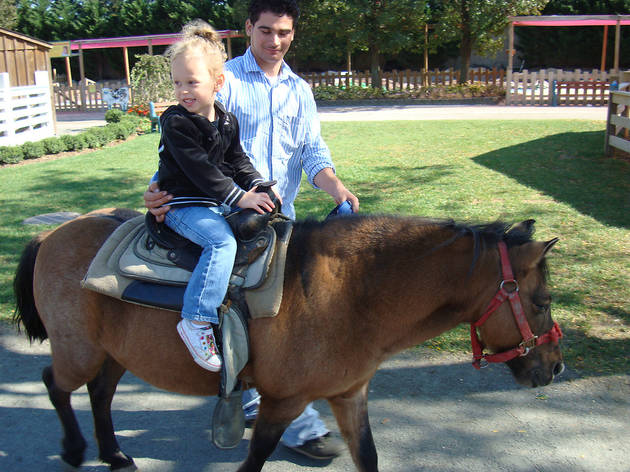 Photograph: Courtesy Creative Commons/Flickr/islespunkfan
This fifth-generation family farm has been in operation since 1886, drawing families to Long Island to meet all sorts of amazing creatures. Kids get the chance to hand feed the animals and even give them milk from a bottle. The most unique aspect of this farm is Ronnie's Bird Landing, a free-flight aviary where colorful parakeets flit by, waiting to be fed birdseed sticks. Included with admission are animatronics shows like The Animal Band Jamboree, plus wet and dry bouncers in the summertime. Families can also romp around on playgrounds and in a massive sandbox, ride ponies (an added fee) and hop on the Farmland Express and Mining Adventure activities. 250 Old Country Rd, Melville, NY (631-351-9373, whitepostfarms.com).
Attractions, Zoo and aquariums
Meet wildlife found right in the Americas, including amazingly soft Flemish giant rabbits, belted Galloway cows, four-horned sheep and Texas longhorns—both sporting impressive sets of horns on their heads. Beofre you leave, make sure to check out the zoo's aviary—a geodesic dome originally designed for the 1964 World's Fair that visitors can duck in to see some feathered friends.
More to explore