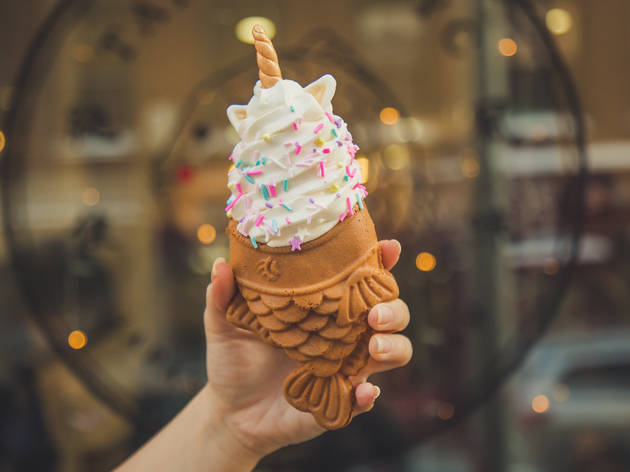 The best soft serve ice cream for kids in NYC
Soft serve ice cream is a taste of summer that's a treat all year long. We round up the best in New York City!
If you want to reward the kids, use a little soft power: Make a trip to one of the best soft serve ice cream spots in NYC when they're on their best behavior. Along with the best ice cream shops and the best milkshakes in NYC, soft serve is a warm-weather treat you can enjoy any time of the year.
Still, soft serve ice cream is exactly what you want when the mercury rises. Our list will guide you to the best in town on one of those sweltering summer days when you spend some time splashing around one of the city's best water playgrounds for kids or beaches for kids.
Soft Serve Ice Cream
Dominique Ansel's second location doesn't have Cronuts (boo!), but there is soft serve ice cream, and it's some of the best in the city. The towering watermelon soft serve peeking out from a real slice of watermelon has become an iconic image of summer. But don't spit out the seeds: They're high-quality handmade chocolate—the dessert hidden within the dessert!
Ube, also known as purple yam, has a sweet, custardy flavor, and it's the basis of many East Asian desserts. Soft Swerve uses fresh purple yam to concoct a velvety ice cream that tastes a bit like white chocolate and looks like something out of science fiction. See what other unique flavors the shop has available for hungry visitors.
Ice cream and fish might not sound like a palatable pair, but it sure works for this ice cream shop that started in Little Italy and now has locations in Chinatown, Williamsburg and Flushing. Taiyaki's distinctive fish-shaped waffle cones (taiyaki translates to "fried fish") are filled with delicious ice cream. Try flavors like black sesame or matcha on top of red bean custard filling and underneath toppings like sprinkles, crushed Oreos and wafers.
There are so many tasty treats to be found at the Mister Dips airstream in Vale Park, the public green space up on the William Vale's roof in Williamsburg. Go ahead and get your burgers and waffle, but be sure to save room for a round of Dairy Dips, the signature soft-serve compositions. Might we suggest the Barry Gibbs, a sweet-cream soft serve with a strawberry shell and wafer crumbles? (Psst: Be on the lookout for a Manhattan location coming soon!)
Believe the hype: Ice cream truckers Doug Quint and Bryan Petroff have transformed what was once a scrappy enterprise into a mini-empire with five NYC locations. Soft serve concoctions such as the Salty Pimp, a vanilla ice cream dip cone with dulce de leche and a sprinkle of sea salt, is worth the wait—and wait you will.
You know it's summer when Mah-Ze-Dahr rolls out the soft-serve. You could argue that pastry chef Umber Ahmad perfected soft serve recipe—toppings like candied hazelnuts or rainbow sprinkles just adds to the yum.
The soft serve flavors at Made Nice change with the seasons, but Milk & Honey is always on the menu. The milk-based soft serve has a light, clean flavor that's brightened with honey brittle, shortbread, meringue, sea salt and buckwheat honey. It's complex—and super yummy!
In case you didn't know, Milk & Cream Cereal Bar has soft serve. What sets it apart? The cereal that's mixed right into the ice cream! Our advice? Ask for extra napkins.
This vegan soft serve spot uses frozen bananas as a base—not only is it healthier than traditional frozen custard, it has all the creamy texture you want from soft serve. Pick a flavor that's swirled in to order, and you'll have a tough time believing that it's just fruit. Consider it a guilt-free pleasure.
Christina Tosi's Milk Bar empire is built on cereal milk soft serve, and for good reason: It's delicious. Milk Bar now has locations all over the city, which means you're never more than a few minutes away from a perfect soft-serve treat.
If you haven't thought about fro-yo since the Pinkberry craze died down, this Park Slope outfit will get you back on the bandwagon in a hurry. Its superlative version starts with tangy house-made yogurt, produced on-site by combining antibiotic- and hormone-free local milk with a proprietary yogurt culture. It's sweetened and frozen to create three rotating soft-serve flavors; order them straight up or in delicious sundaes like the Key Lime Pie, which deploys tart lime custard and crumbled graham crackers.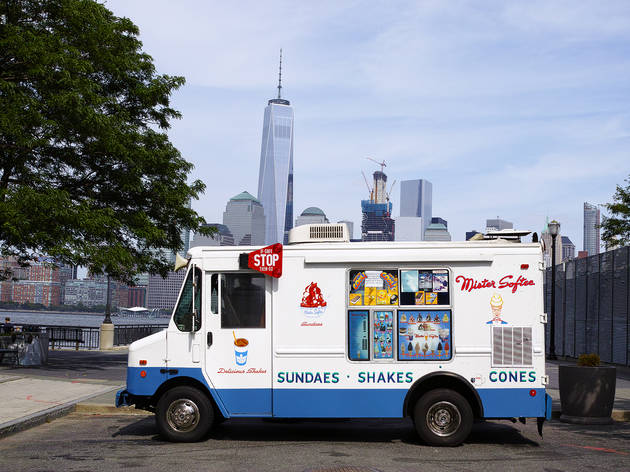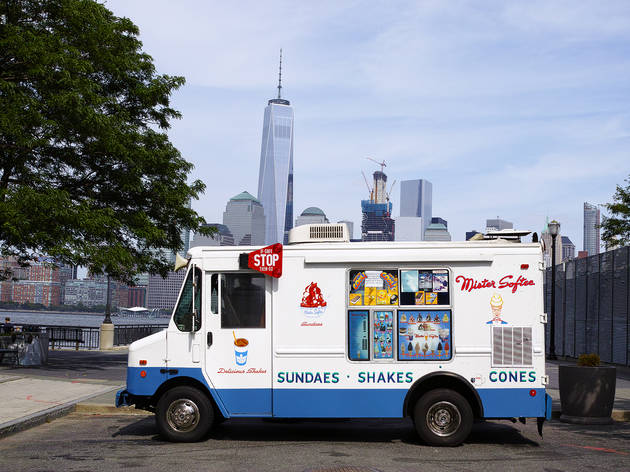 Photograph: Shutterstock
Doo-doo-doo-doo doo-doo doo-doo can only mean one thing: It's hot out, and a Mister Softee has strategically parked where you and the kids can't avoid it. If the Mister Softee jingle is the sound of summer, the dip cone is a taste of NYC.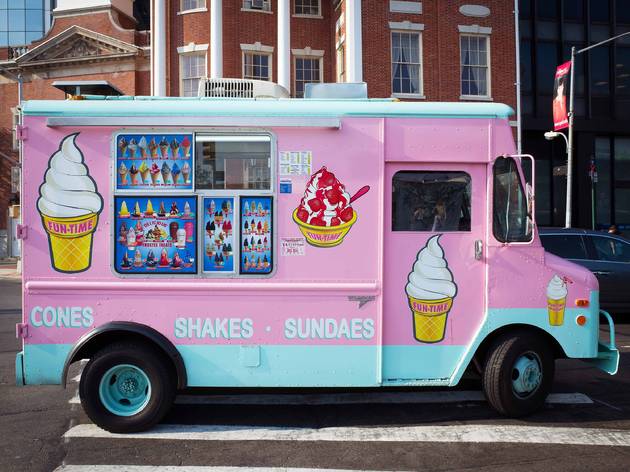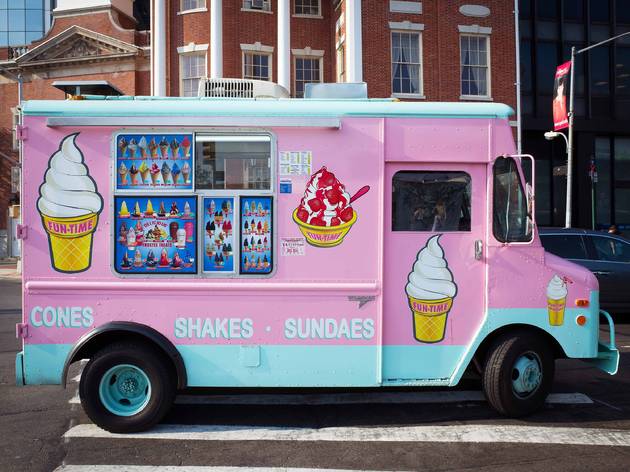 Photograph: Shutterstock
Yankees vs Mets, Central Park West vs Fifth Ave—add New York Ice Cream vs Mister Softee to the pantheon of NYC rivalries. For years, Mister Softee was the undisputed ice cream king of the city's streets, but upstart New York Ice Cream's purple-themed trucks are an increasingly common sight. Why the bad blood? Originally, New York Ice Cream was called Master Softee—probably just a coincidence.
At its first Manhattan outpost, the fast-food chain offers its trademark Dilly bars, GrillBurgers and justifably famous Blizzards, including an exclusive Big Apple version made with apple pie chunks.
This cafe close to the Empire State Building claims that a visit is like "hopping into a pastry fairy tale," and with flavors like matcha and taro, we're bound to agree.