Splash parks for kids in NYC
Visit the best splash parks around! Sprinklers, fountains and wading pools for the win!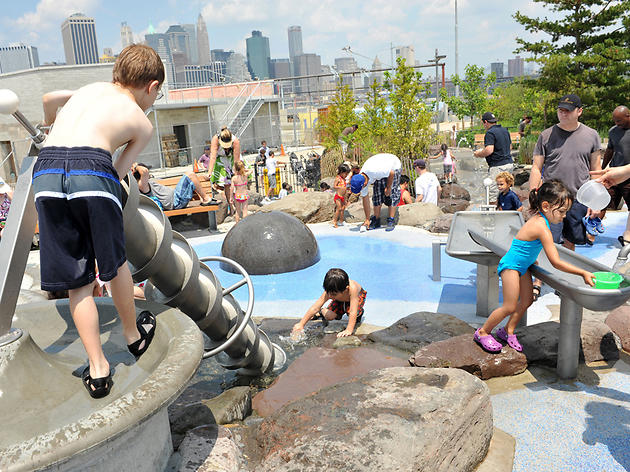 RECOMMENDED: Full guide to outdoor activities for kids in NYC
These splash parks are worth a visit ASAP! Posting up at NYC beaches and swimming pools for kids is a great way to spend summer days as a family, but sometimes you and the kids are looking for a quick and easy way to cool off. These low-key splash parks and water playgrounds let little ones romp through fountains and sprinklers without packing up the beach bag or waiting in line at a crowded pool. Like Prospect Park's Splash Pad, many of these H20-fueled spaces are located within some of the best NYC parks for families, meaning there's plenty of dry fun to be had once the kids have had their fill of water play.
Note: Make sure to bring your tot's swimsuit along—some playgrounds require kids to wear proper swimwear while splashing around. When you dry off, take a trip to some of our favorite playgrounds with famous artwork!
Splash parks and water playgrounds in NYC
Inspired by the Egyptian Wing of The Metropolitan Museum of Art, this lavishly redone playground just north of the great institution is also the perfect postmuseum destination. In a nod to the mighty Nile, a not-too-torrential blast of water pours down several steps onto a stretch of sand that represents the Delta. Other pharaonic flourishes include scalable pyramids and Cleopatra's Needle–style obelisks. Be sure to tote along sunglasses and sunscreen, as trees are in Sahara-like short supply.
Read more
This wonderland of water, sand and swings is epic. Kids will beeline it to the stone-strewn WaterLab play area to dance around in a field of water jets, so swimmies are a must. Once they've had their fill of getting sprayed and climbing the surrounding rocks, move on to the Tarzan ropes and swing sets to dry off. You're going to be here for hours, so slather on the sunscreen and bring plenty of water! We'd also highly recommend bringing water shoes for your child—the rocks can get very slippery. With killer views of downtown Manhattan, the Brooklyn Bridge and New York Harbor, this spot is hard to beat.
Read more
Kids have plenty of space to tire themselves out at Chelsea Waterside Playground, an outer space–themed area that matches the sleekness of the 'hood's taller riverside constructions. Bask under one of the grooviest water features in the city: Towering, turquoise-blue sculptures resembling exploding raindrops, which drench those passing underneath. There's also a wall of faucets for frontal soaking. While little ones frolic in the sand and water or climb on the Danish-built play equipment, parents can take a break under the space's giant shade umbrellas.
Read more
Discovery Playground, Fort Washington Park
At Discovery Playground (one of the quieter playgrounds in the city since it can be hard to access), your kiddos are sure to have a turn on whatever equipment they like. There are a lot of cool nature-inspired pieces, like a zip line, balance beams and a treehouse! There's also an obstacle course made of leaves, logs and mushrooms. Last but not least, there's a water fountain feature and a nearby sand pit. Be prepared to use porta potties—no permanent public bathrooms are close enough to handle a kiddie emergency. Near 165th St in Fort Washington Park along the Hudson; Enter at 181 or 158th and walk to 165th.
This 57-acre park boasts amazing views of the East River, as well as an amphitheater, playgrounds, gardens, sports fields and walking and bike paths throughout. For a spot to cool off with the kids, head to Delancy St and FDR Drive near the Williamsburg Bridge to track down a cluster of spray showers. Little ones will love climbing on and running between the cute, bronze harbor seals as water shoots up from various ground fountains.
Read more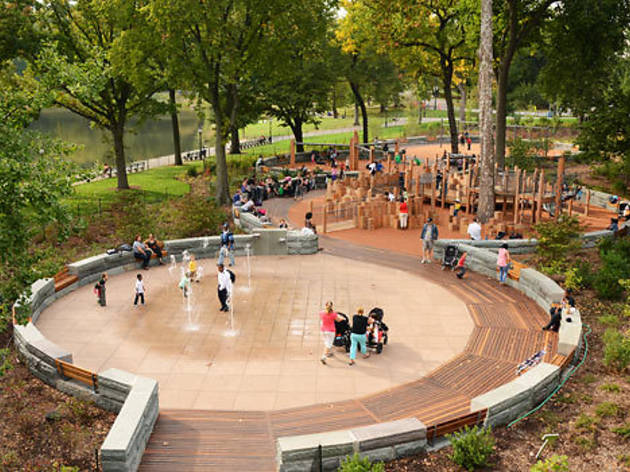 East 110th St Playground
Find this epic kids' playspace near the north shore of the Harlem Meer! It's Central Park's northernmost playground (and it's highly-attended for a reason—it has an awesome location). Back in 2013, the playground was totally revamped, and it now offers a circular splash pad with water spouts and an adjacent circle with cool climbing structures complete with bridges and tunnels. There's also a good amount of wooden bench seating so Mom and Dad can hang out comfortably, too. Grab poles at the nearby Meer for catch-and-release fishing if you're feeling ambitious! East 110th St at Lenox Ave.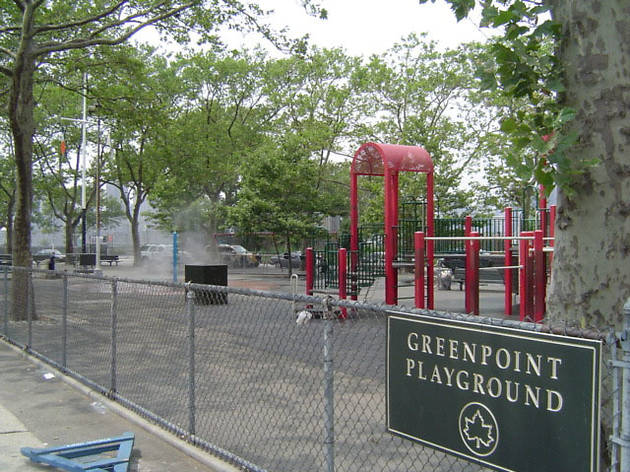 Greenpoint Playground
Though this playscape doesn't necessarily look too impressive from the outside, it's certainly worth popping over for a refreshing moment under the spray shower. There's also a red and green climbing structure, a swingset and plenty of bench seating. Franklin St. between Commercial and Dupont Sts.
This massive compound has had a home in the southwestern corner of Central Park since 1927, providing a fun-filled pit stop for families on summer days. Tots can scale a climbing pyramid surrounded by bridges, moats and tunnels. Equip the kids with grippy, water-resistant footwear—as they work their way to the pyramid's peak, they'll slosh through a steady stream and won't be able to resist stomping on the fountains that spray up from its base.
Read more
The dazzling makeover of Tribeca's pier, a stone's throw from Battery Park City to the south, is a dream for sporty types of all ages. Fountains with a mind of their own—and others that are user-activated—make cooling off fun for all. Youngsters can romp around in the sandbox, stand under an elevated water wheel and dry off on the swing sets. Just outside the playground you'll also find a skate park that's perfect for tweens, a mini golf course, and a field for kicking around a soccer ball or just having a picnic.
Read more
Nestled along the Hudson in an unassuming corner of the Meatpacking District sits this marine-themed playground, providing interactive play for landlubbers and water babies alike. Challenging climbing equipment, including monkey bars, a jungle gym and a spiral ramp leading up to a lofty pirate's lookout, gets them moving, while kid-activated water fixtures that spray cool streams from the ground and dump buckets from above keep them comfortable in the heat.
Read more
Show more
More fun things to do with kids