The best basketball camps for kids in NYC
These basketball camps for NYC kiddos will have them passing, dribbling and shooting like the pros in the NBA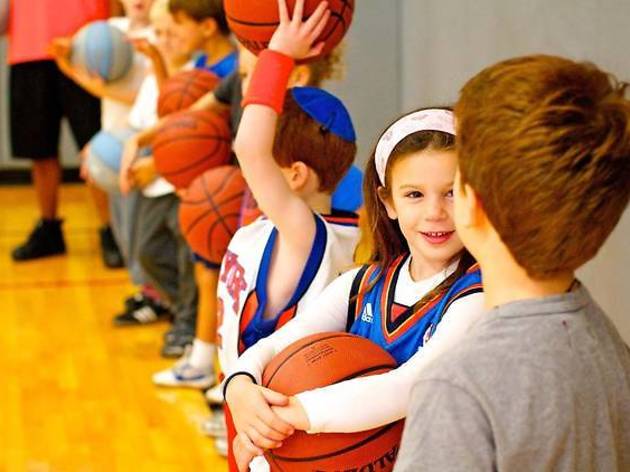 Summer is the perfect opportunity for children to enjoy their favorite activities and perfect their skills. These basketball camps will be the first stop on their path toward NBA stardom. They'll be able to shoot hoops, meet friends and make great memories along the way thanks to these basketball camps for kids in NYC. Game on!
RECOMMENDED: Full guide to summer camps in NYC
Sports are one of the many activities for kids this summer. Check out these performing arts camps, science camps and sleepaway camps—all great choices for summer fun in 2018.
Best basketball camps for kids
This summer basketball camp lets kids free throw their way to fame. Campers will sharpen their skills through a structured learning experience that focuses on teamwork and personal development. Young b-ballers will learn how to master offense, defense, shooting and game fundamentals while working with current and former Knicks players and coaches. Ages 6–16.   
Read more
Future pros will practice their moves in a state-of-the-art courts. Current and former professional basketball players, as well as high school and college coaches, take campers under their wing and help them improve their skills. Upon arrival each day, attendees warm up with drills, play full-court league games and compete in friendly contests. Ages 7–17.
Read more
Youngsters with hoop dreams brush up on their moves with full-court games and skill-building sessions. Along the way, kids also participate in traditional camp pastimes such as arts and crafts, field trips and swims at the nearby YMCA. Ages 7–12.
Read more
With two huge locations—the original five-and-a-half-acre Upper East Side campus and the 52,000-plus-square- foot Battery Park City location— active children can look forward to a summer filled with every sport under the sun at Asphalt Green. Plus there are event ways to show off their creative sides
with circus arts, theater, music, yoga, creative writing and arts
and crafts. Kids who think of themselves as more shark than human will be in an aquatic paradise, as each day includes two swim sessions, one with instruction and another for free-swimming. Young'uns also show off their camp spirit during special events like talent shows, crazy hat day and color war, while older campers can sign up for field trips such as seeing the Mets play at Citi Field. Ages 4.5–13. 
Read more
Players can perfect all aspects of their game thanks to this awesome camp. Kids will focus on conditioning, agility and various other techniques with other campers their age. Thanks to a personalized attention, participants will also get to work on shooting, passing and sportsmanship. Ages 12–17.
Read more
This competitive basketball camp helps players of all levels perfect their moves thanks to stellar coaching, discussions about health and nutrition and of course, practice. Your kids will be on their way to scoring a spot on the school team thanks to direction from TJ Jones. Ages 8–17. 
Read more
Little ones will join NYC's premiere basketball coaches as they perfect their skills, improve their game and learn to make friends along the way. What makes the experience all the more exciting is the chance to meet a few NBA players. Your kids will jump at the opportunity to learn from their favorite athletes. Ages 5–17. 
Read more
Find more fun outdoor activities for kids
There are plenty of outdoor activities for kids in New York City—many you'll even love doing as a family! Explore the coolest skating rinks, parks, family attractions, and campgrounds in cooler weather, and check out our favorite NYC beaches, swimming pools and berry-picking hotspots when it's toasty.
Read more