Kids pick the Prez
By Christy Purington Fri Oct 17 2008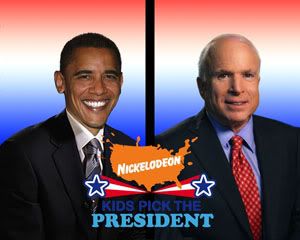 With the Presidential election weeks away, the city is buzzing with opinions on who will call the White House home come January. It's not just the over-18 crowd -- kids are making their voices heard as well. Since 1988, Nickelodeon has been encouraging children to get engaged through its Kids Pick the President campaign, and this year's turnout has been greater than ever.
This weekend, the underage set can head to nick.com to submit ballots in support of McCain or Obama. The results will be revealed on Monday, October 20. Before casting a vote, children can watch videos of the candidates fielding questions from youngsters across the nation, read about election coverage, and see what other kids are saying on the message boards.
Parents, take heed of who your pint-size citizen picks. U.S. kids have correctly predicted the President in four of the last five elections!
Pick the Prez now!
Share your thoughts