Not so brainy
By Time Out Kids staff Tue Aug 7 2007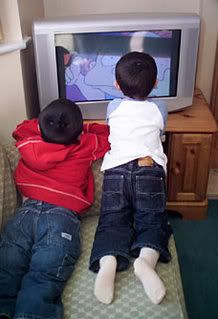 In case
Brainy Baby
DVDs and other prematurely marketed educational gadgets give you the creeps, you can now breathe a sigh of relief. In fact, you may now freely roll your eyes at mommies whose most cherished souvenir is a baby-sized Harvard-sweatshirt and who regularly plant their toddlers in front of a
Baby Einstein
video. Looks like rebelliously no-fuss parents can now have the last laugh.
A recent study
at the University of Washington has revealed that eight-to 16-year-old infants who have watched
Brainy Baby
or
Baby Einstein
series know six to eight fewer words than other children. Designed to engage a baby's attention, the videos tell their stories through vivid, colorful images. Dialogue is kept to a minimum. The tapes might increase a child's curiosity, but, according to the researchers, watching
American Idol
would be more beneficial. Simply enough, this iconic series is likely to evoke commentary from a child's parents and thus benefit cross-generational communication. Your best bet, however, is to not introduce your children to TV until age two, the American Academy of Pediatrics recommends.
Share your thoughts