A cool whirlpool is making a splash in Brooklyn
Artist Anish Kapoor has created a mesmerizing water feature for his public art project at Brooklyn Bridge Park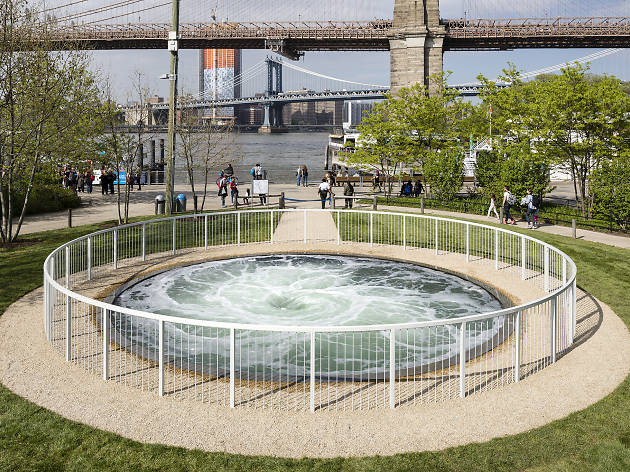 Don't say Anish Kapoor doesn't have a sense of humor about his work. The famed British sculptor describes his brand-new public-art project for Brooklyn Bridge Park as a piece "made of water, descending into the earth, called Descension." He adds, "You could jump in it if you like."
Actually, Kapoor would rather you not take a dip in his work—or throw anything into it, for that matter. "That would be a bore," he drolly notes when pressed on the possibility of someone doing just that. But his playful attitude speaks to a sense of self-assurance that can come only from being atop the art world for nearly 40 years. And Descension, his ominous black whirlpool, is just the latest example of Kapoor's sustained ability for wowing viewers with perceptual sleights of hand that appear to give immaterial phenomena the weight of substance—to make, as he puts it, "an object out of something that isn't one."
The 63-year-old is most famous for his outdoor projects such as his silvery, reflective Cloud Gate (a.k.a. "the Bean") in Chicago and the twisty roller-coaster–like ArcelorMittal Orbit tower he created with structural engineer Cecil Balmond for London's Queen Elizabeth Olympic Park. In all of these endeavors and others, Kapoor aims not just to create something to look at but also to transform the experience itself into something sculptural.
Photograph: Courtesy Ela Bialkowska
But he's attracted his share of controversy, too. A previous iteration of Descension was mounted in a 2015 exhibition in the Gardens of Versailles in France, and included in the same show was another Kapoor work, Dirty Corner, which somehow whipped up a shit storm of reactionary blowback while attracting vandalism like a magnet. Resembling the bell of a trumpet, Dirty Corner was nicknamed "the Queen's Vagina" by the French press. The work was bombed repeatedly with graffiti including anti-Semitic slurs (Kapoor's mother is Jewish). After a third incident of such vandalism, the sculptor refused to clean off the offending scrawls. "I thought I had the right to say, 'Let's leave it there,' " he says. Astonishingly, he was taken to court by a right-wing French politician for fomenting anti-Semitic sentiment—and lost the case. "I thought it was kind of wonderful, a sort of mad and wild justice," he says, laughing.
It's hard to imagine Descension causing a similar ruckus. As Kapoor sees it, whatever reaction his work garners is entirely the viewer's doing. "I'm interested in the work as a notion of who we are, why we are, what we do, but I'm not trying to say anything, certainly not politically." On the other hand, he jokes, "maybe there's something we could do with President Trump there." Inviting him to jump in, we guess.
See the show
The renowned British sculptor creates an ink-colored water feature for Brooklyn Bridge Park that's dramatically set against the Manhattan skyline: a furious whirlpool filled with water that's been dyed to suggest a black hole as it churns around a void in the center of the piece.
Read more
Looking for more great art in NYC?
Check out our suggestions for the best art exhibitions you don't want to miss, including gallery openings and more
Read more