The best happy hours in NYC
Discover the absolutely best happy hours in NYC, which boast great vibes and plenty of bang for your buck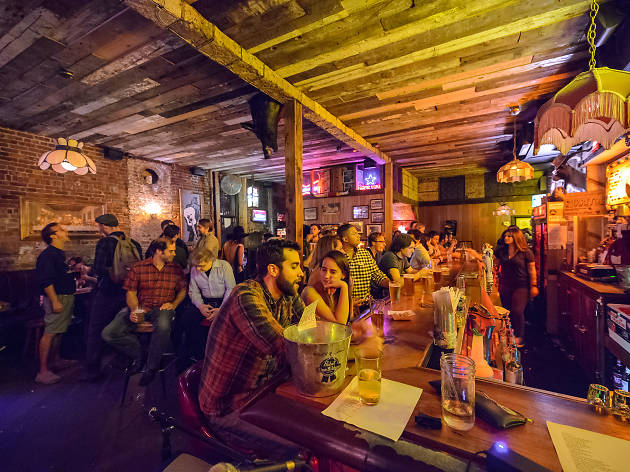 If there's anything New Yorkers like better than eating and drinking, it's doing so on a dime. Just look at our deep affection for boozy bottomless brunch, hole-in-the-wall dive bars and cheap eats for delicious proof. Here, we've collected the best happy hours NYC has to offer, a crop of top-rate bars offering deals for after-work crowds and beyond.
RECOMMENDED: Full guide to the best bars in NYC
Missing Time Out magazine?
You can still read our latest issue from the comfort of your couch
Read online
The best of the city under one roof
The best new happy hour in Dumbo is at Time Out Market New York, and it lasts all winter long. From January 6 through the end of March, you can stop by either floor of the waterfront dining destination to take advantage of some seriously solid deals on cocktails, beer and wine from any of the market's three world-class bars. From 5pm–8pm every single day, you can buy drinks starting at just $5. Because why should weekdays have all the fun? Beers available for $5 during the three-hour promotion include Modelo Especial as well as local brews Brooklyn Lager and Bronx No Resolutions IPA. A wide range of wines will be available for $7 including reds (Roger Perrin Cotes Du Rhone, Felino Malbec), a sparkling (Alasia Moscato D'Asti), whites (Matua Auvignon Blanc, Cavaliere D'Oro Pinot Grigio) and a rosé (Chateau Leoube 'Love' Rosé). Go ahead, drink a glass of rosé in winter! Why not? No one's stopping you! To top it off, select cocktails will be a mere $8. Three of the market's signature cocktails will be available including the Gin & Cider (Brooklyn gin, ginger, apple cider and lemon), Sangria Spritz (Bertoux Brandy, mulling spice, red wine blend and club soda) and Southsider (Spring 44 vodka, aloe, mint and cucumber). Additionally, the limited-time-only seasonal "Snow White-tini" will be on the happy hour menu, as well. Looking for a super-extra way to unwind after work? Take your discounted drink out to the market's brand-new Rooftop Iglounge to sip your drink with a view.