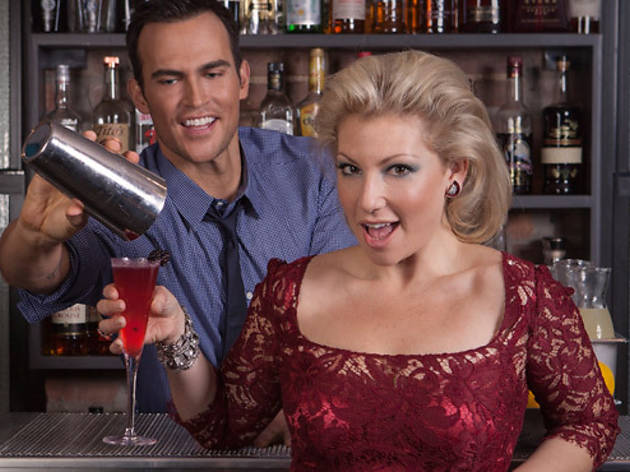 1/5
Photograph: Matt Hoyle
On Ari: Dolce & Gabbana dress; Jean Michel Cazabat shoes; Ben Amun rings, bracelets and earrings On Cheyenne: Theory shirt, tie, pants and belt; Generic Man shoes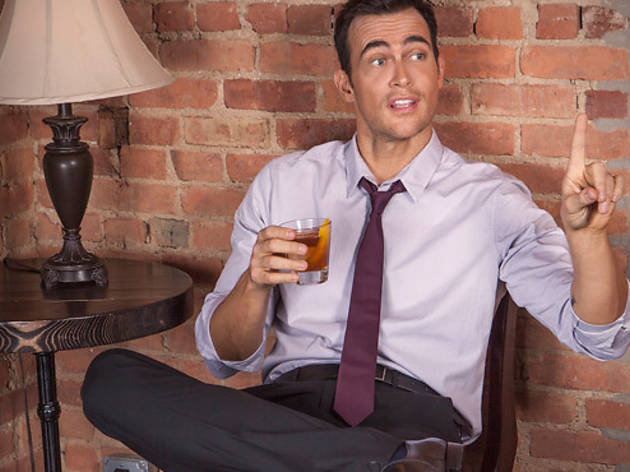 2/5
Photograph: Matt Hoyle
On Cheyenne: Theory shirt, tie, belt and pants; Generic Man shoes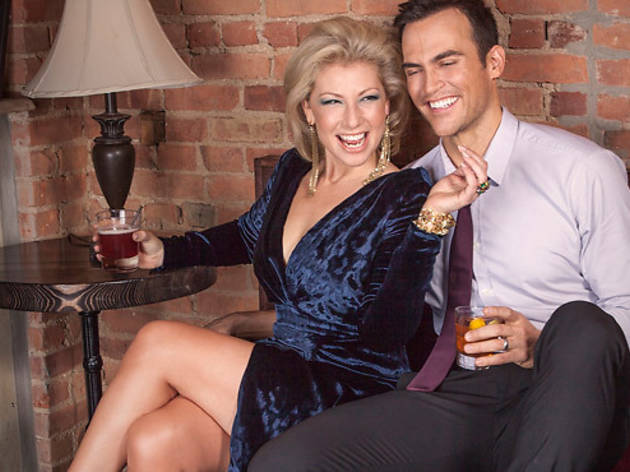 3/5
Photograph: Matt Hoyle
On Ari: Gucci dress; Rene Caovilla shoes; Paige Novick earrings; Jennifer Fisher cuffs; Natalie Frigo and Flutter by Jill Golden rings On Cheyenne: Theory shirt, tie, belt and pants; Generic Man shoes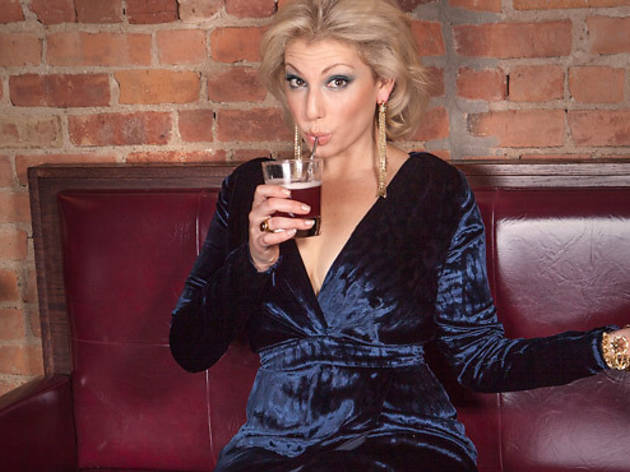 4/5
Photograph: Matt Hoyle
On Ari: Gucci dress; Rene Caovilla shoes; Paige Novick earrings; Jennifer Fisher cuffs; Natalie Frigo and Flutter by Jill Golden rings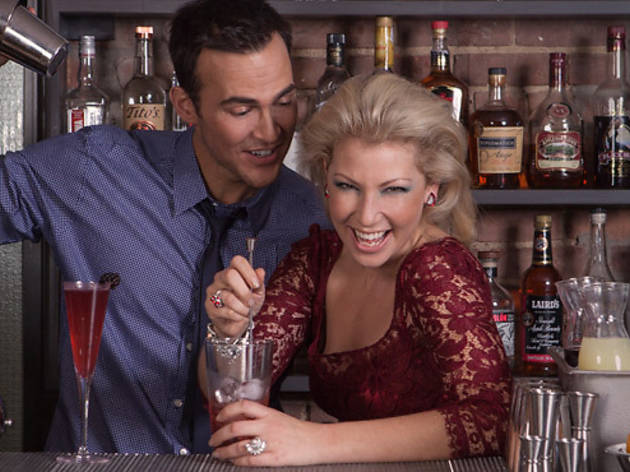 5/5
Photograph: Matt Hoyle
On Ari: Dolce & Gabbana dress; Jean Michel Cazabat shoes; Ben Amun rings, bracelets and earrings On Cheyenne: Theory shirt, tie, pants and belt; Generic Man shoes
Interview with Ari Graynor and Cheyenne Jackson of the Performers
The Performers promises to be one of the season's hottest shows. Get a sneak peek at the steamy comedy with two of its stars: Ari Graynor and Cheyenne Jackson.
Set against the backdrop of the adult-entertainment industry and starring a red-hot cast, rom-com The Performers has all the right components to be one of the sultriest plays on Broadway this winter. Two of its leads, Ari Graynor and Cheyenne Jackson, talked to us about their characters, shared their favorite New York bars and fantasized about their alter egos.
RECOMMENDED: New York bars and cocktails for winter
Time Out New York: You both play porn stars in the new Broadway comedy The Performers. What attracted each of you to the show and to your specific characters?
Ari Graynor: Peeps is probably my favorite character I've ever played. I've loved all my characters, but she is like one big open heart. She's so funny and so fully herself. She has no filter and is just all vulnerability and love, and I just thought the play was so funny and really honest in its ridiculous hilarity. Cheyenne and I did a couple readings together [about 15 months ago], and we also had such instant chemistry.
Cheyenne Jackson: I was going to say, was it love at first sight?
Ari Graynor: Yeah, it was.
Cheyenne Jackson: The thing that attracted me was the script. It was the funniest script, hands down, that I've read in two years. I wanted to do something new and challenge myself, and this is the boldest, most naked character, emotionally and physically, that I've ever played. Somehow, innately, I knew what [my character, Mandrew] sounded like, how he moved, I knew what his fears were, I just knew him for some reason. And Ari and then everybody else started coming in.
Time Out New York: How did you go about developing your characters? Since your characters are a couple, is that something you did together?
Cheyenne Jackson: Kind of a mix of both. I always start from scratch—you have to if you want to make a living, breathing person that seems like a real person. When something is drawn so broadly and could be cartoony, the most important thing is to make the stakes and their life decisions and their relationships real and as probable as possible. I interviewed a lot of adult performers and really wanted to see why [Mandrew] is the way he is. Ari and I talked about our relationship and why we are the way we are.… We're still discovering.
Ari Graynor: It's funny because we all sat around the table for the first couple of days as you do, and we would have these moments where we all got incredibly serious about the subtexts, about the relationships, about the mysteries, about the backstory—as you need to, no matter what the material—and there were moments where it's as if we're exploring Hamlet, but we're talking about the subtext to a line where somebody calls somebody else a taint-faced fuck or something, you know? [Laughs] The language can be different, but the emotional lives are the same no matter whether you're doing Shakespeare or Stoppard or something else.… The emotional life is all the same.
Time Out New York: What kind of research did you do for your roles?
Ari Graynor: For me, I was most concerned about understanding the inner life of this woman. To me it kind of had less to do with porn; it's not a documentary about porn, you know? I wanted to be true to the story that we were telling about her. Cheyenne Jackson: It's different for men than it is for women in the industry. If you're good at it, and women want to work with you, you can work until you're in your sixties. So it was important for me to understand why these guys got into it, how it affects their personal lives, what do their families think about it and their psyche. What causes someone to think, Oh, I'll do that!
Time Out New York: How did what you learned impact your portrayal of Mandrew?
Cheyenne Jackson: He is so passionate; he really thinks this is a true art form. He thinks he's, like, Steven Soderbergh. The stakes couldn't be higher for these people. It means everything. This is their one night to be special. They're stars, and they wear their hair up, and they wear a Badgley Mischka dress, and it's really important to them. There's a line in our show, I don't want to give it away, but somebody wins a category that's shocking to even say—but to her, it's like winning Best Supporting Actress at the Oscars.
Time Out New York: I have to ask—how skimpy do your costumes get?
Cheyenne Jackson: We've made a conscious decision to not talk about how naked I get, but suffice to say that the people who come to see that [aspect] will be satisfied. [Laughs]
Ari Graynor: That's so cheeky! What, are you going to screw the whole audience?
Cheyenne Jackson: No! But that's the million-dollar question, and I think it's important to have some kind of air of mystery about it.
Time Out New York: So what would be your real-life porn names?
Ari Graynor: It's your childhood pet and the street that you grew up on. So mine is Yaya Highledge.
Cheyenne Jackson: Nice. Mine is Conan Meadows.
Time Out New York: Do you have backstories for those names?
Cheyenne Jackson: I think he would be an ex-football player, not so bright. Before that he worked at a Dairy Queen, and somebody asked him to enter a hot-body competition, and he got a lot of attention. He thought, I can't play sports anymore so I'll dance, and that segued into porn.
Ari Graynor: Yaya Highledge grew up on the East Coast. She was an intellectual, and she got upset that there wasn't more accessible porn for women.…
Cheyenne Jackson: I love it; this is going completely the other way.
Ari Graynor: She entered the porn world as an entrepreneur and started a company that made porn for women, which is just really hot sex with good-looking people, nothing too outrageous. Then she created a magazine for it. She directs as well, but she was the first star of the company.
Time Out New York: So when you're not channeling your characters on the stage, where do you like to relax and grab a drink around town?
Ari Graynor: The Bowery Hotel is always a great place to meet people for drinks. It's so cozy in there, especially in the late fall and winter. I love the Kabin in the East Village. That's another sort of local, hidden spot where I always run into friends.
Cheyenne Jackson: I love the Standard Grill. We go there a lot.
Ari Graynor: Little Owl in the West Village is another great holiday spot. And Hudson Clearwater is a little speakeasy over there.
Cheyenne Jackson: [My husband and I] live in Midtown, which is now, like, gayer than Chelsea, so there's all kinds of fun little places like 44 ½ , which is nice because you can actually have a conversation. It's not so loud. There's also a new tequila place on Ninth called Añejo Tequileria. It's all kinds of tequila—coffee tequila, spicy tequila, stuff that you wouldn't normally think is good, but it's good! But after, like, the first one, or the second one, everything is good.
The Performers is playing at the Longacre Theatre, 220 W 48th St between Broadway and Eighth Ave (theperformersonbroadway.com). $34.50–$197. Opens Wednesday November 14, 2012.