Destination drinking: New bars in NYC this fall
Where you'll be drinking: New bars in NYC—including a German brewery, haute-cocktail dens and a champagne lounge—will open in Gotham this fall.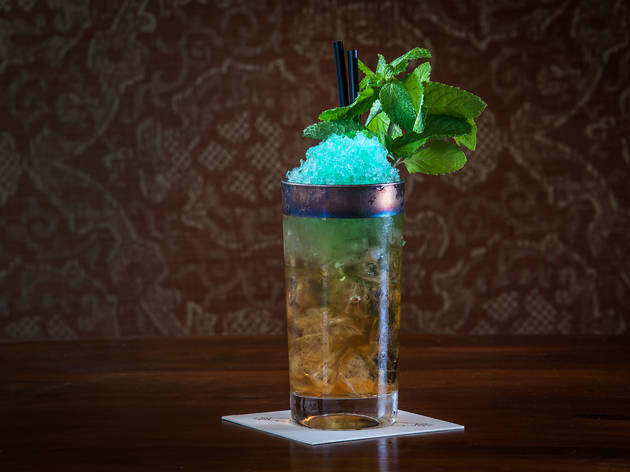 1/4
Photograph: Paul Wagtouicz
Hobo Julep at Tooker Alley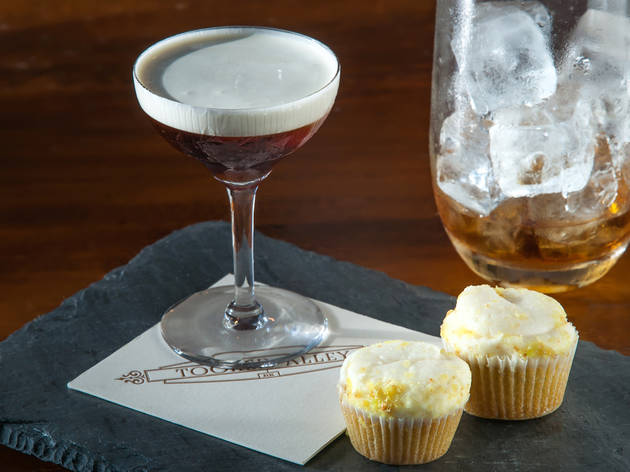 2/4
Photograph: Paul Wagtouicz
Chocolate Pisco at Tooker Alley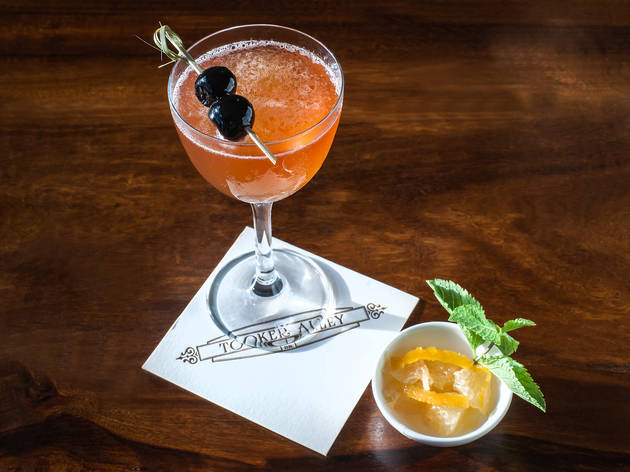 3/4
Photograph: Paul Wagtouicz
The Cherry Orchard at Tooker Alley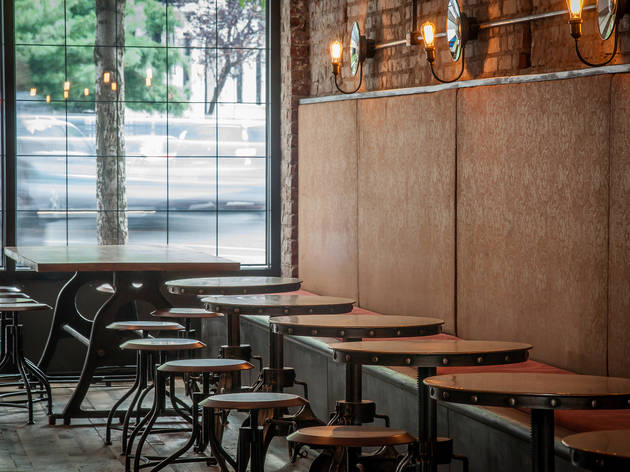 4/4
Photograph: Paul Wagtouicz
Tooker Alley
Gotham has always been a great drinking town, with new bars in NYC bringing craft beers, small-production wines and artisanal cocktails to the city's boozing masses. This fall, a set of new bars in NYC will offer drinkers fresh choices, from a pedigreed cocktail den in Prospect Heights to a 30-barrel brewery in Queens.
RECOMMENDED: Full list of NYC restaurants opening this fall
The Stand
Kick off your evening in the dining room of this bi-level restaurant and comedy club. Sons of Essex's Seth Levine will see to a menu of comfort-food spins, such as cheeseburger pot stickers or thin-crust pizzas topped with duck breast and goat cheese. After dinner, head downstairs to the club, where acts like Judah Friedlander and Artie Lang will supply the belly laughs—with the help of a cocktail menu designed by Minetta Tavern's Cameron Dale and Mark Noonan. 239 Third Ave between 19th and 20th Sts (212-677-2600). Early September.
Terroir Park Slope
Riesling evangelist Paul Grieco and chef Marco Canora will plant a flag in Park Slope with the first Brooklyn outpost of their expanding wine-bar empire. 284 Fifth Ave at 1st St, Park Slope, Brooklyn (no phone yet). Early September.
Tooker Alley
In September, the South Brooklyn bar scene will get a pedigreed boost: Bartending vet Del Pedro (Pegu Club) will unveil this ode to the Dil Pickle Club—an early-20th-century bohemian haunt in Chicago—in Prospect Heights. The barkeep will offer both beer-and-shot combos and cocktail-geek fodder. Look for a "History of the Martini Cocktail" menu that traces the evolution of the classic, drink by drink. Plus themed nights celebrating booze and cultural overlaps, such as "Slowing Sazeracs" Tuesdays with New Orleans tipples and jazz. 793 Washington Ave between Lincoln and St. Johns Pls, Prospect Heights, Brooklyn (347-955-4743). Early September.
Paulaner NYC Bräuhaus and Restaurant
Large wooden communal tables, iron light fixtures and exposed copper brew kettles set the tone at this 4,000-square-foot Bowery beer hall. Try a pint of one of the suds freshly brewed on the premises, like the malty Paulaner Oktoberfest and citrusy Hefe-Weizen. 265 Bowery between E Houston and Stanton Sts (no phone yet). Mid-September.

Atera bar (name TBD)
Chef Matthew Lightner netted critical acclaim earlier this year with Tribeca's Atera, where he combined forest-foraged produce with modernist cooking techniques. Now he's adding an underground cocktail lounge to the mix. The bar, located beneath the restaurant, will offer inventive bar snacks like foie gras "peanuts" (foie gras and peanut butter molded into peanut shapes) and sunchoke skins. The drinks will share Atera's molecular approach, and the bar's decor mirrors the restaurant as well: Bare gray concrete walls set off the herringbone-patterned walnut floors. 77 Worth St between Broadway and Church St (212-226-1444). Late September.
Center Bar
Order a glass of bubbly from an extensive champagne list and nibble on roasted prawns and oysters while savoring the Central Park views at Center Bar, the new Time Warner Center project from Michael Lomonaco (Porter House New York). Time Warner Center, 10 Columbus Circle at Broadway, fourth floor (212-823-9500). Mid-October.

The Third Man
In October, Austrian toques Eduard Frauneder and Wolfgang Ban—the Michelin-starred duo behind Seäsonal and Edi & the Wolf—will turn their attention to cocktails at this early-20th-century-Vienna–themed bar. The drinks will sport arty Viennese monikers, like the Secession (gin, watermelon juice, kosher salt, thyme) and Art Nouveau (muddled nectarines, vodka, St.-Germain, lime, brown sugar), while the venue's name recalls the 1949 film noir set in Vienna. 116 Ave C at 8th St (no phone yet). Mid-October.
SingleCut Beersmiths
New York beerhounds can explore more hyperlocal suds when this 30-barrel brewery debuts in Queens. Founder Rich Buceta—who earned his stripes at Greenpoint Beer Works—is behind the 5,000-square-foot space. Forthcoming beers from the Astorian ale house include Half Stack IPA, a Pacific Northwest–inspired Mahogany Ale, as well as two lagers, one of which is the flagship brew: a pilsner named 19-33. Try them in the attached tasting room during special events. 19-33 37th St between 19th and 20th Aves, Astoria, Queens (no phone yet). Late October.
The Wick
Vets of the Knitting Factory will open their second gargantuan space in East Williamsburg. Like its twin venue, the Well, located next door, the 9,000-square-foot spot will house a performance stage and a bar extensively stocked with craft beer. The 100-seat drinkery will also serve pub grub, including Schaller & Weber sausages, hot dogs, Sigmund's Pretzels and Belgian fries. 260 Meserole St between Bushwick Pl and Waterbury St, Williamsbur, Brooklyn (347-799-1049). Late October.
Name TBD
This monster, 20,000-square-foot space, from the nightlife pros behind Catch and Abe & Arthur's, comprises a lounge, nightclub and Southeast Asian restaurant with bites created by Top Chef season three champ Hung Huynh. Sample pepper-steak sticky buns and chili-chicken-stuffed eggplant in the ground floor dining room, before descending into the lamp-lit lounge below. 199 Bowery at Spring St (no phone yet). Early November.

You might also like
50 best New York bars
Wine special 2011: The best bars, shops, sommeliers and more
NYC's best beer
41 best cocktails in NYC
See more in Food & Drink