Village Halloween Parade in NYC 2020 guide
Use our Village Halloween Parade NYC 2020 guide for everything you need to know about the spookiest procession in the city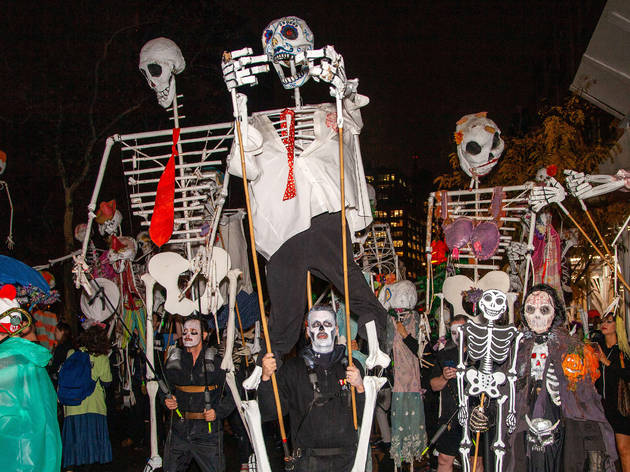 Update: The Village Halloween Parade is canceled.
The Village Halloween Parade—NYC's creative and spooky procession—is usually one of the best
Halloween events
in
Greenwich Village
. On a typical year, more than 50,000 zombies, ghouls, witches, monsters, robots, Jedis, giant puppets and more things that go bump in the night take to the streets for a night of costumed revelry. According to parade director Jeanne Fleming, Billy Porter would have been the grand marshal had the event happened this year. The theme was also set to be "Big Love." But, one silver-lining is that Fleming confirmed there will be a suprise on Halloween night and that it will be a "trick," though the team has yet to reveal the details.
When is the Village Halloween Parade in NYC?
The Village Halloween Parade is typically on Halloween, but this year it is canceled.
Where is the Village Halloween Parade in NYC?
The Halloween Parade usually runs up Sixth Ave from Spring St to 16th St in Manhattan. For more information visit halloween-nyc.com.
How do I march in the Village Halloween Parade in NYC?
It is usually free to march in the parade, but costumes are mandatory. The procession lines up at Sixth Ave and Canal St and rolls out from 6:30pm–8:30pm. North and west entrances to Sixth Ave will be blocked off by 6:30pm, folks can join the line from East Broome, Sullivan and Canal streets east of Sixth Ave. We recommend gathering your fellow creatures of the night a few blocks away rather than trying to find your group in the middle of the chaotic lineup.
If you want to march in the special theme section, not to mention skip the line, special tickets can be purchased for $25.
Where can I watch the Village Halloween Parade in NYC?
Spectators can get to Sixth Ave early and grab a lookout spot before the parade rolls out at 7pm. Sixth Ave becomes most congested with spectators between Bleeker and 14th Sts, so we suggest setting up camp at either the head (Spring to W Houston Sts) or tail (14th St to 16th St) of the parade.
Halloween Parade NYC 2018 content
Archive Halloween Parade in NYC content