The coolest Airbnb Brooklyn rentals you should check out
The best Airbnb Brooklyn homes you can rent if you're looking for a rad place to crash while saving on a ritzy NYC hotel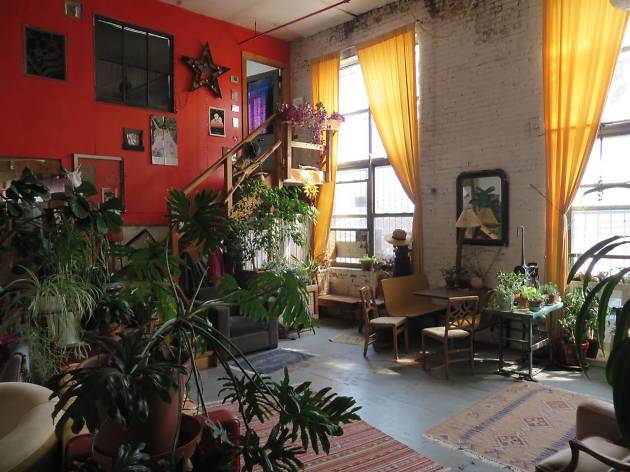 Our transition into the era of the gig economy is official—these days, Airbnb is as authentically New York as the most iconic hotels, and these Airbnb Brooklyn homes prove just that. Some may bemoan the 21st century changes, but for visitors looking to experience the city in a budget-friendly way, they're a godsend. Save a bit of cash by staying in Brooklyn: rent-able Airbnb homes on the other side of the East River are generally larger and just a hop-skip away from the best New York attractions. Looking for an awesome place to stay in NYC? Here are the best Airbnb Brooklyn homes you can rent, from chic studios to artist lofts.
RECOMMENDED: Full guide to the best hotels in NYC
Best Airbnb Brooklyn homes you can rent
1
Photograph: Airbnb
Tropical Getaway at The Funky Loft in Bushwick
Do highly Instagrammable palm print sheets and old-school rattan furniture speak to your aesthetic sensibilities? True to its name, this artist-owned loft—built not long ago in March 2017—offers a private tropical getaway in the heart of Bushwick, Brooklyn. The room features exposed brick walls, a sliding door for privacy, and a full-size memory foam mattress. Hosts Marcella and Antonio are on-site to assist with all your travel needs—and breakfast is included.
2
Photograph: Airbnb
Cozy Vintage Furniture Hangout with a Hammock in Williamsburg-Greenpoint
Housed in a renovated sweater factory and warehouse, this five-bedroom loft is decked out in handmade furniture created by the hosts as well as mid-century furniture and vintage goods. The guest bedroom offers loads of sun, houseplants and even a cozy little hammock. If you're interested in going out on the weekends, you're a quick walk from the farmers' market and a plethora of restaurants and bars. Want to stay in for a night? Your hosts have a lovely living room with a projector for a movie night in. Bonus: The hosts speak Mandarin Chinese and Spanish if you have any trouble with English.
3
Photograph: Airbnb
Williamsburg Oasis with a Palm Tree Patio
Williamsburg is one of NYC's most vibrant neighborhoods. Located three blocks from the Montrose Avenue subway, this loft offers a private floor to accommodate large groups of six or more. Tall ceilings keep the space bright and open, but guests also have access to a shared back patio with palm trees and a fire pit as well as a rooftop that's ideal for tanning. Other amenities include: ample storage for clothes and toiletries and a full-service kitchen with an espresso machine.
4
Photograph: Airbnb
Entire Floor of Colorful Loft in Downtown Dumbo
Home to design and music industry professionals, this 800-square-foot apartment naturally boasts decor that combines a love of pop culture and the avant-garde of fashion and art. Guests have private access to the entire loft, which is part of a two-story building touting two rooms separated by fiberglass partitions and fitted with organic bedding and hypoallergenic mattresses. Historical fun fact: The building was built in the late 1800s and was a operational firehouse in the 1930s.
5
Photograph: Airbnb
Creative Environment With Lots of Plants and Good People
Stay in this converted loft in Gowanus for a Brooklyn bohemian experience. Home to five or so writers, artists and musicians, this communal living space also touts a large number of cute houseplants and interesting furniture—all while remaining quiet and relaxing for guests. Visitors stay in a private bedroom with an unbeatable view of Brooklyn.
6
Photograph: Airbnb
Sunny Room a Hop-Skip Away from Manhattan
Need to get into Manhattan quickly? This fifth-floor industrial loft space sits just 15 minutes away from the island. Ideal for travelers, couples and business folks, this apartment boasts exposed brick, high ceilings and large windows overlooking the street. Guests stay in a bedroom with a large king-size bed but are welcome to hang out in the sun-drenched common area or use the kitchen.
7
Photograph: Airbnb
Sleek, Modern Loft in Williamsburg
If white walls and new stainless steel appliances are on your list of requisites, this affordable stay is for you. Set near the Montrose L train, the apartment is both a quick trip into Manhattan and a quick ride to JFK Airport. Guests have access to a private bedroom as well as four bathrooms, a kitchen and living room.
Looking for more places to stay in Brooklyn?
Eat, sleep and play at the best hotels in Brooklyn in New York's most charming and liveliest borough
More to explore