The coolest Airbnb Brooklyn rentals you should check out
Brooklyn's best Airbnb homes offer a little luxury without the high price tag you'd typically fork out for a fancy hotel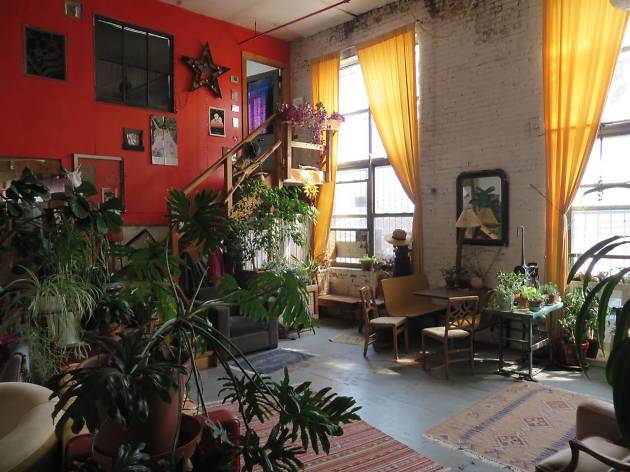 Our transition into the era of the gig economy is official. These days, Airbnb is as authentically New York as the most iconic hotels, and these Airbnb homes in Brooklyn prove just that. Some may bemoan the 21st century changes, but for visitors looking to experience the city in a budget-friendly way, they're a godsend. You'll also save a bit of cash by staying in Brooklyn, as Airbnb homes on the other side of the East River are generally larger and just a hop-skip away from the best New York attractions. So if you're looking for an awesome place to stay in NYC, start with our list of the coolest Airbnb stays in Brooklyn, from chic studios to artist lofts.
RECOMMENDED: Full guide to the best hotels in NYC
Best Airbnb Brooklyn homes you can rent
1
Photograph: Airbnb
Tropical Getaway at The Funky Loft in Bushwick
Do highly Instagrammable palm print sheets and old-school rattan furniture speak to your aesthetic sensibilities? True to its name, this artist-owned loft—built in March 2017—offers a private tropical getaway in the heart of Bushwick. The room features exposed brick walls, a sliding door for privacy and a full-size memory foam mattress. Hosts Marcella and Antonio are onsite to assist with all your travel needs. And the biggest bonus? Breakfast is included. Win.
This desirable little bolthole provides sweeping views of the boroughs, which is impressive in itself, but the windows also look out onto one of Brooklyn's oldest trees (according to the host anyhow). The studio is small (read: cute), but is decorated beautifully and the windows run almost orund the entire room. The parts you can't see out of, can be glimpsed from the sizeable roof terrace, which is accessible directly from the room. There's a separate bathroom, and a fridge, coffee machine, microwave and hairdryer are tucked away in the cupboard.
3
Airbnb
Country Style Living in the City
Straight out of a 19th-century novel, this picturesque private house offers one of its floors for visitors (the hosts stay on a separate floor and promise to never compromise your privacy). Here, hardwood floors meet a wooden-beamed staircase and clean walls. A stone's throw away from Williamsburg's bustling heart, as well as the ferry to Manhattan, it's a fantastic way to get a bit of city and country all in one.
4
Photograph: Airbnb
Cozy Vintage Furniture Hangout with a Hammock in Williamsburg-Greenpoint
Housed in a renovated former sweater factory, this five-bedroom loft is decked out in handmade furniture created by the hosts, as well as vogueish mid-century goods. The guest bedroom offers loads of sun, houseplants and even a cozy hammock. If you're interested in going out, you're a quick walk from the farmers' market and a plethora of restaurants and bars. Or if you fancy staying in for a night, your hosts have a lovely living room with a projector that's perfect for movie nights. Fun fact: the hosts also speak Mandarin Chinese and Spanish.
5
Trendy Williamsburg Apartment with Gym, Roof Terrace and Pool Table
If you're partial to a spot of sunbathing on kitted-out roof terrace, hanging out playing pool with your mates or working out in a private gym–and let's face it, who isn't!?–this Williamsburg retreat is for you. The penthouse apartment comes fully equipped with all the aforementioned and the two-bed you'd be staying in is finished to a high standard. Oh and did we mention there's an on-site pool, cinema, pool table, sauna and waterside views?
6
Photograph: Airbnb
Creative Environment With Lots of Plants and Good People
Stay in this converted loft in Gowanus for a Brooklyn bohemian experience. Home to five or so writers, artists and musicians, this communal living space also touts a large number of cute houseplants and interesting furniture—all while remaining quiet and relaxing. Visitors stay in a private bedroom with an unbeatable view of Brooklyn.
7
Photograph: Airbnb
Sunny Room a Hop-Skip Away from Manhattan
Need to get into Manhattan quickly? This fifth-floor industrial loft space sits just 15 minutes from the island by subway. Ideal for travelers, couples and business folks, this apartment boasts exposed brick, high ceilings and large windows overlooking the street. Guests stay in a bedroom with a large king-size bed, but are welcome to hang out in the sun-drenched common area or make use of the kitchen.
Looking for more places to stay in Brooklyn?
Eat, sleep and play at the best hotels in Brooklyn in New York's most charming and liveliest borough