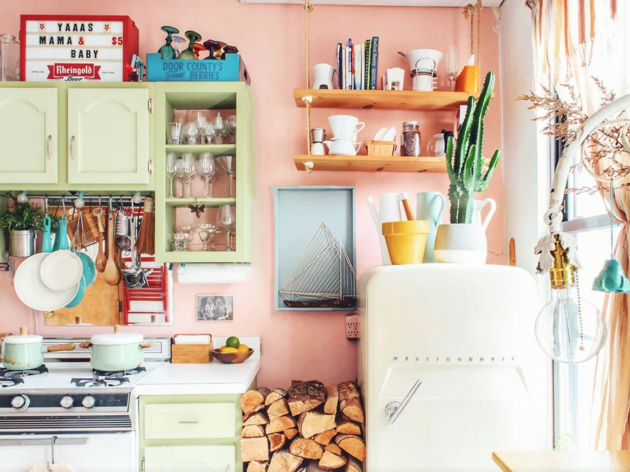 Six unique Airbnbs you can rent in NYC
From lofty apartments in the sky to house boats, these apartments offer luxurious living.
After being cooped up in our apartments for almost four months, New Yorkers are craving a change of scenery. And while we can't really travel that many places right now (since the EU has banned us), we're looking closer to home for possible getaways.
Airbnb is one option people are using to get out of their respective Groundhog Day-like situations. Staying in a new neighborhood can help cure that wanderlust for a bit and make you feel like a tourist in your own city.
RECOMMENDED: The best Airbnb New York City rentals
And while it's best to stay at home right now, Airbnb does has an optional protocol, including a 40-page manual on proper cleaning practices, that suggests keeping at least 24 hours between rentals, among other things. So if you're going to rent an Airbnb, make sure to find out how the host is sanitizing the space and if masks are required.
We also highly recommend booking an entire place, not a room, as the former will demand less human interaction. And bring your own cleaning supplies to do a quick clean after check in.
All that being said, there are some incredible lodging options across the city worth checking into, from a houseboat stay to one with full skyline views and a private, outdoor cinema experience. Below are some of our favorites.
Unique NYC Airbnbs
The host isn't lying when they say this apartment has an "amazing" backyard. With just a push, this 100-year-old townhome's kitchen and the outside deck can be connected for seamless flow between the two, which is perfect if you're grilling out in the private backyard. Located in Bushwick, the two-bedroom home was renovated to feel like a loft. There's a lot of light and space for those who need to stretch out a bit and relax in privacy. It's listed at $170 a night.
Missing your trip to Paris and feeling down about it? We'd venture to guess that staying in this East Village apartment might help a bit because it's decorated with beautiful paintings in every room. It was decorated and furnished to "represent the charming & historical lifestyle of European culture." The one-bedroom apartment can comfortably fit four and is currently listed for $82 per night.
Photograph: Courtesy Airbnb
Salt Shack: A beautiful houseboat in the Rockaways!
This is a rare gem in NYC. You can't get any closer to living on the water than by staying in this houseboat that sits in the Rockaways. Close to the ocean, it's perfect for "beach goers, artists, thinkers, writers, the solo traveler, couples, and anyone looking for a break from the grind!" It's designed like a beach cottage with a "clean modern aesthetic" and has a top deck with Adirondack chairs, where you can watch fish jump. The only catch? The boat has a composting toilet, so you'll want to take your business to the public restroom just a quick walk away. It's currently listed at $192 a night.
What if you had a roof terrace all to yourself? What if you could enjoy a movie under the stars from a rooftop bed? We're here to tell you—this is a possibility. This chic East Village apartment with exposed brick, white floorboard, leafy plants, a spiral staircase and an indoor mahogany rope swing, has that iconic NYC skyline view. And it can be all yours with no interruption. You can ask its host to prepare the "Rooftop Cinema Experience" for you by setting up a projector, a rooftop bed (with soft pillows, a warm white duvet, and 600 thread count organic cotton sheets) and provide you with wine and snacks (chocolate, popcorn, fruit, dips and crackers.) If you want to simply book the apartment, it's currently listed at $387 per night, not including any experiences.
A romantic cottage in Howard Beach awaits you. With a dining room by the water, surrounded by big windows and skylights, it'll feel like you're on a cruise, whether you're enjoying a cup of coffee or cooking dinner in the open kitchen. The host says you might be visited by some curious neighbors—ducks and swans. The sweet stay is currently listed for $239 a night.
Design-minded folks can enjoy a stay at this beautiful, bright and creatively designed loft that has been featured in Apartment Therapy. The hosts says it feels like a homey, tucked-away cabin. Aside from all the pretty furniture and eclectic decor, this little beauty has a pull-down projector screen that you can use to screen films. It seems like the sweetest place to stay when in Williamsburg. It's listed for $128 a night.