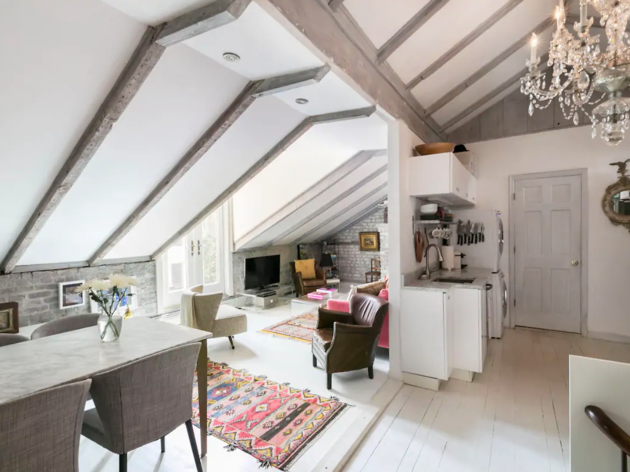 Nine unique Airbnbs you can rent in NYC
These super-cute houseboats, luxurious apartments and quirky cottages are perfect for an extraordinary New York City stay
Whether you're a New Yorker craving a change of scenery or planning a trip to NYC, we think it's high time that you tried something a bit different. Thankfully, Airbnb is packed with unique accommodation options, with hosts who are usually more than willing to offer suggestions on great things to do in the neighborhood. And in these uncertain times, Airbnb hosts have gone above and beyond with new cleaning protocols and safety precautions. Whether you want to live on a houseboat in Queens, or a treehouse in Brooklyn. There'll be something for you here.
RECOMMENDED: The best Airbnb New York City rentals
This article includes affiliate links. These links have no influence on our editorial content. For more information, click here.
Unique NYC Airbnbs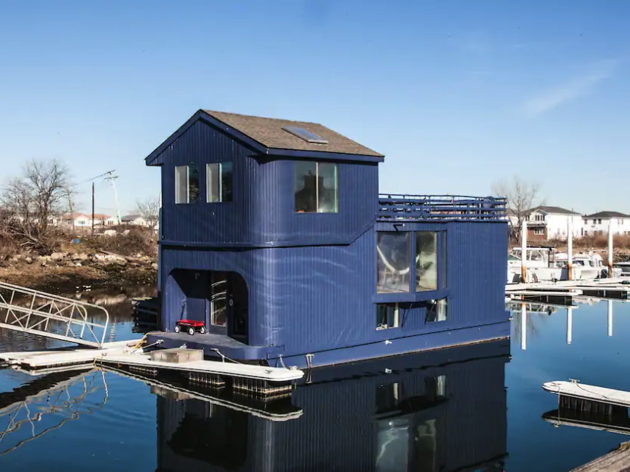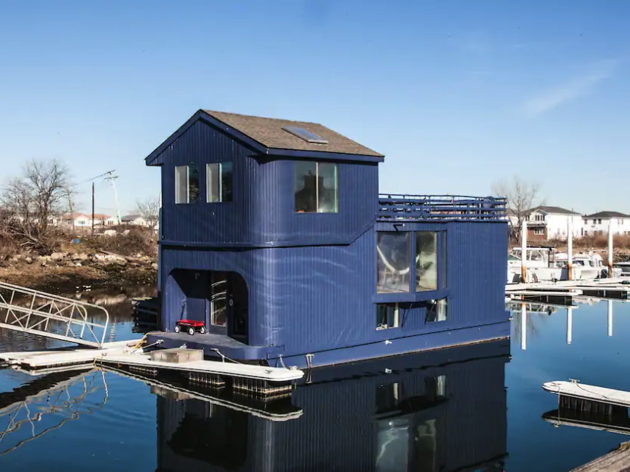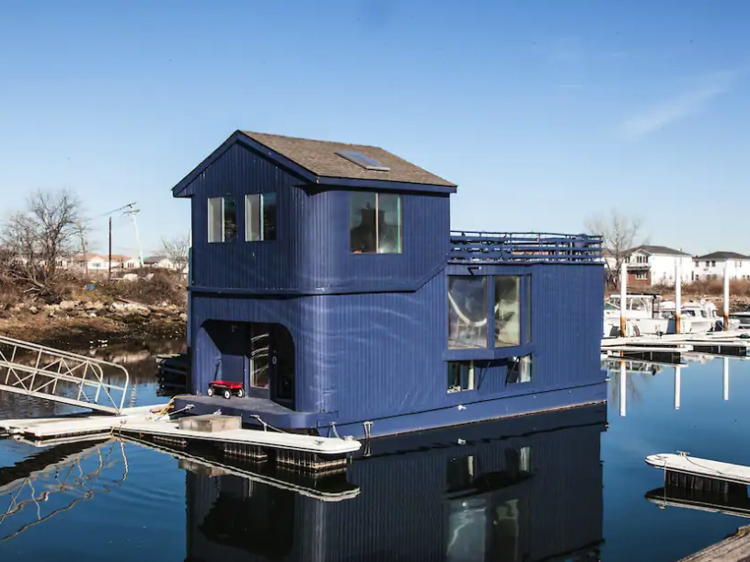 Photograph: Courtesy Airbnb
A beautifully restored houseboat in Queens
This unique houseboat, called Ziggy Stardust Surf House, has undoubtedly undergone a very loving restoration, because its interiors are quirky and fun. Located in the Jamaica Bay area of Rockaway Beach, the boat overlooks Marina 59 from the land and is close to the surf break. The host will gladly recommend local surf schools, making this a great summer break. Keep in mind there's no toilet on board, but the marina bathroom is located nearby. Inside, youhave a super photogenic and well designed space. There's also a hammock with huge sweeping views, which looks like an ideal place to spend time.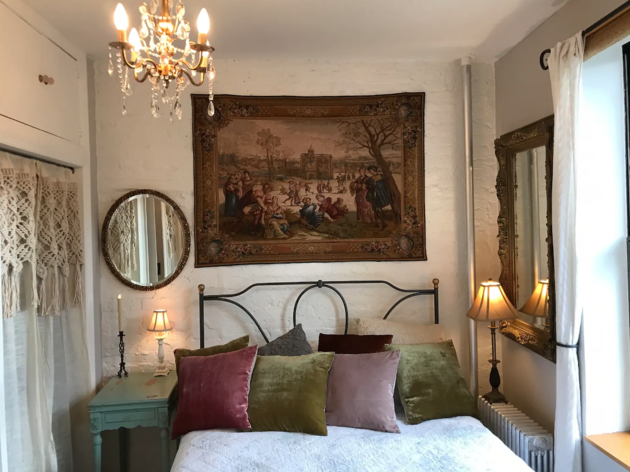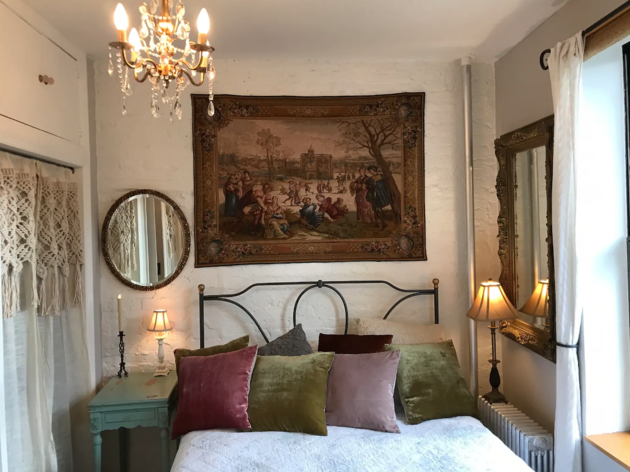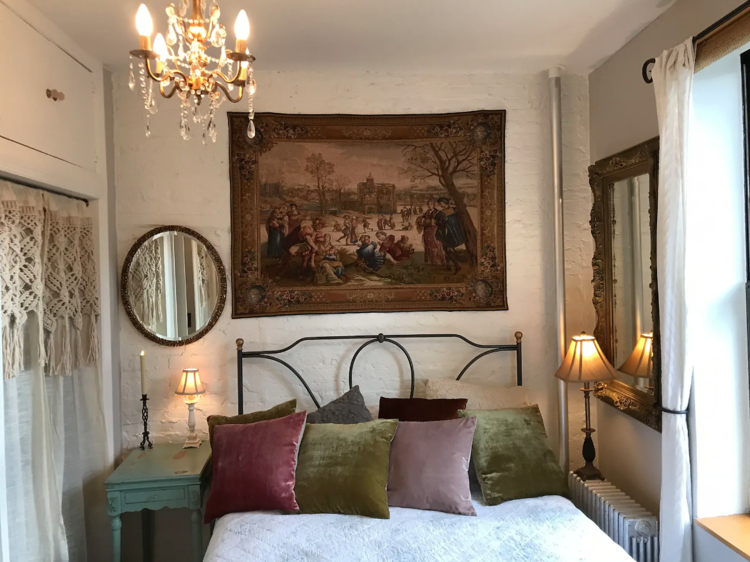 Photograph: Courtesy Airbnb
A European-style apartment in the East Village, Manhattan
Missing your trip to Paris and feeling down about it? We'd venture to guess that staying in this East Village home, aptly named the Louvre Apartment, might help a bit because it's decorated with beautiful paintings in every room. It was decorated and furnished to "represent the charming and historical lifestyle of European culture". The one-bedroom apartment can comfortably fit four, and it's south-facing so you'll have a load of natural light. It's also right in the heart of East Village, yet is nicely tucked away from all the noise of New York's city streets.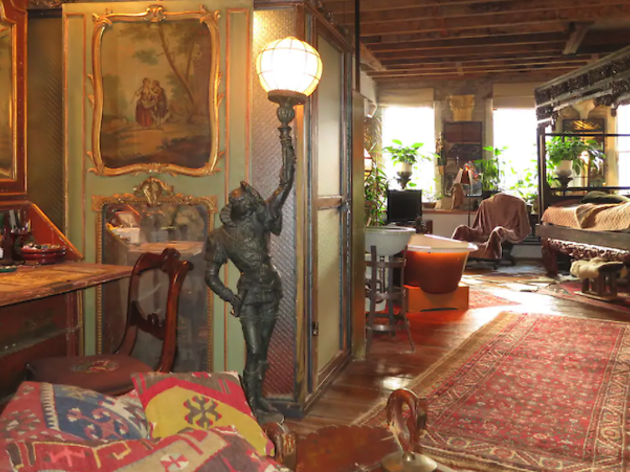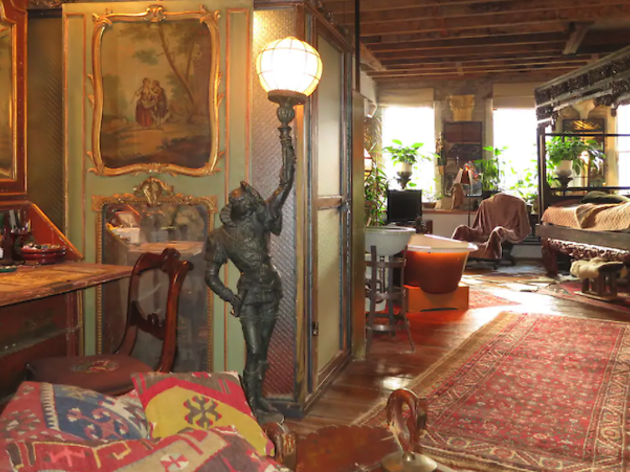 Photograph: Courtesy Airbnb
A sumptuously decorated apartment in Manhattan
If you've always dreamed of staying in a gorgeously decorated historic brownstone, then this one-bedroom apartment is the one for you. It has a private entrance and is one flight upstairs, and features some seriously luxurious interiors; we're talking an extra-deep claw foot tub, wood burning fireplace, antiques and a grand four-poster bed. The home has Wi-Fi, AC and heating, and is located a short walk to Gramercy Park. That's if you leave the space, it looks amazing. You have those metal steps creeping up the exterior like in the movies to sit on and drink coffee too. Bliss.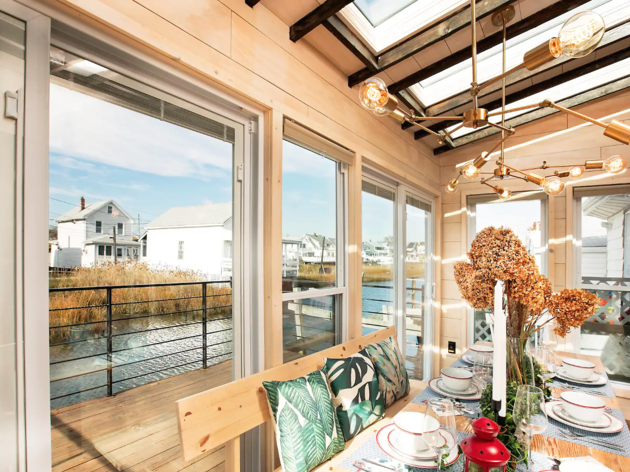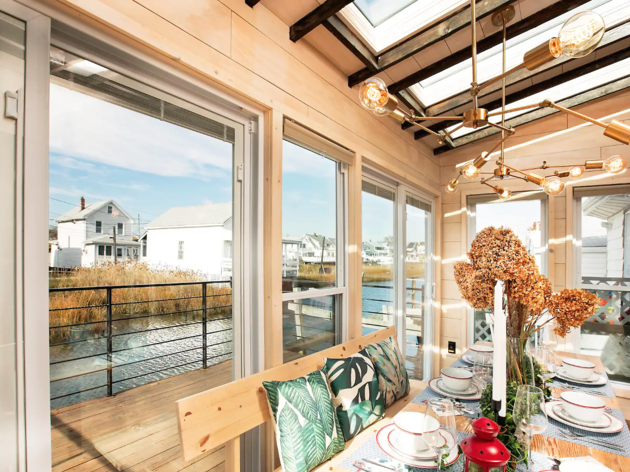 Photograph: Courtesy Airbnb
A cottage by the water in Queens
A romantic cottage in Howard Beach awaits you. With a dining room by the water, surrounded by big windows and skylights, it'll feel like you're on a cruise, whether you're enjoying a cup of coffee or cooking dinner in the open kitchen. The host says you might be visited by some curious neighbors – ducks and swans. This spot has been featured in the media for being beautiful, so you know you're in for a treat.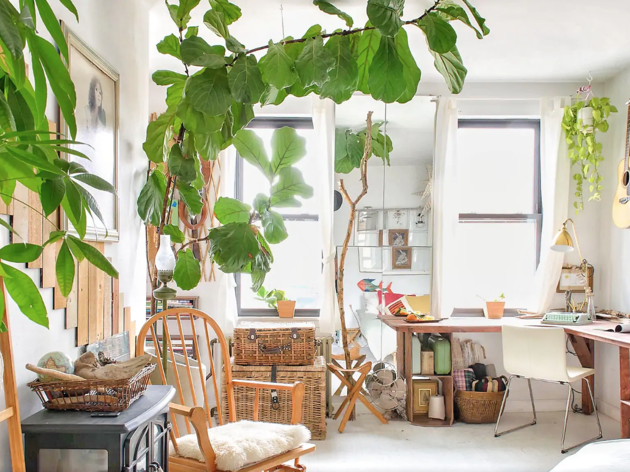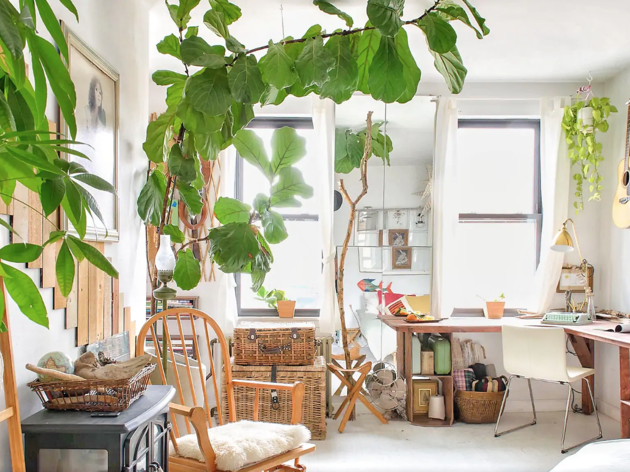 Photograph: Courtesy The Plum Guide / Airbnb
Design-minded folks can enjoy a stay at this beautiful, bright and creatively designed loft that has been featured in Apartment Therapy. The hosts says it feels like a homey, tucked-away cabin. Aside from all the pretty furniture and eclectic decor, this little beauty has a pull-down projector screen that you can use to screen films. It might well be the sweetest place to stay when in Williamsburg. It's quaint, small, and peaceful – the perfect retreat after exploring the city. New Yorkers love small spaces, anyway!
Photograph: Courtesy Airbnb
An RV next to Coney Island Lighthouse
If you didn't know you could rent an RV on Airbnb, you're not alone. This particular home on wheels is located in a gated community right next to a lighthouse and the beach. The cozy space has a dining room, bedroom, bathroom and kitchenette. It might not be extravagant, but when you want a quiet, clean stay with access to the beach, it's not a bad option and it is certainly unique. RV stands for Recreational Vehicle, making it a great place for a holiday. You'd be forgiven for thinking it meant real value too, as this place is a bargain.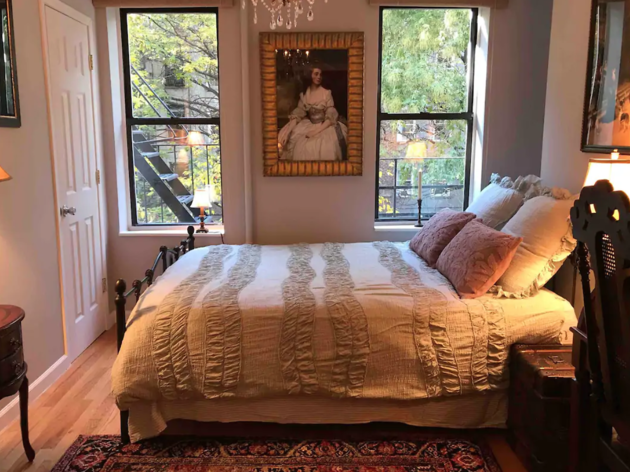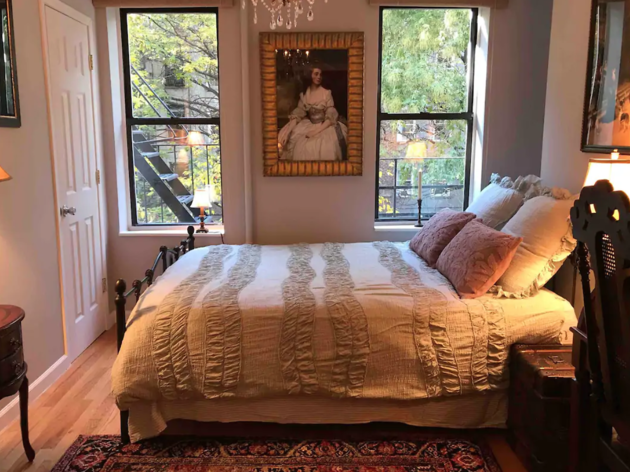 Photograph: Courtesy Airbnb
A small English manor nestled amongst the trees
The East Village has a secret "English manor" that is inspired by the luxury of Downton Abbey. It's a studio that overlooks a lush courtyard with both new furnishings and antiques from chandeliers to gorgeous portraits, as well as a queen-size bed and a queen-size sofa bed. You'll be transported while staying in the East Village.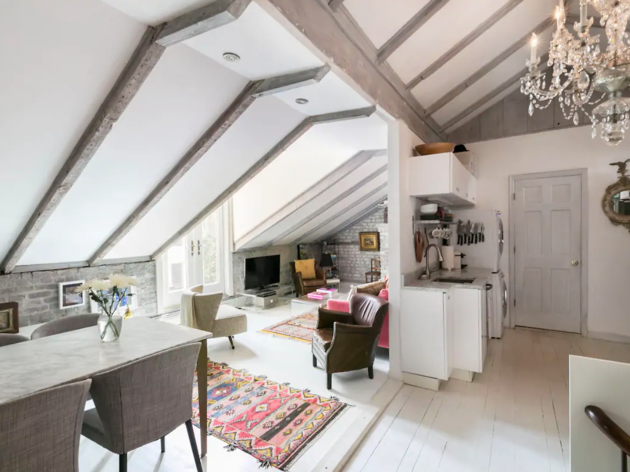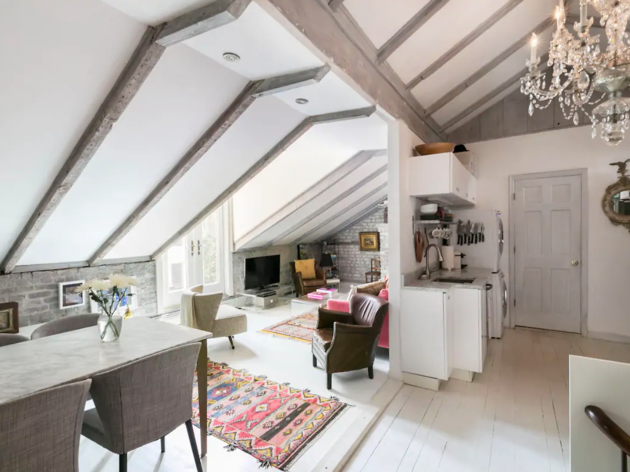 Photograph: Courtesy Airbnb
The top of a West Village townhouse
This stay is on the top floor of a historic landmarked townhouse, which means a ton of natural light, and is gorgeously decorated (there's Waterford Crystal chandelier) and has two fireplaces to warm up by. The host says it's fully stocked, so all you'll need is your toothbrush. The newly renovated kitchen has a dishwasher, washer, dryer, giant refrigerator and oven and it's stocked with a coffee machine, hot water heater, teas, and coffee.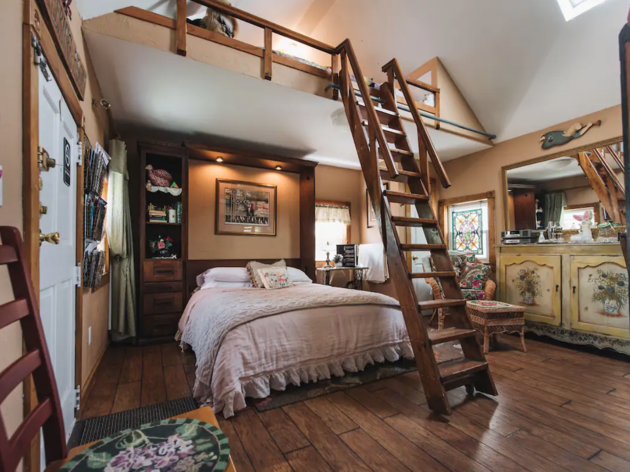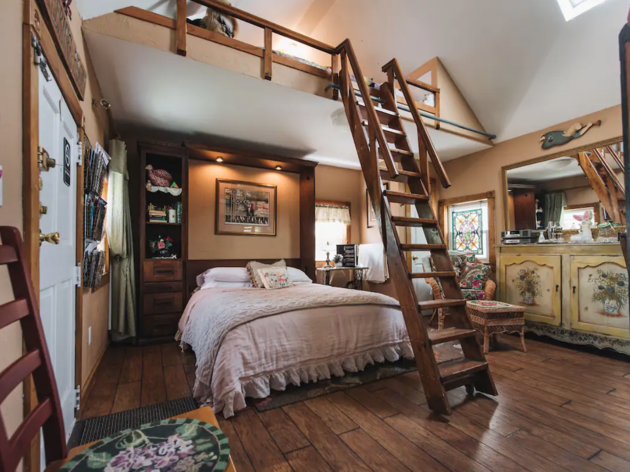 Photograph: Courtesy Airbnb
The Sweet Pea Cottage on Staten Island
It's not often you find a cottage in NYC. This little space has its own "mystical" garden with privacy for guests and a basket with continental breakfast provided daily for "a true bed and breakfast experience," the host says. It may be a quaint stay, but it has all the modern amenities, including wifi, access to streaming services, a fully-equipped kitchenette and more. There's a bedroom with a queen-size bed and a sleeping loft with its own queen, too. It's splendidly decorated, so it'll feel just like home.
Want more great Airbnbs?
Want to stay cozy as f*ck during your trip to New York? Rent one of these Airbnbs with fireplaces