The Sundance Film Festival guide
The unofficial start of the serious movie lover's calendar, Sundance is always reliable for hot indie debuts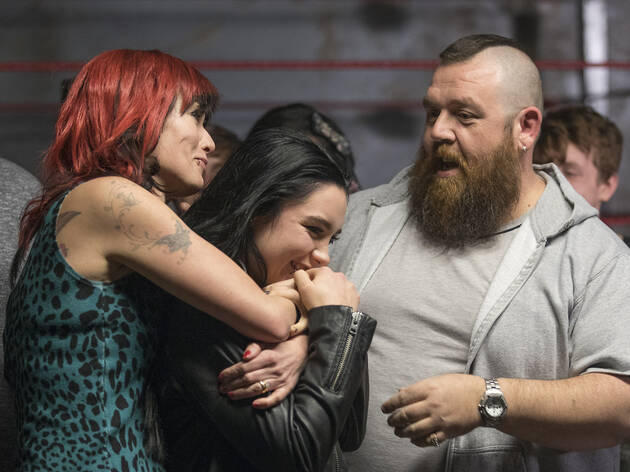 We won't lie: The Sundance Film Festival has been good to us. Very good. In 2014, it hosted the world premiere of Richard Linklater's mighty Boyhood. Then in 2015, it was Brooklyn and the revelatory Saoirse Ronan. Manchester by the Sea knocked us out in 2016. In 2017, Sundance delivered the euphoric Call Me by Your Name—and if that weren't enough, last year, we were traumatized by Ari Aster's game-changing Hereditary. The unifying thread? All five of those films ending up topping our respective lists for the best movies of the year. In short, we trust these curators. Time Out will be in Park City, reviewing all the buzziest titles and unexpected sensations. This page is where the reviews will be collected—bookmark it.
When is Sundance Film Festival?
The annual 10-day festival runs January 24–February 3, 2019.
Where is Sundance Film Festival?
The festival takes place in Park City, Utah.
How do I get tickets to Sundance Film Festival?
Buy tickets at the official festival website.
Sundance Film Festival 2019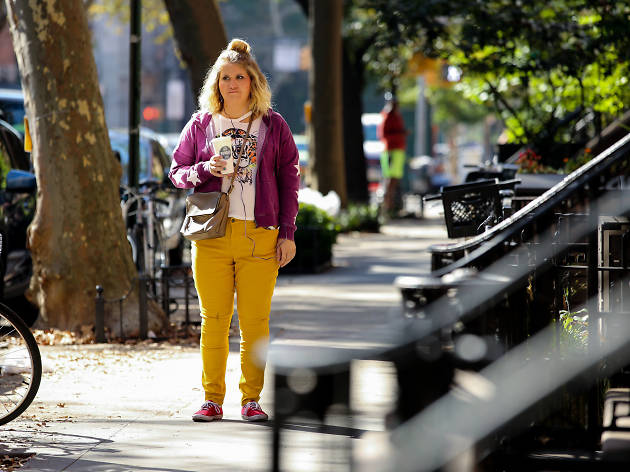 Brittany Runs a Marathon
In writer-director Paul Downs Colaizzo's winning debut Brittany Runs a Marathon, the hard-partying, happy-go-lucky title character seems to chuckle her way through anything. But as with many incessant jokesters, Brittany (Rough Night's quick-witted Jillian Bell), who is barely making rent with her Off-Broadway ushering job and living in the shadow of her casually insulting roommate, uses humor to conceal her demons. When she is forced to face her near-obesity and poor lifestyle choices during a doctor's visit, she manages only a half-hearted retort ("I feel like you completely missed the point of those Dove ads") before deciding to prioritize her health. An endearing and earnest comedy about self-acceptance and body positivity that sidesteps cheesy pitfalls, Brittany Runs a Marathon is based on the journey of a real-life friend of Colaizzo, whom Bell plays with a deft blend of sincerity and slapstick. Tired of being invisible and unable to afford a gym, Brittany decides to take it to the streets, running one city block at a time to build up her stamina. (The film is believable in its NYC-ness without trying too hard.) Along the way, she befriends Catherine (Michaela Watkins), a jogging obsessive, as well as fellow rookie Seth (Micah Stock), eventually persuading both to train with her for the annual 26-mile city marathon. Meanwhile, her new house-sitting gig introduces her to Kern (Utkarsh Ambudkar), a lovable troublemaker who convinces Brittany to move into the fancy digs t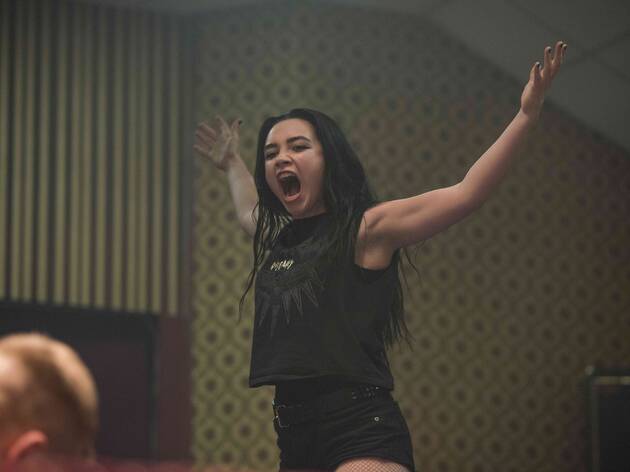 Fighting with My Family
Spoiler alert: You do know that pro wrestling is fake, right? Don't want to crush any dreams here. The boastful, performative nature of WWE, spiked with mini dramas and constant role-playing, becomes the lingua franca of an atypical household in Fighting with My Family, the sweetest of comedies despite a sizable number of body slams. Perhaps the Knights, a close-knit clan from working-class Norwich, England, are onto something: Dad and Mom—a perfectly matched Nick Frost (tattooed and bushy bearded) and Games of Thrones' Lena Headey (flaunting a fierce red dye job)—are former wrestling attractions who now thrill to the bouts of their grown-up children, Zak (Jack Lowden) and Raya (Florence Pugh). Together, they run a local gym and training academy, mainly for kids. But the big show eludes them, until a life-changing phone call comes, and Zak and Raya head to London for tryouts. If you're already aware that Raya goes by the stage name Paige (from her favorite gothy Charmed character), you may know too much—the film is based on a real-life success story, turned into a 2012 documentary. Suffice to say that writer-director Stephen Merchant, a comedy legend for co-creating The Office, is happy to hit every inspirational beat. More impressively, though, he steers the material toward affectionate rudeness—this is a film that makes Mötley Crüe's "Wild Side" sound square. Like School of Rock, the movie is about indoctrination into a subculture that, for all its surface trashiness, off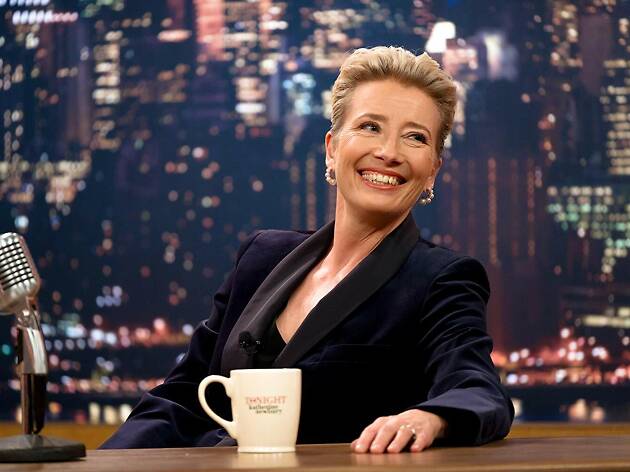 Late Night
In Late Night, screenwriter and costar Mindy Kaling dares to imagine a world where a top female comedian has been hosting a popular late-night talk show for nearly three decades. It's a gutsy premise that runs counter to the sad longstanding reality—and a concept you wish Kaling's story had internalized and furthered. Instead, this charming yet broad comedy settles for the basics, offering 101-level lessons about feminism and diversity in media. A multitalented TV pioneer herself with her own comedy series (The Mindy Project) and high-profile writing credits on The Office and SNL, Kaling is no stranger to the mostly white and male writers' rooms. If only she'd taken a riskier gamble with that intersectional viewpoint in developing Late Night's two central female characters. One is tough-as-nails TV host Katherine Newbury (Emma Thompson), a social-media-averse comedy legend. You can't get enough of her, thanks to Thompson's flawless timing and droll Britishness (not to mention some impeccably styled outfits). But with falling ratings and a career ultimatum from her boss to appeal to a younger demographic, Katherine finally decides to hire a woman writer. Coming to the rescue in the most implausible and elaborate way is Molly Patel (Kaling), a sweet-natured chemical plant worker and amateur comedian from Queens who somehow finds her way to the top of the résumé pile. She aims to shake things up through her unrepresented perspective. Kaling is affable as the ambitious, eager-t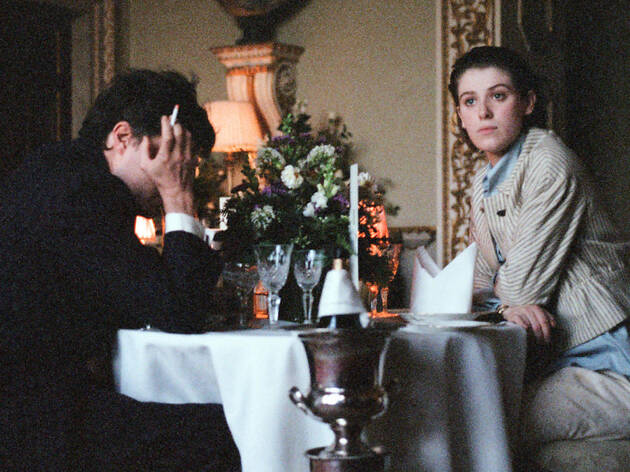 The Souvenir
A cinematic memoir of once-in-a-decade emotional precision and ambition, Joanna Hogg's The Souvenir does many things so exquisitely, it's hard to know where to begin. Hogg, a veteran British TV and feature director with a distinctly intimate style, graduated from film school in the 1980s; her thesis project starred a then-unknown Tilda Swinton (already magnetic) as a character whose obsession with fashion results in a glamorous plunge into a magazine spread. Now, completing a cosmic circle, Hogg casts the Oscar-winning actor's daughter, Honor Swinton-Byrne, to play an autobiographical version of herself as a young film student peering through spring-loaded Bolex cameras and awakening to the pleasures and heartaches of early '80s London. (Mama Swinton is on hand too, as Hogg's elegant, concerned mother.) To watch Swinton-Byrne's 24-year-old Julie—angelically innocent, soft in voice, curious, a touch embarrassed by her Knightsbridge privilege—is to make the kind of immediate heart-to-heart connection with an actor that only the movies can broker. (Call Me by Your Name's Timothée Chalamet was another.) Julie is still childlike enough to shower kisses on the family dog, but she's turning serious, typing out her script ideas, interviewing earnestly with the graying, judgmental professors, mixing it up during discussions of Psycho. The world of film school, a crucible of naïveté and competition, has never been presented with quite as much clarity as Hogg musters here; the director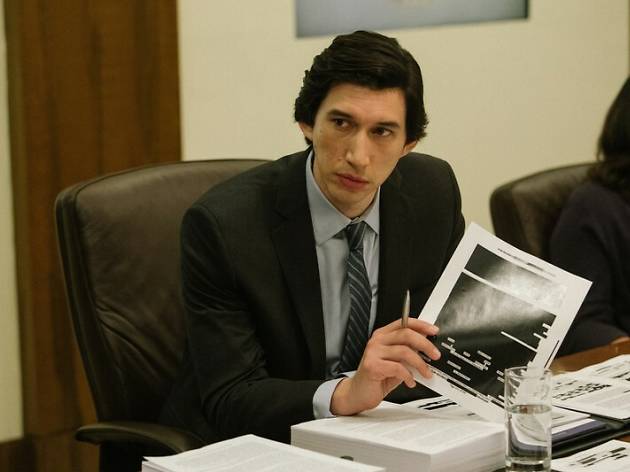 The Report
The facts in the political thriller The Report—of which there are many—are scary and worth getting out there. Essentially, the CIA embarked on a post-9/11 program of extreme interrogation that amounted to torture. None of it resulted in any actionable intelligence, ever. Secretly, the CIA arrived at this conclusion on its own, while a diligent six-year oversight investigation twisted in the wind. Unfortunately, The Report is also a deafeningly dull movie, loaded with office speech after office speech, one that forgets to excite its relentless two-hour data dump into drama. You can agree with its thrust while still feeling something majorly irresponsible has happened with Scott Z. Burns's tunnel-visiony direction and hectoring script; he makes Aaron Sorkin seem restrained. Adam Driver, as the movie's crusading Daniel Jones, the Senate-appointed investigator whose zeal produced a 6,700-page document, has the brainy believability to pull it off. You never doubt his command of the statistics. But to watch him in BlackKklansman or Silence is to know that he's capable of a larger emotional component that's absent here. Burns gets a kick out of playing him against Annette Bening's constantly shocked Senator Dianne Feinstein (she's also given little room to create an actual performance), the two of them approximating the hoped-for relationship between movie and viewer: Can you believe this stuff happened? What? Burns, a protégé of Steven Soderbergh, can occasionally craft a line o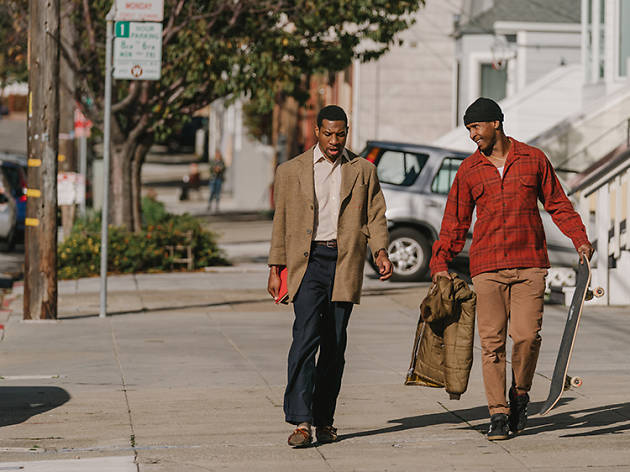 The Last Black Man in San Francisco
It starts with the city of San Francisco, famously a town of outsiders, freaks and countercultures. The Last Black Man in San Francisco, a sweetly mournful comedy that plays in a detuned register of its own, begins with an impromptu floating tour, motivated by the strange sight of two men on one skateboard, pumping their legs in unison like a set of oars. You'll want to hop onboard with them. (A guy onscreen has the same idea, chasing them down for a bit.) The funky energy of this introduction, part people-mover platform, part Michael Nyman's "Musique à Grande Vitesse," a churning cloud of horns and strings, is electric. Even though the cards will be stacked against our heroes—black and barely hanging on—you know the movie will treat them royally. They are Jimmie (soulful Jimmie Fails, whose life story becomes the film's arc) and wanna-be playwright Montgomery (Jonathan Majors, extraordinary), two adult friends, both of an artistic bent. They draw, they paint, they wear the same outfits daily. They might as well be Akbar and Jeff. What Jimmie really wants is a gorgeous Victorian house on Fillmore, a place where the sunlight blasts through huge bay windows onto creaky wooden floors. He has one in mind—it's the same house he grew up in, before his dad was bought out, years ago. Jimmie does unauthorized touch-ups on it daily, to the chagrin of its whiny white owners. But when the property must be vacated in an ugly inheritance split (the film has compassion for even these gentr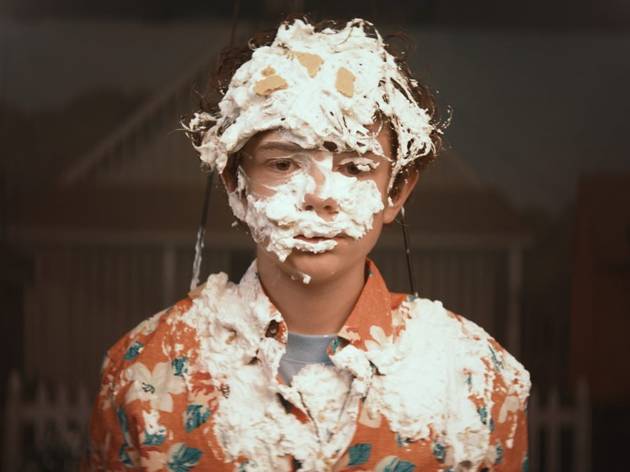 Honey Boy
With the profoundly confessional Honey Boy, Shia LaBeouf comes out of his performative shell of paper bags and bizarre stunts. An honest reconciliation with his troubled past as an abused child and toxic adult—it was written by LaBeouf as an assignment in rehab, where he was sent in 2017 upon his arrest for DUI—Honey Boy is both a healing self-appraisal and a cinematic public apology from someone seeking a fresh start. It's an admittedly grueling yet cumulatively disarming effort, one that's been entrusted to the right directorial hands: Weaving together two separate timelines, filmmaker Alma Har'el (of the arty documentaries Bombay Beach and LoveTrue) gives LaBeouf's vulnerable exercise a purposely unruly shape, mapping the chaos of addiction with guts and style. Fittingly, Honey Boy starts with noise and confusion: We see impressionistic re-creations of a stunt from some massive action tentpole movie—presumably one of the Transformers—alongside various off-set misdeeds perpetrated by the real LaBeouf, here renamed Otis, circa mid-2000s. (He's played in this strand by Lucas Hedges, convincing as a version of LaBeouf suffering from withdrawal, arrogance and PTSD). A car crash leads Otis to counseling sessions, where he plunges into memories of his boyhood, tinged with neglect and worse. Even though it's textbook therapy for a famous Hollywood actor to do so, LaBeouf courageously plays his own cruel father in Honey Boy's earlier mid-'90s half: the alcoholic James, a Vietnam v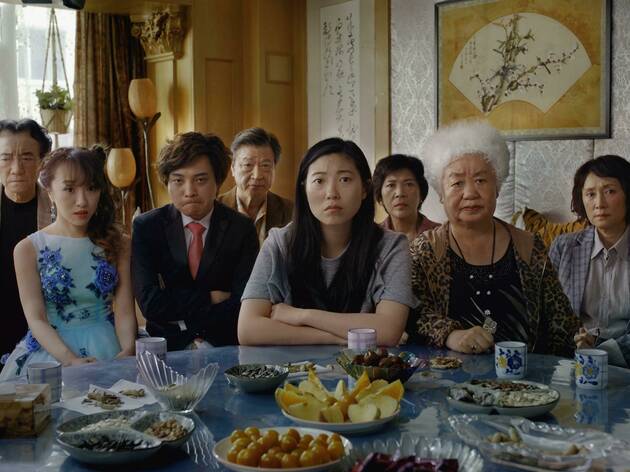 The Farewell
Bittersweet and maturely witty, writer-director Lulu Wang's Chinese-American family comedy The Farewell beats with an immigrant's split heart. Featuring a thoughtful, star-making dramatic turn from Crazy Rich Asians scene-stealer Awkwafina, Wang's autobiographical story is "based on an actual lie," a title tells us—though not the kind of comforting white lie shared at the start. Walking through her adopted New York City on a long-distance call, unemployed writer Billi (Awkwafina) reassures her sweetly concerned granny back home in Changchun that she's wearing a hat. (She isn't.) In turn, "Nai Nai" (Shuzhen Zhou, adorably commanding) casually claims she's at her sister's house when actually she's at the hospital for a scan. Now comes the real lie: In what appears to be commonplace practice in China, the extended family decides to withhold the grim cancer diagnosis from even Nai Nai herself. The clan comes together under the false pretext of a wedding between Billi's devastated cousin and his confused Japanese girlfriend, setting the stage for a gathering that's outwardly celebratory but secretly mournful (a mood beautifully supported by Alex Weston's cooed vocal-heavy score). Wang expertly plays these scenes to both comedic and heartbreaking effect, while the unruffled but bossy Nai Nai proudly throws together the traditional details of a speedy wedding, complete with a hilariously staged photo shoot and an over-the-top, colorful banquet hall. The amusingly uncomfortable even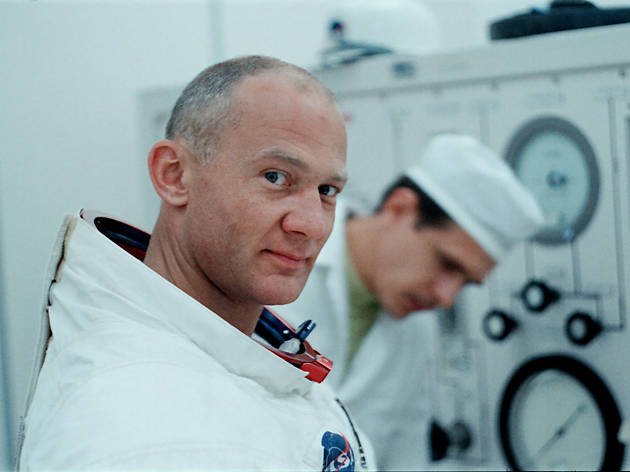 Apollo 11
The most perfect movie that will ever be made about its subject, Apollo 11 takes the purest documentary idea imaginable—telling the story of the first journey to the moon and back using only the footage captured in the moment—and rides it all the way home. Conceptually, it's a masterstroke: Other films have leaned into narration or interviews, while Damien Chazelle's brooding First Man took a somewhat incidental leap into personal grief. But by mining a trove of NASA's archival footage (much of it unseen since 1969 or ever), disciplined filmmaker Todd Douglas Miller places an unmistakable emphasis on the thousands of people who toiled in quiet synchronicity, pulling off America's greatest mission without a hitch. Apollo 11 will bring you to tears—it's a reminder of national functionality, of making the big dream happen without ego or divisiveness. Miller's exhilarating first act supplies an emotional catharsis that's rare in nonfiction (or, frankly, movies in general). Quietly, the rocket is rolled out on a massive tractor platform. Crickets chirp on a hot July night. In the astronauts' blindingly white dressing room, the three-man crew—Neil Armstrong, Michael Collins and Buzz Aldrin—suit up. Their personal backstories receive flurries of silent images: wedding photos, military service, children. These flashes play like insistent memories; it's the kind of subliminal device a dramatic director would use to root a character in psychology. Amazingly, this technique feels new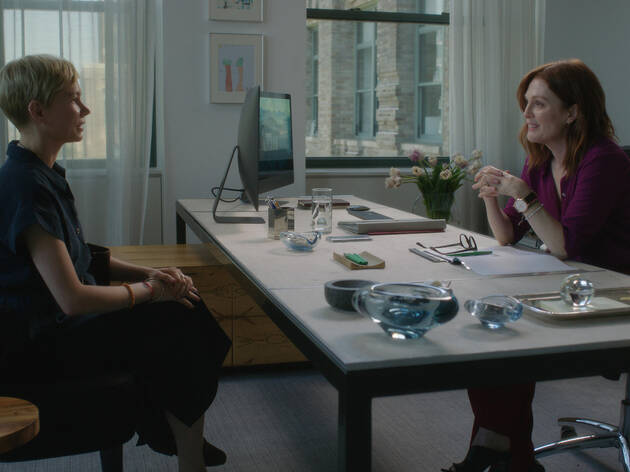 After the Wedding
A chilly, frustrating Danish film becomes a chilly, frustrating American one, as director Susanne Bier's original 2006 version of After the Wedding gets a gender swap to no discernable improvement. Showy drone shots glide us into a movie that aspires to fatalistic depth: In the first, Isabel (Michelle Williams, squirming under her character's serenity) can be seen meditating in India, where she leads a charity and feeds shoeless kids; in the second, self-made media exec Theresa (Julianne Moore, channeling hints of her brittle turns in Magnolia and Safe) cruises up to her palatial Long Island mansion shout-singing Lady Gaga. Quickly, an economic disparity is established, but the film, overdirected by Bart Freundlish (also Moore's husband), places a near-obnoxious Nancy Meyers-like emphasis on wealthy, lacquered interiors. Yes, there's a wedding: an elegant outdoor affair in which we see the menu cards, the his-and-her cocktail options, the seafood risotto. But it's also the place where Theresa and her handsome artist husband Oscar (Billy Crudup) will find themselves confronted by do-gooder Isabel, in town to receive a grant from Theresa and invited to the nuptials almost as an afterthought. One revealing toast from the bride, however, changes everything. Nothing will be ruined in this review, but you'll wish the burn in Williams's eyes exploded into something a lot hotter. After the Wedding contains enough domestic revelations for several seasons of something delicious, but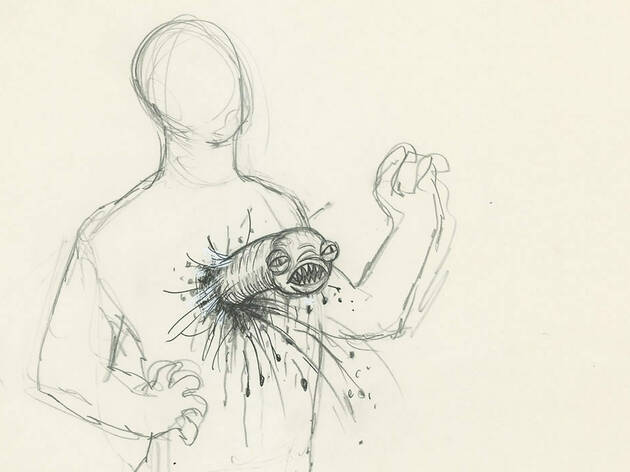 Memory: The Origins of Alien
Sleek, organic and vicious to the core, Ridley Scott's 1979 Alien is responsible for the most nightmares since Alfred Hitchcock's Psycho—both films changed popular culture on a molecular level and rattled viewers well beyond your typical jump scare. Noticing this, the Swiss-born documentarian Alexandre O. Philippe follows up his rigorous Psycho shower-scene study 78/52 with Memory: The Origins of Alien, a deep dive into the latter's conceptual genesis and production. The movie deserves it; frankly, many DVD extras over the years have trod the same terrain, doling out a scary Francis Bacon panting here, a gender-blind casting decision there. But Philippe earns his keep, not only by mounting a crisp, elegant production well above the standard of your typical video-lensed making-of, but by skewing toward anecdotes that most corporate clients would frown upon. Late genius screenwriter Dan O'Bannon was a neurotic who suffered from a lifelong case of Crohn's disease ("devouring him from the inside," his widow Diane remembers). Before cracking the script, O'Bannon designed his own board game called Poverty while sleeping on a friend's couch. Somehow his treatment, provisionally titled Star Beast, leapt to the top of producer Walter Hill's stack, even though it essentially turned on an interspecies rape and male pregnancy. "It's wonderful how the subconscious works," an interviewee notes. Memory is most valuable for its fresh recontextualization of Alien in the same feminist air sp
Archived Sundance Film Festival coverage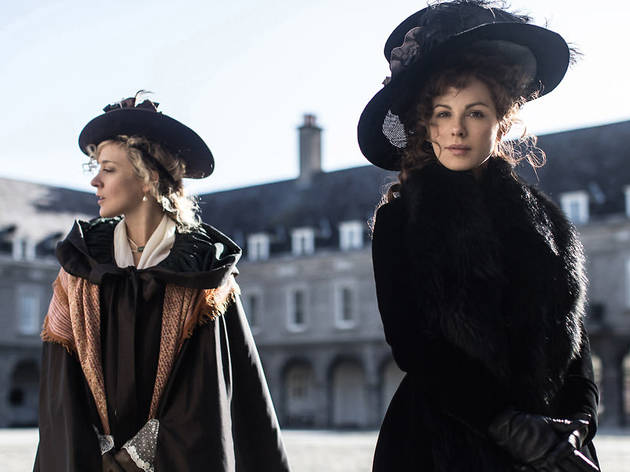 This year's festival is proving to be an edition for the ages, supplying more than its typical share of indie gems