Put the best concerts of 2018 in your calendar now
Here's our guide to the best NYC concerts happening in 2018 from multi-day festivals to up-and-coming acts not to miss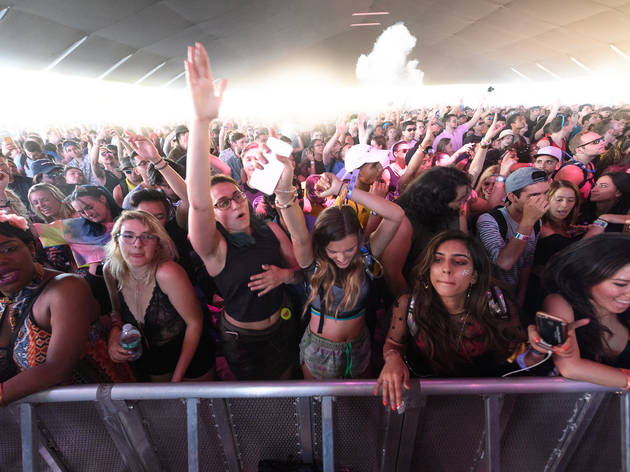 If the new year's slew of show announcements has you overwhelmed, fear not—here we round up the best NYC concerts to catch in 2018. You'll find artists who appeared on our best albums of 2017 (Lorde) as well as our best albums of 2016 list (Mitski). Who knows what new releases will catch our eye (ear?) this year—Ty Segall? Titus Andronicus? Hopefully we'll hear selections from both acts' upcoming records at their NYC concerts. Regardless of what you're trying to see—indie-rock bands or dancefloor-commanding electronic artists—we've got you covered.
RECOMMENDED: Full guide to the best of 2018
Best NYC concerts of 2018
Each January, Winter Jazzfest offers a crash course for anyone interest in exploring the thriving genre. Its signature two-night Greenwich Village marathon brings vets and up-and-comers, hordes of music fans and a palpable air of excitement to an array of cozy downtown venues. The shows aren't individually ticketed, so a wristband grants you access to any of each night's shows—as long as a given club doesn't hit capacity, that is.
Read more
This annual international-music showcase takes over three Times Square stages. Represented genres include Indian hip-hop, Iranian folk, Mexican mariachi and Brazilian Tropicália.
Read more
Mixing bubblegum-snapping, cheerleader aesthetics and AC/DC hard-rawk brashness, this bombastic noise punk duo sounds like no one else. Expect to hear songs from their most recent release, Jessica Rabbit, which includes standout track, the spacey, subdued synth ballad "Hyper Dark."
Read more
The songs of this husband-and-wife vintage-pop duo recall the sounds of '60s girl groups and sunny rock & roll, marrying Alaina Moore's vivid vocals to warm organs and guitars on its latest, Yours Conditionally.
Read more
Dan Bejar, a collaborator with The New Pornographers and an idiosyncratic Canadian singer-songwriter who makes music as Destroyer, let loose on his last album, Poison Season, channeling "Born in the USA"–Springsteen via a howling horn section and pounding drums. On his newest album, Ken, however, he turns back towards the sounds of 2011's Kaputt, a dynamic, mature interpretation of '80s soft-rock, full of smoky, monochrome synths, cryptic murmurings and muted sax lines.
Read more
As folk-punk duo Girlpool, high school friends Harmony Tividad and Cleo Tucker weave complex vocal interplay—unison shouts along with lilting harmonies—above spare guitar melodies. Performing now as a larger ensemble, the band adds a fuller sound and the jolt of live percussion to the stark songs of its sophomore album, Powerplant.
Read more
Show up for an evening of expansive sounds spanning classical, electronic and rock music at this genre-melding show. Baltimore indie duo Wye Oak teams up with Metropolis Ensemble and Brooklyn-based composer William Brittelle to present orchestral versions of songs from its 2014 effort, Shriek. Also on the program is the world premiere of Brittelle's song cycle, Spiritual America, performed by Wye Oak, Metropolis Ensemble and Brooklyn Youth Chorus.
Read more
Cold Cave's dark prince of neo-new-wave, Wesley Eisold, resurrected his storied hardcore outfit in 2015, and this year sees American Nightmare releasing its first album in 15 years. The self-titled effort, which features bassist Josh Holden, guitarist Brian Masek and drummer Alex Garcia-Rivera, sees daylight February 16. You'll hear from it here, when the band shares a bill with rowdy Pennsylvania noise punks Pissed Jeans.
Read more
The local indie-rock heroes, whose crunched-out anthems manage to sound both commanding and casual, hit Monty Hall for a three-night run. The band takes the stage just as its latest album, All At Once, sees the light of day, so count on hearing new tunes (we're particularly excited to hear the trio chug through the album's stomping first single, "Black Moon"). Frontwoman Marissa Paternoster is always a thrill live; in past visits to the intimate Jersey venue the band has all but blown the doors off. Expect more of the same here.
Read more
Show more
Looking for jazz shows this month?
From hard bop to swing to fusion, here are our favorite jazz concerts happening in the city this month.
Read more